Not sure what your DMO should say today? Take inspiration from these ideas and examples. 
Confident, timely communication is a major challenge for destination marketers during the pandemic. We've heard this from many of you in our DMO support group on Facebook and during our conversations with clients.
In this period when regulations and emotions are volatile, it's true that your definition of success may need to change a little. But content marketing is a long-term project. Even now, your team can use tried-and-true principles to boost your destination's best stories and support your local community in new, relevant ways. Through this lens, there's always plenty to say.
To help kickstart your next content brainstorm, our content marketers at Destination Think have gathered observations and examples of successful communication from destination marketers.
Take inspiration from these 10+ observations and ideas for communicating in times of uncertainty, or skip ahead to your favourite.
1. Repeat your safety messages
We've said this before, and it's worth repeating. Clearly communicating messages of safety, health, and respect takes precedence over promoting travel right now. This is new territory for many marketers.
You and your content team face the challenge of understanding and distilling complex messages in a limited amount of time. It's a tough job. When you find wording that works, don't be shy to keep it.
For the past two months Go Haida Gwaii has repeated a message asking visitors to respect Haida law and stay away until emergency restrictions are lifted. While the copy stays the same, each tweet shows different aspirational images that keep the destination visible to potential visitors.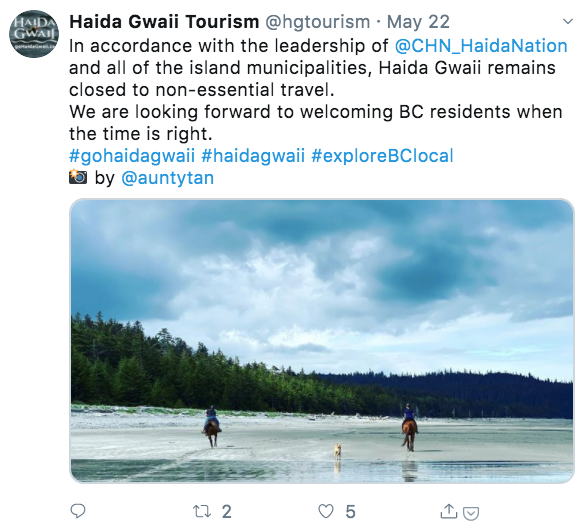 Repetition can keep your message clear and top of mind in a noisy, confusing timeline. It can also save you from over-analyzing your content choices during the pandemic.
2. Frame compliance with guidelines as a positive
We all know the basic pandemic rules: wash your hands, stay physically distanced, and wear a mask. But rules don't need to feel like rules. You can frame them in terms of respect, care and responsibility. Here are a few examples.
Visit California (a Destination Think client) has taken this approach with their  #RespectCalifornia message. One Instagram caption says, "Shout out to our community of dreamers who are roaming California responsibly. Here's a preview of what our locals have been up to while following the #RespectCalifornia code. If you're planning to get out and explore locally, help us get the word out about safe and responsible travel by using the #RespectCalifornia tag." 
See how Aruba Tourism Authority's beach safety video communicates the rules in the context of services provided by local resorts. Here, responsible customer service delivers peace of mind and makes it easy for people to travel with respect.
Our team worked with Tourism Saskatchewan to create a pledge video that showcases how locals are working together to follow health and safety rules with the aim of keeping the province open to travel this summer.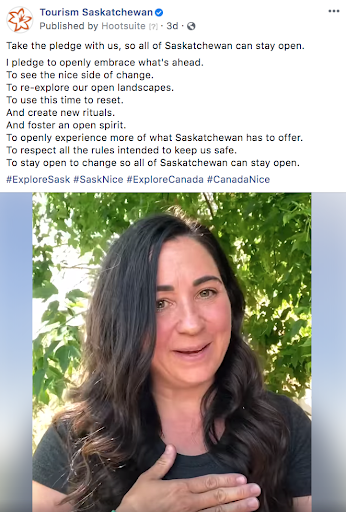 3. Show the right behaviours in your images
Seat belts. Helmets. Life jackets. Official trails. Wildlife etiquette. It's always been important to post imagery that reflects the safe and respectful traveller behaviour you want to encourage. Continue this practice by only showing imagery that aligns with local health regulations. For example, use images that show wide-open spaces, mask wearing and people keeping an appropriate physical distance.
Displaying safer travel behaviour during this time of heightened tension demonstrates how seriously you're taking the health and wellbeing of your community and potential visitors. It can provide some upfront reassurance and build trust over time.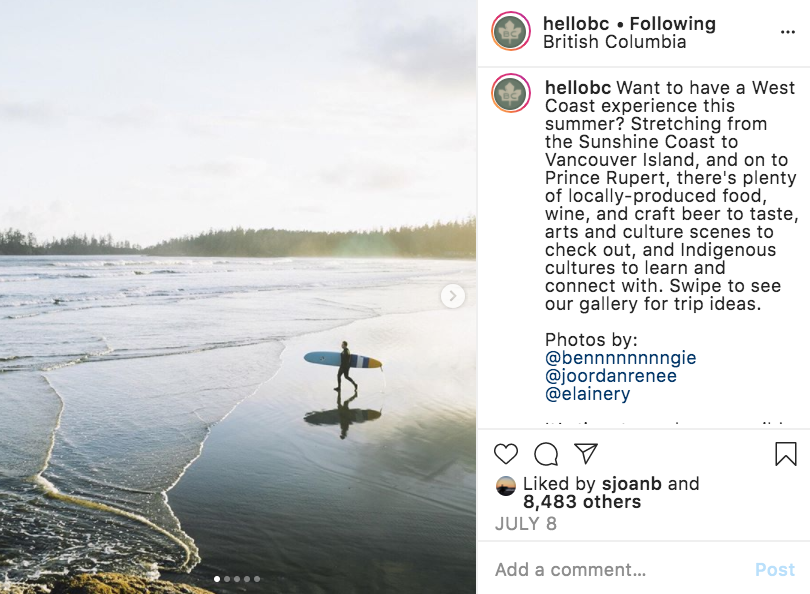 Bonus tip: When creating content, add an extra sensitivity check to your process. Ask a colleague who has been most vocal about their concerns with COVID-era travel to give you their first impressions. When in doubt – especially when it comes to using pre-COVID photos of events, indoor spaces, or busy streets – don't post it.
4. Create Instagram Stories highlights about COVID-19
Many marketers use Story highlights to display important information on their Instagram profiles. Here are two examples of destinations using COVID-19 highlights to communicate timely updates.
Destination Campbell River's Travel Tips highlight informs people of the current provincial guidelines that allow for non-essential travel. The series of graphics reassures potential visitors that local businesses have health and safety protocols in place. It also reminds people to pack responsibly and research more carefully than usual to be prepared.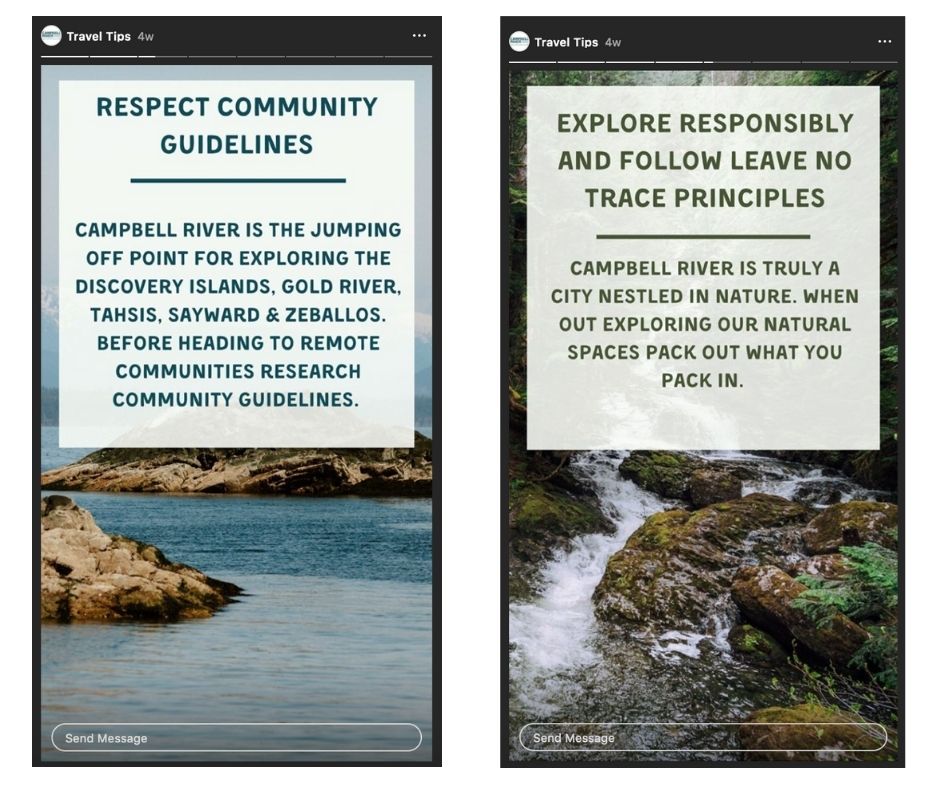 Travel Oregon's COVID-19 highlight shows how responsive the DMO is to fast-changing health guidelines. They give updates on closures of popular outdoor locations as well as the status of gradual re-openings. Visitors and locals can find the latest guidelines from state health officials. The use of time stamps on graphics fosters accountability and builds confidence in resources that are likely to be shared by thousands of people.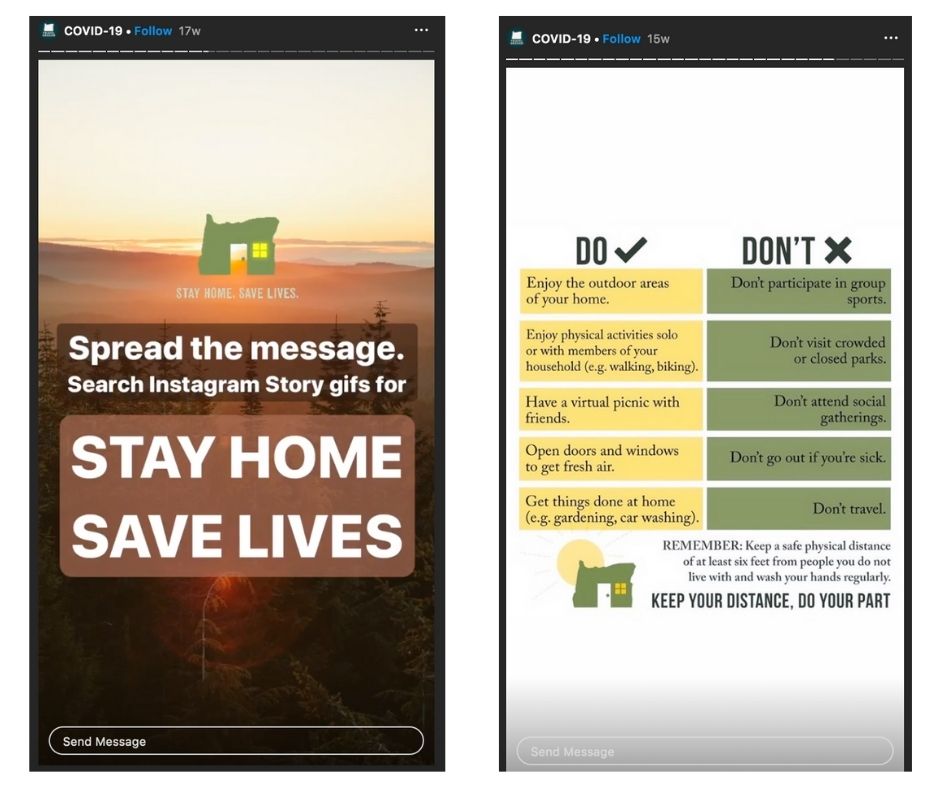 5. Use an infographic for the most important messages
Your brain handles a lot of information, and, for most people, most of that information is visual. One report says that images like infographics can improve learning and retention by 400%. So if you need to make your message memorable, use a visual aid.
Here's an example from the Belize Tourism Board. They use visuals and text to communicate a complex arrival process through four simple steps.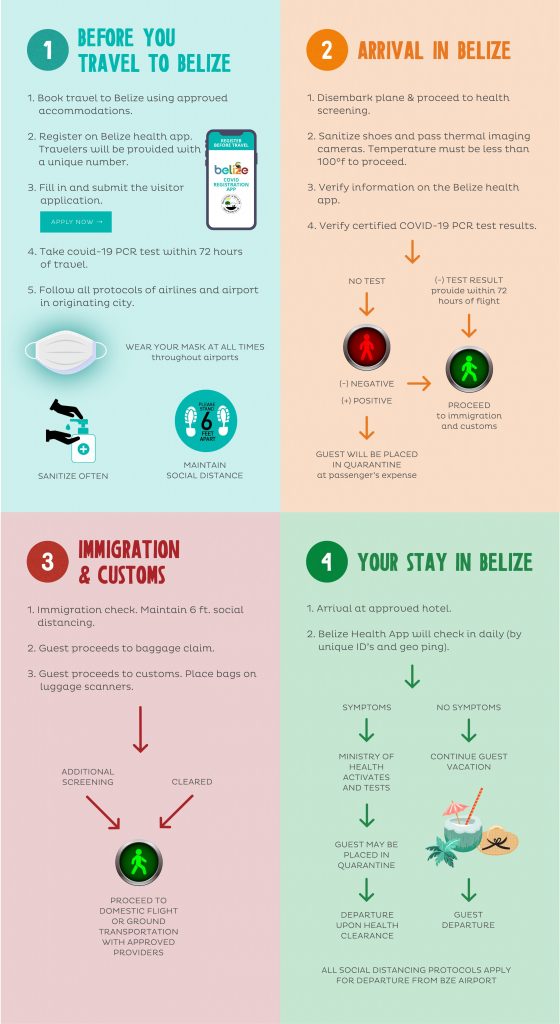 6. Don't schedule your social media too far in advance
These days, regulations and public sentiment change fast. Sometimes, a message that works today won't land well tomorrow. Pre-schedule your posts with extreme caution.
In less volatile times, our team will write and schedule posts days in advance, supported by daily monitoring. This practice can save a lot of time. And time is at a premium right now. But the risk of "setting and forgetting" is too high right now. Get a sense of how your online communities are feeling, then post. 
7. Show people how to support local businesses (in tourism and beyond)
Make it easy for people to directly support the communities you represent. This can address the challenge of keeping your destination top of mind when there's too much uncertainty or valid caution to actively promote travel.
Encouraging people to support local businesses helps build community spirit.  At the same time, people who are missing travel can take part in something positive. This kind of messaging taps into the loyalty and affinity that locals and past, repeat or aspiring visitors may have for your destination.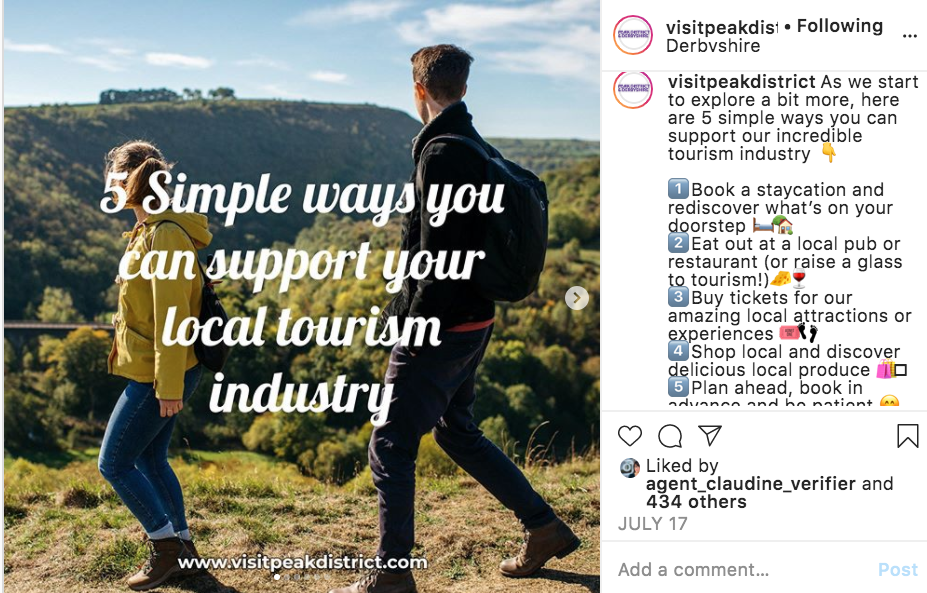 8. Continue showcasing the experiences that make your destination special
VisitScotland's Instagram page has maintained a stunning visual presence throughout the pandemic. Their posts have continued to educate people on different regions, landmarks, and neighborhoods throughout the country while also providing regular reminders on current travel restrictions or guidelines. It's a fine balance, and they do it well.
The warm, playful tone of the account, along with charming content like the famous Highland Coos makes their page a palate cleanser from the doom and gloom that our 2020 social media feeds sometimes bring.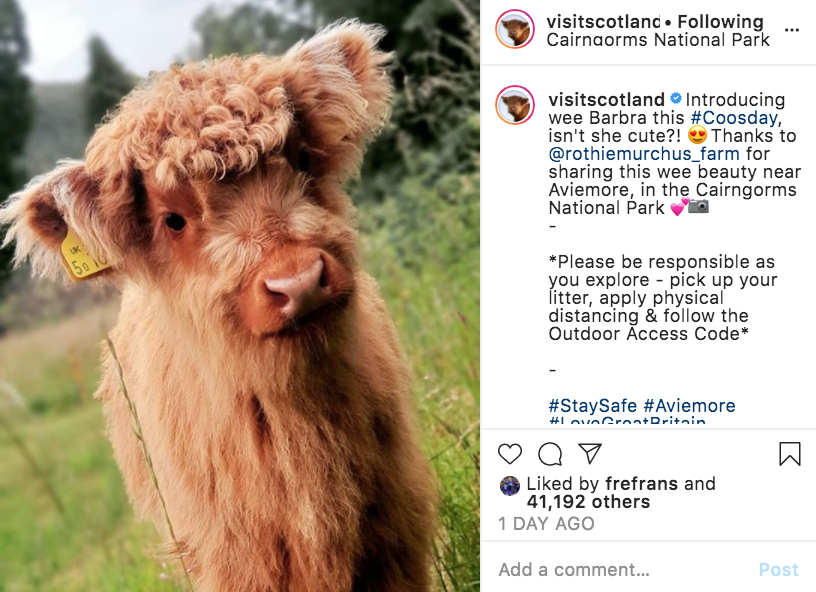 9. Adapt cultural experiences to social media
Which of your destination's experiences can you bring online? You may have seen Visit Faroe Islands' elaborate Remote Tourism project, which allowed viewers to virtually explore the destination by controlling a real-life tourist via video. Or look at Seattle's Canlis restaurant, which is one of the most impressive examples we've seen among businesses adapting to COVID-19. Their virtual bingo games, piano lounge, and adoption of online ordering are truly innovative offers. 
But there are simpler ways to help people interact from a distance. Use what is available to you. In the U.S., Elkhart County's Ruthmere Museum hosted a historical trivia session through Facebook Live using nothing more than a smartphone and a little creativity.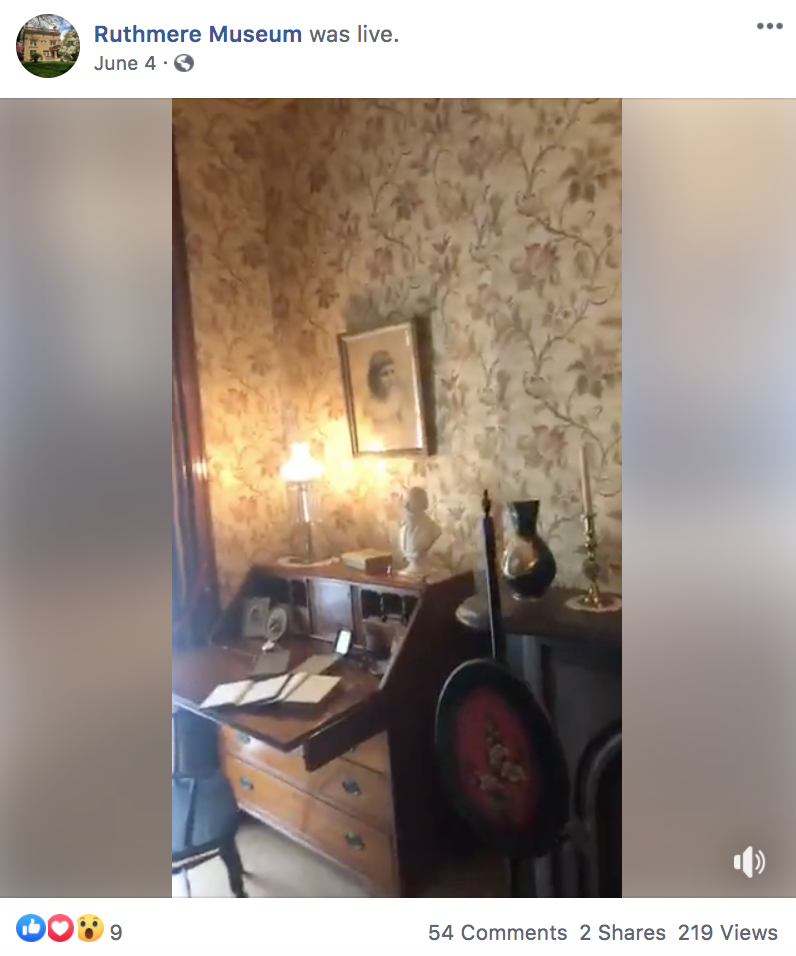 Dublin, Ohio will bring its Irish flair online this summer through a virtual version of its Dublin Irish Festival, which was cancelled earlier this year. The festival offers many creative ways to get involved from home. There are Irish recipes, a reddest hair contest (submit a selfie to win), a TikTok dance challenge, and live-streamed concerts.
In Australia, Visit Melbourne has been hosting regular live performances from a local guitar duo to bring the city into people's social media feeds. 
10. Be calm and empathetic when responding to negative comments
Times of crisis fuel anxiety. Your residents might be worried about visitors bringing illness with them. Business owners might worry about losing customers or even shutting down. Charged emotions can lead to negative comments about the travel industry, your destination or your DMO – even if your delivery is flawless.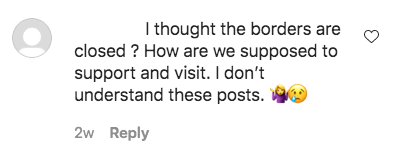 Responding with empathy is a fine art. Successful responses will show that you are supportive, transparent and confident. Here are a few principles to help you respond:
Remain calm. Take at least five minutes and breathe deeply before responding.
Don't respond to trolls. Those who make abusive comments have no place in your online community, and should be blocked and reported. 
Empathize. Where appropriate, acknowledge the person's feelings.
Correct factual errors.
Reinforce messages of health, safety and togetherness.
What's your favourite example of successful communication from your DMO? Leave examples in the comments or join our COVID-19 support group for DMOs to connect with destination marketers everywhere.
This article was written by David Archer and Kelly Cubbon, with contributions from the content marketing team at Destination Think.
---
Support for your DMO
From Bermuda to California to Campbell River, our team helps tourism destinations respond to crises and work toward recovery with poise and confidence. Speak to us to learn about our collaborative approach to strategy, communications, and creative solutions or click here to send us your RFP.
Feature image credit: Kelly Sikkema, Unsplash