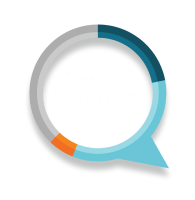 Measure word of mouth for your destination
Discover how the world feels about your tourism experiences
** 2020 special offer available for a limited time **
WHAT IS YOUR TOURISM SENTIMENT SCORE™?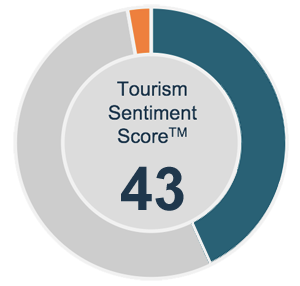 Market research consistently shows that word of mouth is and always has been the predominant influence on the travel decision-making process.
In the world of online and digital communication, peer-to-peer conversations are one of the most trusted sources of information for selecting travel destinations and determining which experiences to try.
Capturing the sentiment of word of mouth is a powerful way to monitor the success of a destination. Now, the Tourism Sentiment Index (TSI) lets you measure what people really feel and what they find most worthy to share about your destination.
SIGN UP NOW to be included in our second Global Tourism Sentiment Report that benchmarks the world's top Tourism Sentiment Scores™.
Get your TSI today to reveal your destination's Tourism Sentiment Score™ ranking.
Comprehensively measure real sentiments
Analyze 500,000 platforms.
The Tourism Sentiment Index includes more than 500,000 online, peer-to-peer communication platforms, including all major social networks and review sites.
Gloves off. Uncensored.
TSI analyzes unprompted and unbiased peer-to-peer conversations happening around your destination, a view that no customer survey or focus group can provide.
Go beyond a sample of opinions.
Through TSI, we scan, analyze and index more than 1,000,000 online conversations from around the world that are affecting perceptions of your destination.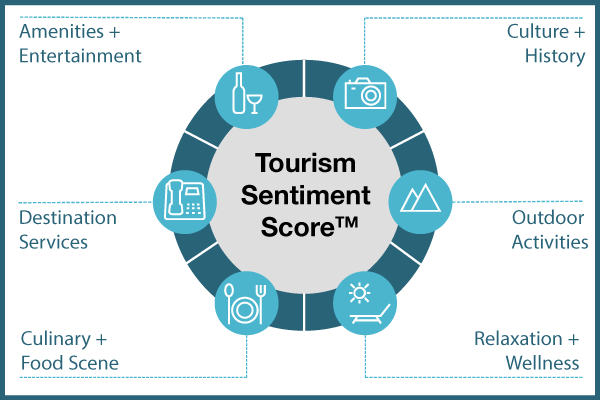 Categorize
We scan all online conversations happening around the world related to your destination. We look at thousands of words and images, then classify them into tourism categories and experiences that are relevant to any DMO.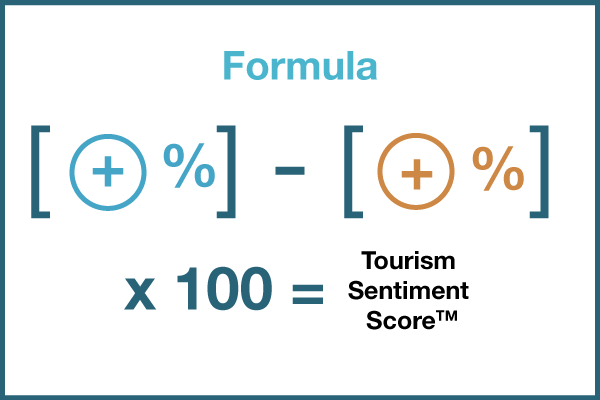 Quantify
We classify the content according to whether the sentiment is positive, neutral or negative. Then we apply our Tourism Sentiment Score™ formula to assess your performance and compare it to a competitive set of destinations you select.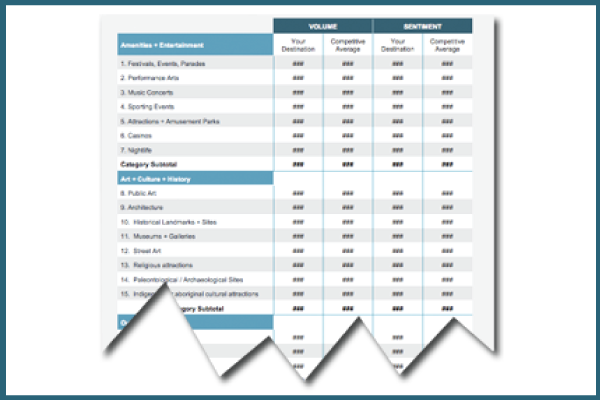 Report
Our complete analysis results in the TSI that reveals how people feel about 50 different experiences and services in your destination. You'll receive a turnkey report that summarizes all the data and builds on it with key findings and next steps.
The Tourism Sentiment Index is the only one of its kind in the world for two reasons:
1. It is purpose built for destination marketing.
2. Customers get access to data from thousands of other destinations around the world.
While there are a handful of companies offering generic sentiment analysis, the Tourism Sentiment Index is much more powerful than what they offer. Several important elements set this report apart:
Tourism Sentiment Index provides a destination marketing organization with findings drawn from sentiment analysis without the need to add technical skills or additional effort in house.
The tourism marketing metrics in the report are specific for destinations.
The methodology behind the Tourism Sentiment Score™

 

ensures that conversations about a place that are not relevant to tourism are excluded from the result.
The Tourism Sentiment Index findings include competing destinations from our pool of hundreds of destinations around the world and offer a holistic view of a destination by examining 50 tourism assets.
Our team spent more than a year developing, testing and validating the Tourism Sentiment Index. No other firm has access to anything similar to our Global Rank. We have more than 200 destinations in the program with many more joining monthly. Being part of this world-leading group and able to compare your performance in our global report is an advantage available only through the Tourism Sentiment Index.
LEARN HOW THE WORLD FEELS ABOUT YOUR DESTINATION.
Thank you for your interest in learning more about the Tourism Sentiment Index.
To talk to our team at Destination Think and access our launch announcement video, please submit this form.
This was the piece of the puzzle we needed to validate our DMO's shift in focus.
It feels as if you have reached a 'holy grail' in tourism measurement of actions.
Does the Tourism Sentiment Index analyze conversations from everywhere in the world?
Yes. We find and analyze conversations from around the world that use any of the 16 supported languages: English, Japanese, Spanish, Italian, Arabic, Portuguese, French, German, Russian, Turkish, Dutch, Korean, Malay, Indonesian, Swedish and six different dialects/languages spoken in China, including Mandarin and Cantonese.
How do you determine if a conversation has positive or negative sentiment?
Over the past few years, we have combined our deep experience in destination marketing with hundreds of thousands of conversations to develop a method for finding and categorizing content into three categories: promoter, passive and detractor. Understanding the roles of communication patterns, like frequency and distribution, we classify content and analyze it with a view calibrated specifically to tourism-based conversations.
Can your analysis deal with nuances, for example, sarcasm?
Our methodology can detect and calculate nuances, including sarcasm. Because communication is ever evolving in the way sarcasm and slang are expressed, we continuously update our systems to adapt to changes in the way people share their destination experiences. In addition, our analysts review conversations from each tourism asset across the destination to ensure the highest level of accuracy we can provide.
How do the individual tourism asset scores affect the overall Tourism Sentiment Score result?
Each of the 50 tourism asset scores is weighted, based on size of conversation and sentiment, and added together for the overall Tourism Sentiment Score™ result.
What happens to my Tourism Sentiment Score if some tourism categories or assets are not available in my destination?
Assets that are not part of your destination's offering are removed from the analysis, so the score is not affected by any zero result.
Does Tourism Sentiment Score ranking replace Net Promoter Score?
In many ways, the Tourism Sentiment Index with your Tourism Sentiment Score™ ranking is a better option than NPS. For example, while NPS provides indicators for potential issues and wins in customer service, the Tourism Sentiment Index provides a comprehensive, turnkey solution that is tailor made to help destination marketers measure word of mouth. While NPS relies on answers received from a set of consumers who are asked for their opinions, the Tourism Sentiment Score™ ranking reflects thousands of unprompted, unbiased conversations from consumers around the world. While NPS uses questions that tend to focus consumers on customer service delivery, the Tourism Sentiment Score™ ranking provides a comprehensive look at sentiment with conversations about customer service being one of many aspects of the destination experience being analyzed.
Does the Tourism Sentiment Index pose any privacy law concerns?
Tourism Sentiment Index relies exclusively on publicly available content that has been published online by consumers. The data analyzed for each destination includes words and images that consumers have created and shared with the world. Tourism Sentiment Index does not need, nor does our team collect, private information or content. The only personal information our team handles are the names and nicknames that consumers choose to publicly use to identify themselves with their content. All data that our team manages is stored and processed in secure systems. The data we collect is not shared or sold with third parties beyond the purpose of generating and selling Tourism Sentiment Index.
Do I need to give you keywords to configure a Tourism Sentiment Index for my destination?
After ordering the Tourism Sentiment Index, you complete a form that provides our analysts with the details to build your report. The form does not require you to provide specific keywords. Our analysts use the information from your form to create a custom algorithm that collects as much relevant content as possible about your destination. We developed and fine tuned this process over the past four years to ensure we can provide the most comprehensive, accurate and consistent results possible for all destinations included in our reports.
Can I change the tourism categories or tourism assets included in the Tourism Sentiment Index?
The Tourism Sentiment Index is standardized and offers a holistic view of a destination across 50 tourism assets. Our team established this framework in conjunction with destinations from around the world to ensure we are tracking the tourism assets and metrics most important to destinations of all shapes and sizes. This framework provides each client with a view of the entire destination that can be benchmarked and tracked over time.
Will I have access to historical data about sentiment from the first Tourism Sentiment Index, or does that build over the years?
Every Tourism Sentiment Index reports on a calendar year worth of data. To provide further context, we include three-year trends for all tourism categories, showing growth, either positive (+) or negative (-), based on the past three years of data. This information gives you a longer view of your destination's appeal and the trajectory of its performance.
Can I change the time period covered by the Tourism Sentiment Index?
The time period for each Tourism Sentiment Index is the calendar year. Calendar year data provides us with a holistic view of a destination's tourism offering throughout all seasons and creates one standardized benchmark to track year over year. Currently, the option to change this time period is not available.
Can I see the actual social media posts and online content used to produce my Tourism Sentiment Index?
The focus of the Tourism Sentiment Index is to understand the size, scale and quality of conversations being driven by your destination's tourism experience. We focus on the whole to calculate findings and mark trends, rather than individual posts. We provide sample posts within your report to demonstrate the three conversation types: promoter, passive and detractor.
Is the Tourism Sentiment Index skewed by the demographics who use social media?
Each report analyzes from hundreds of thousands to millions of conversations from around the world.
These conversations are generated by individuals talking to others (social networks) or posting opinions to share their views with others (reviews, forums, blogs). Certainly, as with any type of market research, the results reflect the sample audience included in the study. In the case of the Tourism Sentiment Index, results reflect the users on social networks and also review sites (TripAdvisor, Expedia, Hotels.com, Cruise Critic, etc.), news sites and blogs.
Who's involved?
We are bringing together the world's top DMOs to define a KPI and global data set based on word of mouth for destination marketing. Contact our team now to ensure your destination is part of this ground-breaking program while space is available.
Abbotsford, BC
Aberdeenshire, UK
Alberta, Canada
Asheville, NC
Aspen, CO
Atlanta, GA
Austin, TX
Bali, Indonesia
Bar Harbour, Maine
Barrie, ON
Bay of Plenty, New Zealand
Bermuda
Big Sky, MT
Big White Ski Resort, BC
Brisbane, Australia
Broome, Australia
Bundaberg, Australia
Cairns, Australia
Calgary, AB
Cannon Beach, OR
Cape Breton, NS
Caribou Chilcotin Coast, BC
Carmel-by-the-Sea, CA
Coromandel region, NZ
Chicago, IL
Chilliwack, BC
Cleveland, OH
Cody, WY
Coffs Harbour, Australia
Columbia, SC
Comox Valley, BC
Corvallis, OR
Cowichan Valley, BC
Dallas, TX
Daylesford & Macedon Ranges, Australia
Denver, CO
Destin, FL
Detroit, MI
Dubai, UAE
Eastern Townships, QC
Edmonton, AB
Elkhart County, IN
Estes Park, CO
Explorer's Edge, ON
Florida, USA
Fredericton, NB
Gladstone Region, Australia
Gold Coast, Australia
Golden, BC
Gulf Shores, AL
Halifax, NS
Hamilton, ON
Hastings County, ON
Hervey Bay, Australia
Hinchinbrook, Australia
Houston, BC
Huntington Beach, CA
Iceland
Ireland
Jackson Hole, WY
Jasper, AB
Kamloops, BC
Kawartha Lakes, ON
Kelowna, BC
Kuranda, Australia
Langley, BC
Lake Wanaka, Australia
Logan, Australia
Mackay, Australia
Maine, USA
Manitoba, Canada
Melbourne, Australia
Memphis, TN
Mississauga
Mont-Tremblant, QC
Monterey Bay, CA
Montreal, QC
Muskoka, ON
Nashville, TN
Nelson, BC
Nelson Tasman region, NZ
New Brunswick, Canada
New Orleans, LA
Newfoundland and Labrador, Canada
Newport Beach, CA
Niagara Falls, ON
Niagara-on-the-lake, ON
Niseko, Australia
Noosa, Australia
Northland region, NZ
North Queensland, Australia
Northern Ireland
Nova Scotia, Canada
Ontario, Canada
Ontario Highlands, ON
Orlando, FL
Osoyoos, BC
Ottawa, Canada
Panama City Beach, FL
Park City, UT
Parksville, BC
Pentiction, BC
Pensacola, FL
Philadelphia, PA
Portland, OR
Powell River, BC
Price Rupert, BC
Prince Edward County, ON
Prince Edward Island, Canada
Qualicum Beach, BC
Queensland, Australia
Queenstown, New Zealand
Revelstoke, BC
Richmond, BC
Saint John, NB
San Diego, CA
San Francisco, CA
San Juan Islands, WA
Santa Barbara, CA
Santa Monica, CA
Saskatchewan, Canada
Saskatoon, SK
Seattle, WA
Scenic Rim Region, Australia
Shuswap Region, BC
SilverStar Mountain Resort, BC
Smithers, BC
Southern Queensland, Australia
South Walton, FL
Squamish, BC
St. Augustine, FL
St. Paul, AB
Sun Peaks Resort, BC
Sun Valley, ID
Sunshine Coast, Australia
Surrey, BC
Sydney, Australia
Tablelands, NL
Tasmania, Australia
Tay Country, Scotland
Telluride, CO
Thompson Okanagan region, BC
Tofino, BC
Toronto ON
Townsville, Australia
Ucluelet, BC
Vail, CO
Val D'isere, France
Vancouver, BC
Vernon, BC
Victoria, BC
Waterloo, ON
West Yellowstone, MT
Western Australia
Whistler, BC
Whitehorse, YT
Whitsundays, Australia
Winnipeg, MB
Yorkshire, UK
Yakima Valley, WA
Yukon, Canada
Adelaide Hills Tourism
Alamosa Convention & Visitors Bureau
Albury City Council
Armidale Regional Council
Aspen Chamber Resort Association
Atlanta Convention & Visitors Bureau
Auckland Tourism, Events & Economic Development
Banff Lake Louise Tourism
Basalt Chamber of Commerce
Bermuda Tourism Authority
Breckenridge Tourism Office
Brisbane Marketing
Brookhaven, GA
Bundaberg North Burnett Tourism
Cayuga County Convention & Visitors Bureau
Central Economic Development Agency/Manawatu
Charlotte Coastal Region Tourism Association
Charlotte Regional Visitors Authority
City of Adelaide
City of Airdrie
City of Fremantle
City of Mississauga
City of Moncton
City of Mount Gambier
City of Newcastle
City of Onkaparinga
Coffs Harbour City Council
Colorado Tourism Office
Cook Islands Tourism Corporation
Cradle Coast Authority
Destination Campbell River
Destination Cape Breton Association
Destination Cleveland
Destination Falkenberg
Destination Fyn
Destination Gippsland
Destination Madison
Destination New South Wales – Sydney
Destination Ontario
Destination Osoyoos
Destination St. John's
Destination Yellowstone
Discover Halifax
Destination Rotorua
Discover Saint John
Economic Development Regina
Edmonton Tourism
Elkhart County Convention & Visitor Bureau
Enterprise Dunedin
Experience Columbia
Experience Grand Rapids
Experience Grand Rapids
Explore Asheville Convention & Visitors Bureau
Fáilte Ireland
Fife Council
Flagler County Board of County Commissioners
Frankenmuth Convention & Visitors Bureau
Fredericton Tourism
Georgia Department of Economic Development
Gold Coast Tourism Corporation
Great Ocean Road Regional Tourism
Greater Green Bay Convention & Visitors Bureau
Gulf Shores & Orange Beach Tourism
Hamilton County Tourism
Hastings County
Hawke's Bay Tourism
Heidiland Tourismus AG
Hinchinbrook Shire Council
Indigo Shire Council
Lake Placid Regional Office of Sustainable Tourism
Lake Wanaka Tourism
Laredo Convention & Visitors Bureau
Kalispell Convention & Visitors Bureau
Mackay Tourism Ltd.
MidCoast Council | Destination Barrington Coast
Murray Regional Tourism
Myrtle Beach Area Chamber of Commerce
Newcastle Gateshead Initiative
Orange City Council
Ottawa Tourism
Parksville Qualicum Beach Tourism
Pembrokeshire Tourism
Redland City Council | Redland Coast
San Francisco Travel
San Juan Islands Visitors Bureau
Shire of Esperance
Shoalhaven City Council
Shuswap Tourism
South Africa Tourism
South Burnett Regional Council
Southern Queensland Country Tourism
Tahiti Tourisme
Tenterfield Shire Council
The Outer Banks Visitors Bureau
Thompson Okanagan Tourism Association
Tourism and Events Queensland
Tourism Abbotsford
Tourism Bay of Plenty
Tourism Calgary
Tourism Chaleur
Tourism Chilliwack
Tourism Fernie
Tourism Greater Geelong & The Bellarine
Tourism Golden
Tourism Harrison
Tourism Jasper
Tourism Kamloops
Tourism Medicine Hat
Tourism Nanaimo
Tourism New Brunswick
Tourism Port Douglas Daintree
Tourism Richmond
Tourism Saskatchewan
Tourism Saskatoon
Tourism Sun Peaks
Tourism Toronto
Tourism Tropical North Queensland – Cairns
Tourism Ucluelet
Tourism Vancouver
Tourism Vancouver Island
Tourism Vernon
Tourism Victoria
Tourism Western Australia
Tourism Whitsundays
Tourism Winnipeg
Tourisme Edmundston & Region
Tourisme Montréal
Tourisme Saguenay-Lac-Saint-Jean
Townsville Enterprise
Travel Alberta
Travel Lane County
Travel Manitoba
Travel Yukon
Tropical Coast Tourism
Visit Aiken SC
Visit Antwerpen | Antwerp
Visit Big Sky
Visit Brabant
Visit Canberra
Visit Colorado Springs
Visit Corvallis
Visit County Durham
Visit Durango
Visit Fairfield
Visit Florida
Visit Fort Collins
Visit Greenland
Visit Hendricks County
Visit Huntington Beach
Visit Jersey
Visit Lexington
Visit Logan
Visit Longmont
Visit Oceanside
Visit Oklahoma City
Visit Pagosa Springs
Visit Pasco
Visit Pensacola
Visit Richmond
Visit Sacramento
Visit St. Pete Clearwater
Visit Stockton
Visit West Hollywood
VisitAberdeenshire
VisitCape
VisitOdense
Western Australia – Experience Perth
Western Australia- Australia's Coral Coast
Wonderful Copenhagen