The Challenge
Tāpoi Te Moananui ā Toi / Tourism Bay of Plenty (TBOP) needed to gain the social license to develop and follow through with an ambitious, strategic vision for responsible tourism.

The Insight
The diverse residents of the Bay of Plenty love the place they call home. They are motivated to grow tourism in a way that regenerates the environment for their kids and grandkids.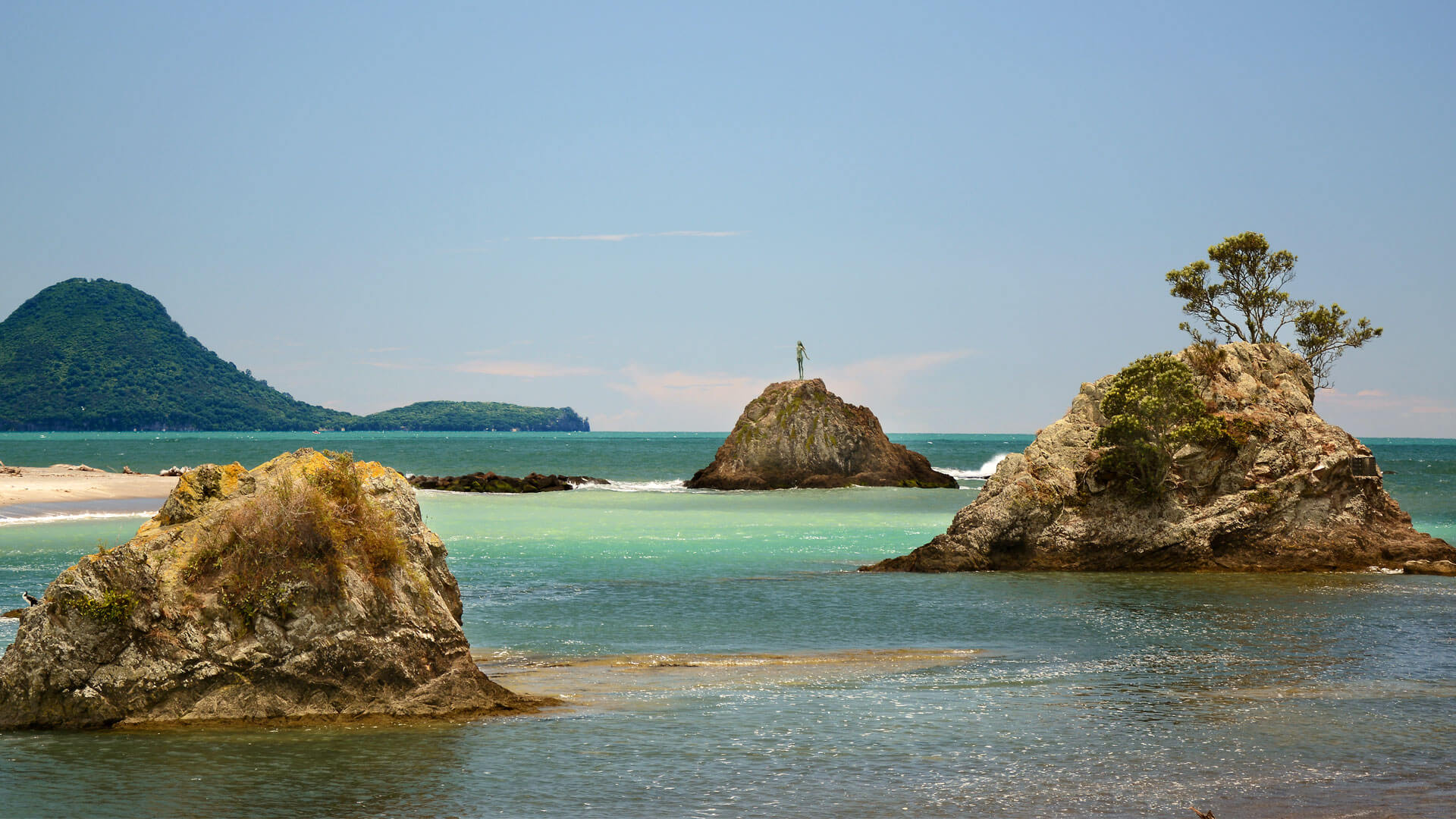 THE SOLUTION
Destination Think and TBOP collaborated with residents to create Te Hā Tāpoi / The Love of Tourism destination plan. It outlines the vision for residents to share their love of the Bay of Plenty with the world. 
Tourism helps our region flourish. It regenerates (and does not extract from) our region, which makes it a better place over time. Visitors are welcomed on our terms, and the experience transforms them as they respectfully share OUR place as we know it to authentically be. That unique visitor experience transforms their souls. They take a piece of Te Moana Nui a Toi's history, culture and an indelible impression of our people and place with them.
The Māori people are Indigenous to the Bay of Plenty and central to its identity. Māori communities hold a strong tradition and aspiration for a regenerative way of life that leaves places better off for future generations. Given the global need for sustainability and environmental conservation, people across the region and the world are adopting this value. Te Hā Tāpoi / The Love of Tourism recognizes this need for collaboration between peoples of settler and Indigenous descent.

"[The Māori] have a beautiful way of viewing the world and doing business. What we're trying to achieve with this plan isn't our thinking. It's very much a return or an elevation of Māori thinking and the values that have been displaced by colonization or industrialization. The whole point is to leave the place better for future generations, and that means going further than sustainability. That's where we started to uncover regeneration, and now we're really passionate about this concept."
Kristin Dunne
CEO at Tāpoi Te Moananui ā Toi / Tourism Bay of Plenty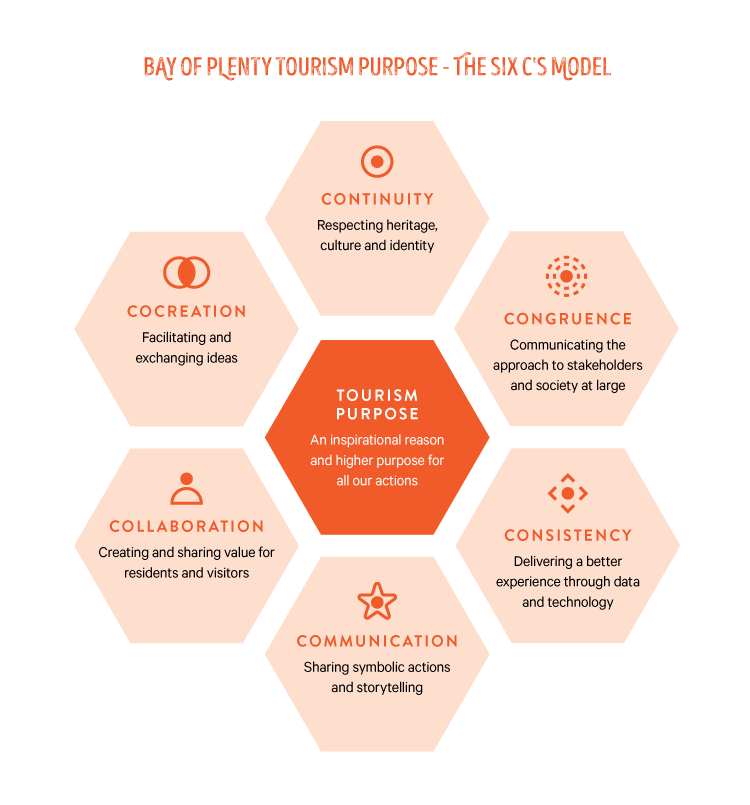 A place's people and its identity drive all actions in a tourism destination, including strategic planning, travel experiences and promotion. That is why Destination Think's process began with Place DNA® – our method for uncovering the true identity of a place.
Place DNA® allows destinations and places to articulate their distinct identity in the words of residents and visitors. Places use their authentic strengths and weaknesses to deliver remarkable experiences and to tell compelling stories. When we bring communities together to collaborate on Place DNA®, the result becomes the foundation for all marketing decisions.
Te Hā Tāpoi / The Love of Tourism plan flows directly from the Bay of Plenty's DNA. To build the plan, we led a collaborative process with Tāpoi Te Moananui ā Toi / Tourism Bay of Plenty. We held a series of workshops across the region, where residents gathered to brainstorm and provide input.
The resulting plan outlines a collective vision and actions that contribute to improving the visitor experience while achieving economic, social, environmental and cultural objectives. 
The plan is built on four pillars:
Environmental Regeneration

Community Inclusivity

Unique Culture and DNA

Transformational Visitor Experiences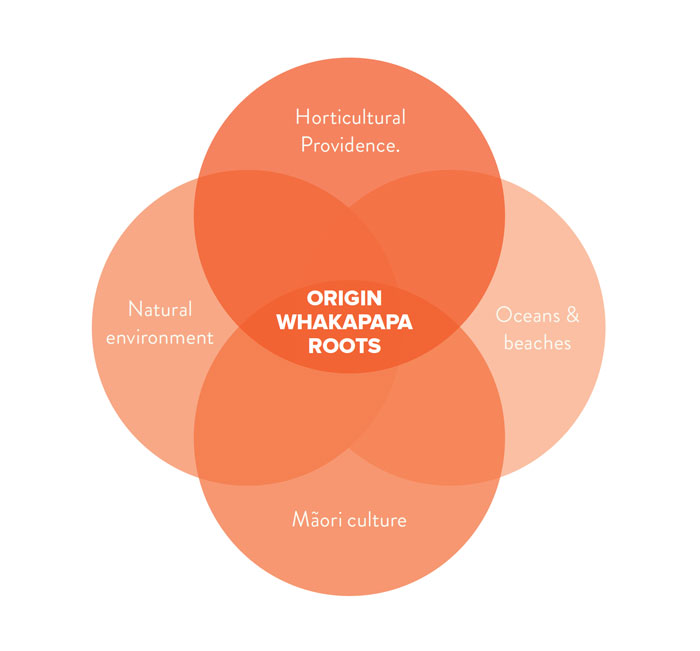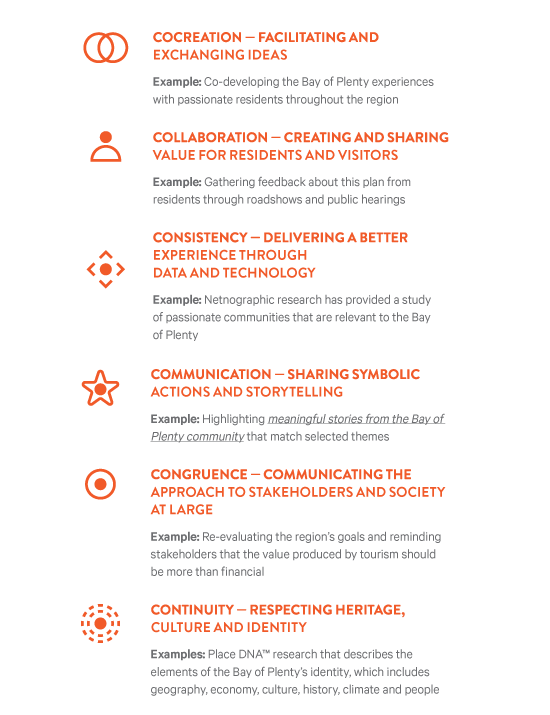 Upon completion, our strategy team and TBOP presented the plan back to the region's stakeholders, which include tourism operators, Māori communities and residents. 
This process has given TBOP the social license needed to lead responsible tourism growth. It is one stage in a series of collaborations with the people who make tourism experiences happen. Success measures include positive word of mouth according to sentiment scores, resident support, visitor satisfaction and visitor length of stay.
Of course, the outcome of an ambitious strategy depends on the actions that follow it. Destination Think has also provided guidance to help TBOP turn this plan into a reality. For example, we developed a unique framework called the Six C's Model that guides tangible actions toward regenerative tourism. This ensures that residents and stakeholders are aligned as they co-create the future they have imagined.
Te Hā Tāpoi / The Love of Tourism is the rallying cry that leads the Bay of Plenty toward a flourishing future for tourism, people and the environment.
ONLINE CONVERSATIONS ANALYZED