Word of mouth from passionate communities has an enormous impact on your brand and reputation.
As Facebook points people toward private groups, potentially at the expense of public business pages, some destination marketers are wondering:
What does this change mean for my destination's marketing strategy?
How will this affect social media engagement?
How can I respond to the trends that shape visitor behaviour and word of mouth?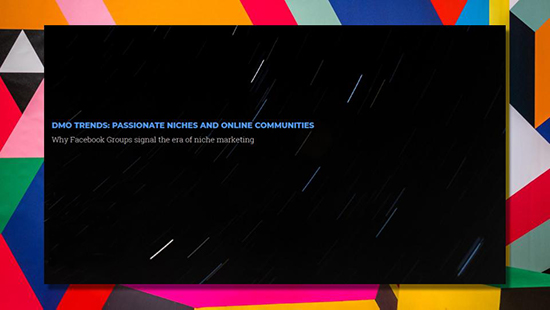 Destination Think!'s in-house team of content marketers, along with our Chief Strategist, William Bakker, have done the research and made recommendations that will help you:
Better engage and influence travellers,
Understand how your potential visitors behave online,
Learn why interest-based marketing improves word of mouth,
Find out how today's Facebook trends affect your DMO's content marketing,
Understand your role within online communities including Facebook Groups.
This article includes strategic and tactical recommendations that you can put into practice today.
By downloading, you'll also get access to our weekly newsletter, DMO Matters, where we share destination marketing trends and innovations.
With this request for the free trend guide, if you are not already a subscriber, you will start receiving weekly issues of DMO Matters, a roundup of the news and trends important to destinations and provided by Destination Think.