"Tourism is the antithesis of war."

– National Tourism Organization Ukraine
This is a call for public expressions of solidarity. As the Russian invasion of Ukraine continues, the President of National Tourism Organization (NTO) Ukraine, Ivan Liptuga, asks for your support. Ivan contacted us at Destination Think to describe how, while tourism is impossible, and with lives at risk, people working in tourism and destination marketing are turning their talents toward resistance, humanitarian aid, safe passage for refugees, and support in the information war. 
Ivan also says that now is an important time for destination marketing organizations (DMOs) and tourism leaders everywhere to voice their solidarity. 
"[…] the best help will be a public reaction of the leaders of various destinations and DMOs in support of Ukraine. These can be both open statements on their resources, and various marketing campaigns. Now every voice is valuable and important to us."

– Ivan Liptuga, President of NTO Ukraine
You will find Ivan's story below, but first, here is how you can act. 
How your DMO can show solidarity with the people of Ukraine
Our team has put together a simple media kit that makes it easy to express support. 
The kit contains key messaging, sample social media copy, and images suitable for the web. All this is designed for your DMO to use through its corporate channels, but the messaging is relevant no matter your position in the tourism industry.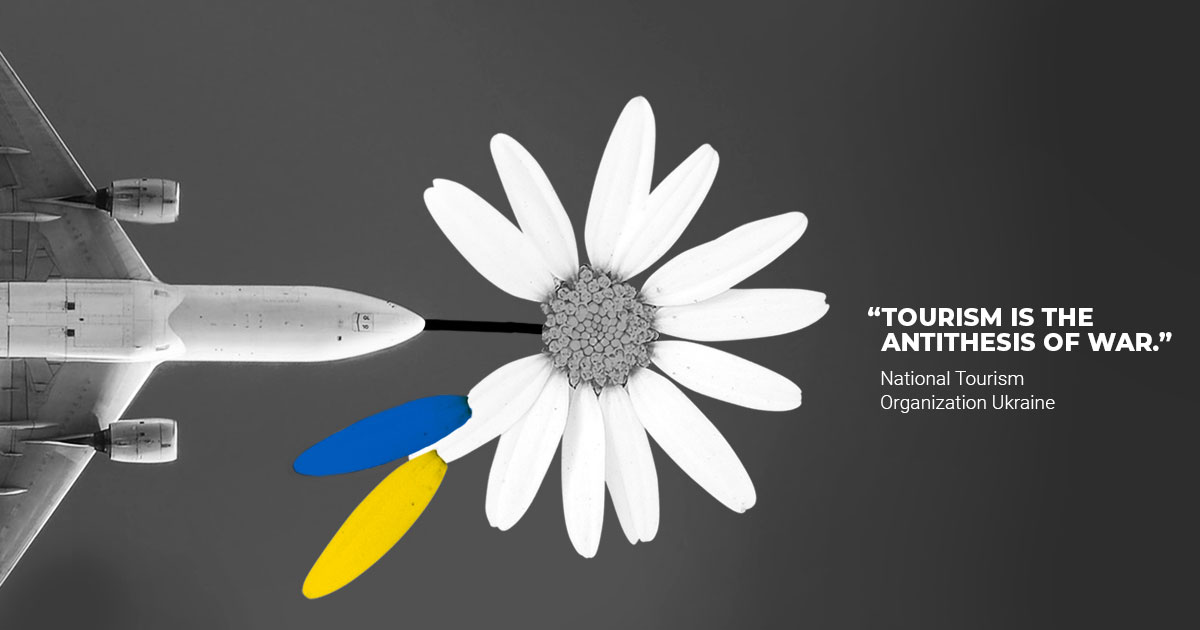 What follows is Ivan's perspective. We hope you will join us in taking actions of solidarity with Ivan, NTO Ukraine, and the people of Ukraine. 
Interview with Ivan Liptuga, President of NTO Ukraine
In peacetime, Ivan Liptuga and NTO Ukraine are busy with the daily work of destination management that would be familiar to your DMO. But during Russia's invasion, NTO Ukraine and tourism colleagues have been compelled to find their footing as part of the resistance, even as the war takes a tremendous toll in human lives. Part of that effort, Ivan says, involves using the DMO's crisis communication skills in the information war.
Ivan wrote to us about the events leading up to the invasion as well as current efforts to promote solidarity, like the #ScreamforUkraine campaign, which was recently launched by NTO Ukraine and World Tourism Network. He describes how the DMO's abilities are being put to use right now, and, most importantly, how you can help from afar.
Editor's note: This interview has been lightly edited for clarity. Be advised it contains a brief description of war crimes.
David Archer, Editorial Manager at Destination Think: What were you working on before this invasion began?
Ivan Liptuga, President of NTO Ukraine: The National Tourism Organization of Ukraine is a non-governmental and non-profit organization that was established at the end of 2016 at the initiative of the Ministry of Economy of Ukraine in accordance with the tourism development strategy 2026. Our main activities are:
Can you tell us about the #ScreamforUkraine campaign and how it began?
Just a couple of weeks before the Russian invasion of Ukraine, when the international media was already openly talking about the serious risks of an all-out war, the vast majority of people did not believe in the likelihood of such a scenario. Despite the divisions and the ongoing, smoldering conflict in eastern Ukraine, no one thought that the Putin regime was crazy enough to go to open war in the centre of Europe. 
Accordingly, NTO Ukraine received many questions from foreign media, and together with the World Tourism Network (WTN) we decided to hold a Zoom meeting, which was attended by various destinations in Ukraine, tour operators and hoteliers. At the meeting, we reassured our international partners, saying that everything is calm and under control in Ukraine. A recording of this meeting can be viewed here. 
What have you seen from your tourism colleagues since everything changed? The NTO Ukraine website describes a few ways the skills of Ukrainian DMOs translate to resistance. 
From the very first days of the crisis, our colleagues, representatives of regional and local DMOs, as well as tour operators, carriers, hoteliers and restaurateurs switched their activities to military footing. The well-established network of the hospitality industry began to perform the functions of catering and providing self-defense units with everything necessary. Carriers and tour operators organized the work of leaving refugees from life-threatening regions to calmer regions, as well as abroad. Hoteliers in the southern and western regions organized the transit and reception of refugees.
The experience of the first month of the war showed how important the role of DMO is not only in peacetime and not only for marketing the destination as a tourist attraction, but also in crisis situations. Model 4C: Communication, Consolidation, Coordination, and Cooperation has once again proved its relevance for the destination in the well-coordinated cooperation of small businesses and local residents. A wide network of contacts and partners made it possible to quickly establish processes of assistance to everyone for whom it is necessary, both residents and the military.
Separately, it is worth highlighting the direction of our activity in terms of information and marketing. This war takes place not only on the battlefield, but also in the media and social networks, so we began to use a wide network of contacts and marketing communication channels to attract attention and support from the global tourism community. That support includes placing economic pressure on the tourism industry in the country of the aggressor. This has yielded significant results and added to the list of companies that have ceased or limited their activities in and with the Russian Federation.
How can destination marketing or tourism leaders around the world best help the people of Ukraine right now? How can they support you and your colleagues?
"…the best help will be a public reaction of the leaders of various destinations and DMOs in support of Ukraine. These can be both open statements on their resources, and various marketing campaigns. Now every voice is valuable and important to us."
At the moment, the entire civilized world has already spoken out in support of Ukraine and called the genocide against the Ukrainian people after itself. This is exactly what is happening now in our country. The Russian army is committing massive war crimes against humanity by killing, raping and robbing the civilian population of Ukrainian cities. Any help in the form of an expression of protest against military aggression and refusal to cooperate with Russian companies will help to quickly provoke a reaction from the Russian society, which is blinded by internal propaganda and cut off from the world information field. Now is not the time for diplomatic and neutral slogans for reconciliation that Russia does not want to hear. Only isolation and economic pressure at all levels, as an irreconcilable reaction to the actions of the Russian Federation, can wake up the population of Russia and force them to take action against their own government. For the actions of the Putin regime, the entire population of this country bears collective responsibility, which expresses support for its distraught leader and his entourage.
This is not just a war between two countries in the center of Europe, it is a war between democracy and autocracy, between good and evil, between the future and the past. Therefore, the best help will be a public reaction of the leaders of various destinations and DMOs in support of Ukraine. These can be both open statements on their resources, and various marketing campaigns. Now every voice is valuable and important to us.
What to do next
We want to thank Ivan Liptuga for sharing part of his story with us during this catastrophic and dangerous time. Our hearts go out to the people of Ukraine and those suffering in this war. Ivan described two ways you can make a difference.
Express solidarity with Ukraine and against war
Download the Ukraine Solidarity Media Kit and share the messages on your DMO's corporate channels and in your professional networks.
Stop doing business with Russia
Join the many businesses and organizations around the world that are applying economic pressure.
More ways to show tangible support
You can donate to NTO Ukraine directly or to one of these NGOs providing aid.