The 2016 Olympic Games in Rio is more than an athletic competition – it's shaping up to be the largest social media event in history. Less than two months from now, on August 8, over 10,000 athletes from 207 nations will begin to compete as part of a sixteen-day global spectacle that will offer destinations the opportunity to improve word-of-mouth promotion by joining worldwide conversations about the Games on social media. Is your destination ready to participate?
If you're just getting started, look at this data from four years ago. The number of conversations inspired by the 2012 Olympic Games is simply staggering:
2.9 million: Total conversations had about the opening ceremonies
30 million: Number of Americans who shared Olympic content during work hours
150 million: Number of tweets about the 2012 Olympic Games
Simply put, The Olympic Games dominate social media around the world (and in Canada's case, can even drastically affect water usage) for the good part of a month.
How can a destination marketing organization (DMO) benefit from the all this activity? Here are a few ideas:
1. Identify your destination's Olympic athletes.
With over 10,000 athletes participating in everything from swimming to BMX cycling, there's a good chance your destination might have played a role in helping one of these Olympians succeed. Follow them on social media, interact with them, send them a package of DMO swag and when they compete, make sure your digital followers are aware.
2. Highlight your destination's events and attractions that relate to Olympic moments.
Did someone from your country just win gold in the cycling road race? Then it's a great time to discuss that upcoming Gran Fondo. Is the beach volleyball final on tonight? Tell your audience about your public volleyball courts next to the ocean. Is an equestrian event on today's national broadcast? That's the perfect time to mention your destination's horseback tours. Check out the list of sports on the Olympic program for 2016 and brainstorm how your DMO can position its attractions and events within them.
3. Use the Olympic Games to inspire your content and gain traffic.
For the sixteen days of the Games, any message that uses the word "Olympics" will see increased attention. Make use of the Olympic Games in your content creation, especially in blogging. For example, an Olympic marathon runner will burn roughly 2,500 calories during the race. If they were to replenish those calories in your destination, what restaurants would you recommend they do it in?
4. Participate.
At some point during the Olympics, your country will have a big moment. Whether it's a monumental and inspiring gold medal or a devastating loss in a final, tastefully join the discussion. After Canada won hockey gold in 2012, the most northern town in the country posted this widely-shared tweet: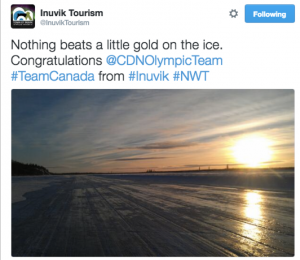 By using the proper hashtags and tagging the correct accounts through social media, your destination could ride a wave of positive promotion in a moment of national triumph.
Since algorithms factor engagement into how content is ranked on Facebook, Instagram and Google search, the Olympics provide an easy opportunity to generate conversation that will positively impact your accounts months after the games are over.
The countdown to the 2016 Olympic Games is less than 60 days. Will your DMO use this opportunity to score social media gold?
Related reading: Incremental gains: If your content manager isn't making them, your destination is losing.
Featured image credit: Republic of Korea, Flickr