In Calgary, you can enjoy the world-famous Calgary Stampede, a vibrant music scene, and sled down the popular luge and bobsleigh tracks, part of the legacy of the 1988 Winter Olympic Games. Canada's third-largest city has plenty to offer, but what truly sets it apart from other Canadian urban destinations? Proximity and ease of access to The Rocky Mountains, for one.
Over the past two years, Tourism Calgary (in partnership with Destination Think) has set out to show how distinct and valuable a Calgary visit can be through an annual content marketing campaign: Basecamp to Adventure.
Challenge: Shifting perception to highlight Calgary's unique position as a gateway city
Calgary is an amazing, diverse city, but there is a perception among some young travellers that it lacks a vibrant urban scene that can compare to other major Canadian cities like Toronto, Montreal, or Vancouver.
To change this perception, the city needed to demonstrate a clear and unique value to urban millennial travellers. (Destination Canada has released a report that identifies the millennial market as "a catalyst for future growth" in domestic travel.) Tourism Calgary began to look beyond city limits and share inspiring stories about not only the plentiful urban attractions, but also the natural and cultural wonders located just outside the city.
Calgary is within striking distance of some of the most iconic Canadian travel experiences that are important attractors for Tourism Calgary's key long-haul markets in Toronto and Vancouver. The city is a basecamp for visitors who will spend time at Dinosaur Provincial Park near Drumheller, or access bucket list destinations like Lake Louise and Banff. Tourism Calgary took a consumer-driven storytelling approach with 2015's "Rockies Through Your Eyes" campaign (a partnership with Banff & Lake Louise Tourism and with support from Destination Think), which began to show Torontonians that Calgary is within a 90-minute journey of some of Canada's most impressive sites.
Emboldened by this success, Tourism Calgary then continued to confidently leverage its city's role as a launching point to explore Banff, the Rockies, and the surrounding area. The DMO has also invested further into telling authentic visitor stories.
How did Calgary continue to reposition itself to young, urban travellers?
Solution: Basecamp to Adventure
Tourism Calgary created the "Basecamp to Adventure" campaign to further build awareness of the incredible experiences that surround Calgary.
The campaign focused on the millennial markets in Toronto and Vancouver, both of which are major cities with many direct flights to Calgary. It would also supplement the DMO's national marketing efforts to position Calgary this way.
Tourism Calgary built this awareness through a robust content marketing campaign. The campaign utilized influencer content, user-generated shareable images, and research-driven persona development to tell compelling, shareable stories that would engage the millennial travel market.
Identifying niches and personas
At the onset of the campaign, Think worked with Tourism Calgary to identify the primary potential traveller niches and the corresponding experiences in and around the city. From these primary and secondary experiences, research was conducted to create a likely persona for each. A persona is a character that is created based on research into real visitor behaviour. The Calgary personas were given a name, career, vehicle, and list of likes and dislikes. Each persona represented a type of traveller who was likely to travel to Calgary.
The end result? Four unique personas were created, spanning eight iconic summer activities in Calgary or within driving distance. Each specific experience was also mapped onto Tourism Calgary's four existing experience pillars: Adventure, Music, Nature, and Urban Excitement. The four personas were:
Outdoorsy Free Spirits: These visitors are in their late 20s or early 30s. They don't take themselves too
seriously and want to lose themselves in the moment.
Sled Island Attendee: The Sled Island Festival is a huge summer draw for indie music lovers. Aside from the festival, they're looking to feel the pulse of the city.
Culture and History Buff: The culture buff visits Calgary seeking to broaden their horizons and take home more than just memories and souvenirs.
Chasing Summer Attendee: Chasing Summer is the largest electronic dance music festival of its kind in Western Canada. These visitors are younger millennials who seek out the hottest nightlife in town, as well as some active outdoor experiences.
From left to right, this chart shows Tourism Calgary's pillars, specific experiences, personas, and influencers: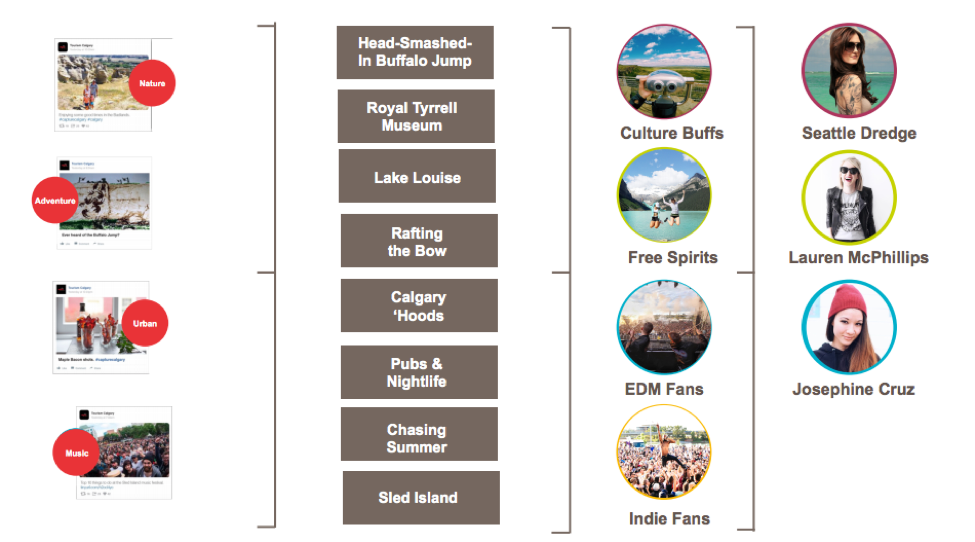 User-generated content, bloggers, and shareable objects
The personas affected all content marketing decisions. They were used to identify niche experiences and topics for content, to find bloggers, and to create shareable objects used in social media and other online marketing.
Tourism Calgary also invited prominent Vancouver- and Toronto-based bloggers to experience the city and produce niche content based either on previous trips, or as a result of a campaign-specific famil trip. From thrill-seeking excursions to pulsating music festivals, influencers shared their Calgary experiences through blog posts published on the Basecamp to Adventure website. Each blogger shared stories tailored specifically to one of the four personas. Tourism Calgary was able to further deepen the campaign's content by repurposing blog posts that promoted relevant experiences.
To promote the influencer blogs, social media content calendars were created to help the online communities tell the story of Calgary from their points of view. This included local Calgarians as well as those in the Toronto and Vancouver target audiences. The story generation followed a three-step process.
Social media posts were designed to draw out authentic stories that aligned with niche experiences and the personas.
Some of the quotes from these stories were added to images to become shareable objects.
Additional engagements and images generated from those posts fed into additional blog content.
The campaign was also supported by targeted advertising on Facebook and Instagram.
Results
The Basecamp to Adventure campaign had a significant, measurable impact on Tourism Calgary's already-successful performance by combining customized content with highly targeted online advertising.
Compelling local storytelling and user-generated content continue to increase awareness of Calgary as a launchpad to amazing experiences both in and out of the city. During the campaign, local community members (both businesses and residents) enthusiastically expressed their passion for Calgary with potential visitors. They became tourism advocates and ambassadors by sharing impactful stories, images, and quotes that helped to promote Calgary.
In addition, Tourism Calgary has increased its content marketing expertise related to niche marketing and influencers that will help the organization demonstrate the destination's true, unique value and use its budgets effectively for the greatest impact.
Tourism Calgary sought greater influence on millennials in Vancouver and Toronto. What does success look like? We can see the positive results through these important metrics that show precisely who was deeply engaged in the content after they had been brought into the social ecosystem. That's where the results really shine through.
Traffic to Tourism Calgary's web content was up where it mattered most:
18-24 year-olds on the Tourism Calgary website: +322%
25-34 year olds on the Tourism Calgary website: +201%
Vancouverites on the site: +205%
Torontonians on the site: +96%
If there's one lesson you can learn from this, it's that focus is everything.
Related reading: Go niche or your visitors will go home.
Editor's note: This post has been updated to further emphasize Calgary's strategy to reach growing markets in Toronto and Vancouver.
---
Destination Think is an industry-leading partner for the world's forward-thinking DMOs, like Tourism Calgary. Contact our team to learn how we can help you have the greatest impact with your marketing dollars.