"Being an industry leader means being a community leader. Destinations are places where people work and live. There is no separation between the public and stakeholders. It's a time in which we need to step forward and provide the support that people really need."

– Sarah Prud'homme, Senior Strategic Consultant at Destination Think
When it feels like the tourism industry in your destination is in freefall, it's time for your destination marketing organization (DMO) to step up as a community leader and mitigate the impact of the COVID-19 pandemic on your community. In our third Virtual Forum session, Sarah Prud'homme, Senior Strategic Consultant at Destination Think, outlines four ways your organization can engage meaningfully with industry partners and support your community.
1. Reconfigure your team toward crisis management
"Your industry doesn't need a destination management organization [right now]," says Sarah. "What they really need is a crisis management organization." To effectively address the impacts your community is facing, your DMO will need to pivot in offerings, reallocate resources and take a hands-on approach. Through an analysis of academic research, Destination Think has determined the core responses your DMO can offer during times of crisis to support your community, including:
2. Aid in relief efforts
During this mitigation phase, consider the material needs of your community. Identify where aid is required and determine how you can collaborate with government organizations to provide aid. This may involve contributing to food security or stable housing or encouraging acts of community spirit. "Places around the world are often remembered for how they handle crises," says Sarah. "It's an opportunity to step up […], positively contribute to the crisis and make sure that you are helping to meet people's most basic needs. It's not a traditional role of a DMO, but what is essential in this instance." For example, Mammoth Lakes Tourism in California partnered with US Foods to organize a drive-through food bank service to support those affected by layoffs. Sarah also advises being there for your industry members: be reachable, answer questions and provide guidance on how to apply for aid.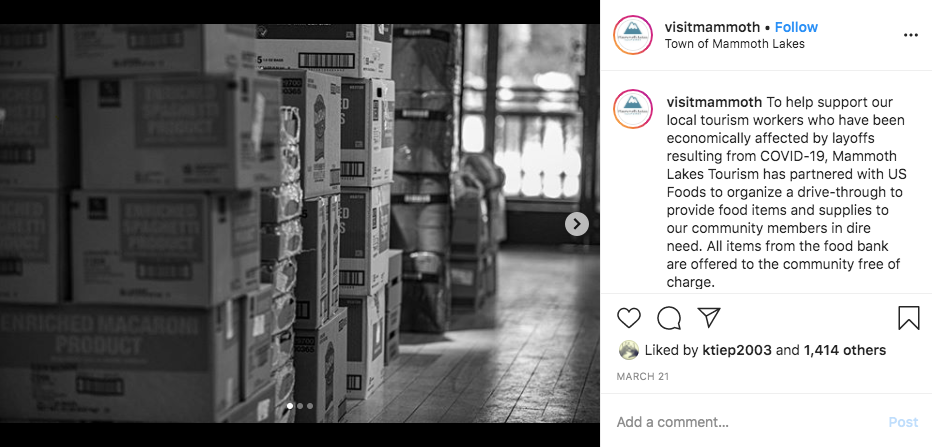 3. Communicate with transparency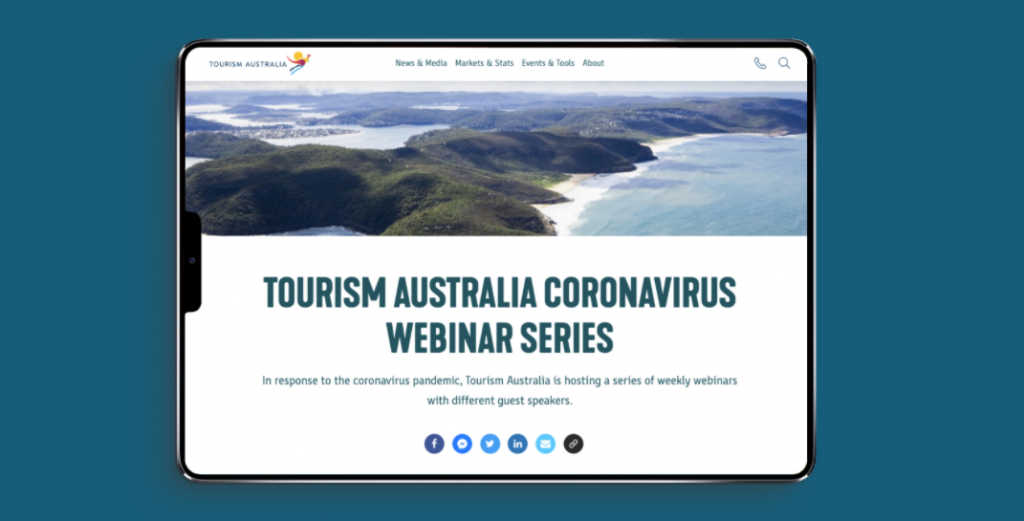 Another useful approach right now is to mobilize local support. For example, Visit California has launched an initiative called California Takeout Tuesday that encourages locals to support their local restaurants in a way that is actionable and ritualized.
4. Demonstrate leadership in action
"People want to participate in a solution," Sarah says. "And [taking] action in a crisis helps people to find control. It's a way to recruit people's worry into action that will help alleviate their anxiety." A powerful way your DMO can provide leadership is by engaging your community in collective problem-solving. For example, you can lead brainstorming sessions, or harness different types of expertise to create a task force.
This is a time of turmoil for many destinations, but by dedicating yourself to serving your community, your DMO can rise to the challenges of this moment.
Click to hear Sarah Prud'homme's full presentation from Virtual Forum and view the slide deck here.
Support for your DMO
From Bermuda to California to Campbell River, our team helps tourism destinations respond to crises and work toward recovery with poise and confidence. Speak to us to learn about our collaborative approach to strategy, communications, and creative solutions or click here to send us your RFP.