"Promoting safe travel is so important because no one wants the tourism industry to be responsible for a second wave of infection and illness."

– William Bakker, Chief Strategist at Destination Think
As your destination progresses towards a tourism restart, the health and safety of your visitors and residents should be your highest priority. Your destination marketing organization (DMO) may face pressure to promote travel, but, for many places, returning to business-as-usual is not possible or responsible.
Right now, promoting safe travel is the only way to promote travel at all. Take note of these tactics as you work to support your local community. We've noticed many DMOs doing great work in these areas. If you haven't already considered these approaches, now's the time to start.
1. Understand your social responsibility
Your DMO may have worn multiple hats over the past few months, including public servant, community leader and crisis manager, and now you'll don another: safety advocate.
Regardless of whether you've been called upon by your local government to amplify safety messages, encouraging responsible travel is crucial. "Your actions won't only help with the short-term; they'll also offer an opportunity to build a strong reputation for the future," says William. 
Here are some considerations for your DMO:
Guiding your industry partners on how to reopen safely;
Communicating official health regulations on physical distancing in your region;
Advocating for safe travel practices, including local outdoor experiences and hygiene protocols.
2. Be transparent in your communications
Consider your target audience's emotional state. You may be speaking to residents itching to get out of the house or industry operators relying on tourism revenue. Alleviate their frustrations by keeping them informed of the latest news in your region and safe travel tips. For example, Destination British Columbia includes consistent messaging about local travel and cancellation policies on its social media channels, pointing visitors to a landing page that houses travel updates. William also suggests humanizing your industry. "Tell the stories of the people behind local tourism businesses, how they are impacted and how they care about their community."
Keep your audience's emotional state in mind when working on your communications strategy.
3. Prepare your community to host travellers again
Throughout the pandemic, mistrust of outsiders has become deep-seated in many communities. "Understandably, some people fear that travellers will bring the virus with them, along with unnecessary danger to their vulnerable communities," says William. To help them overcome trepidation, show your visitors how you're keeping them safe. For example, the local government in Maine has worked with its tourism industry, public health experts and others to develop the Keep Maine Healthy plan. This effort is aimed at minimizing the risk of spread to the local population.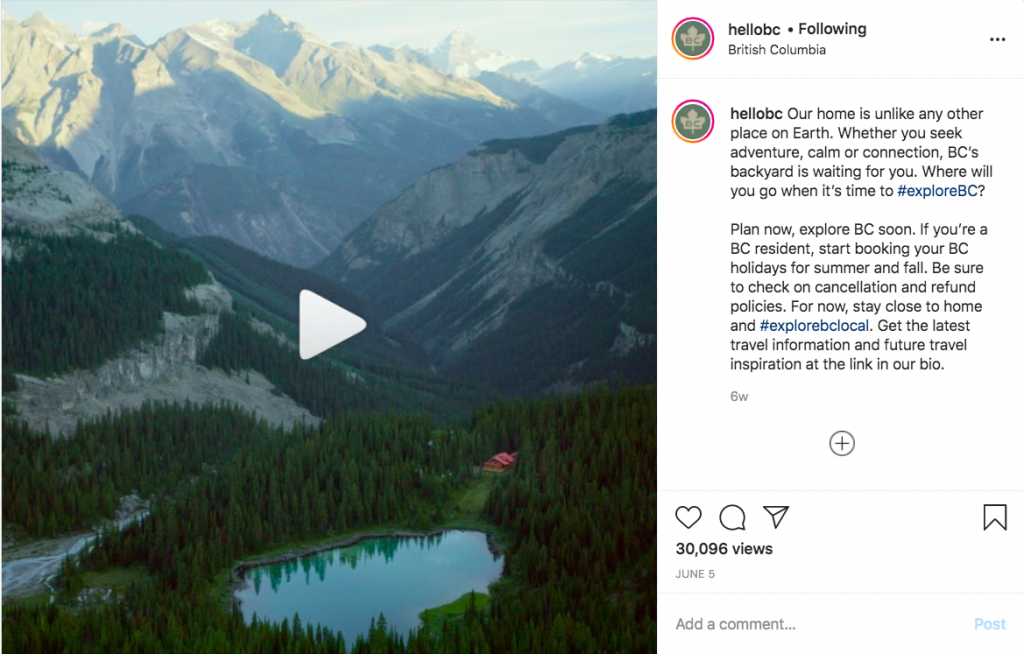 Destination British Columbia's social media messaging focuses on safety.
4. Point to a trusted health information source
Your community may look to your DMO for guidance around safe travel behaviour. But alongside the wealth of health guidelines available, your message may get lost. Keep clarity in mind: identify a single source of truth that your organization adheres to, whether it comes from your state government, local council or public health body. Once you determine your source, consider how you can make the advisories digestible and actionable for travellers. Infographics, videos and dedicated landing pages are useful tactics for communicating safety messages effectively.
5. Continually assess the situation
The path to reopening will not be linear. "We're still dealing with a lot of uncertainty. That means you need to be prepared for a changing situation, good or bad," says William. There may be a second or a continual wave of infection in many places, and destinations will teeter between stages. Different amenities will open (and possibly close) and varying times. This instability means your DMO needs to prepare for all contingencies using scenario planning and continually sharing relevant updates with your visitor and domestic communities.
Promoting experiences that will generate income in the short-term but increase infection rates will, in the long run, hinder your destination's recovery. Keeping safety at the core of your marketing efforts over the next few months will help ensure your destination's resiliency. It's also the empathetic, humanitarian approach that today's world needs most.
Get the support your destination needs during COVID-19
Destination Think helps destination marketers navigate the pandemic through smart strategy and clear communication. Join our COVID-19 initiative to find a world-leading support system for your DMO.
Feature image credit: Stephan Vance via Unsplash