BREAKING: Posts beginning with the letter Q will now rank highest in Facebook's News Feed. Marketers using L, S and T will pay higher ad rates to gain reach. In response, big brands are developing a 27th letter to beat the new algorithm. Full story at 11.
Not really. But recent (real) changes to Facebook's algorithm have led some marketers to worry that their organic reach will disappear, or that their page will die without spending lots of money on advertising.
This worry is natural. What content marketer, social media manager or marketing director would want their reach and engagement numbers to go down?
Unfortunately, this reaction misses the point. Your DMO's Facebook performance cannot come at the expense of storytelling and content marketing skills that will build loyalty and advocacy to outlast any platform.
Before you go back to work on your social media channels, make sure you know why you're using them.
Skilled content marketers are indeed watching the news and the data so that they can adapt and optimize their content for better performance. But why is their work valuable to a DMO strategy?
The most effective DMOs know that their marketers' primary mission is to nurture and improve word of mouth for their destination.
(Not sure if your DMO has a sound strategy? Read: Survive the Facebook algorithm and thrive with timeless destination marketing strategy)
Use Facebook as a tool to help your passionate advocates amplify word-of-mouth recommendations.
The value in using Facebook is not that you can reach two billion user accounts. Facebook is important today because it lets you talk to people who love your destination, and those whose interests are relevant to what your destination offers. The platform enables two-way dialogue between a destination and its visitors.
More importantly, you can use Facebook to help passionate fans talk about your destination among themselves and to their friends. What begins as two-way communication leads to an always-on group conversation rekindled by new experiences.
You can enable these conversations in any medium; Facebook happens to be the platform of choice for many people today. If you've focused on the principles of word of mouth and storytelling, it won't matter what happens to Facebook, because visitors will all connect wherever they prefer to be.
At Destination Think, these two principles help us create and curate the best possible always-on content for our destination marketing organization (DMO) clients on any platform using any algorithm.
2 fundamental content marketing principles for destination marketers
1) Hone your storytelling skills by learning timeless content strategies and tactics.
Your destination's advocates and visitors speak in stories. As a marketer, storytelling is your craft. Master your craft.
Encourage and amplify the best visitor stories to improve word of mouth, no matter the platform. You'll likely improve your Facebook content and engagement along the way.
In our experience with destinations all over the world, the most successful pieces of content usually incorporate these four elements. Together, we call them the Content CAVE.
Connection: Does your story speak to a specific audience? Will they care enough to spend their valuable time reading, watching, writing back and sharing your post?
Attention: All companies and brands competing for attention, and it is noisy out there on the Internet. Are your posts unmissable? Do they use a sticky idea or a remarkable visual that will pique your readers' curiosity? This doesn't mean clickbait, it means captivating storytelling.
Value: How does your content help your audience? Does it teach them something new, give them something to brag about, or improve their experience as a visitor?
Emotion: Well-told stories elicit emotion. How will your audience react to the story you share?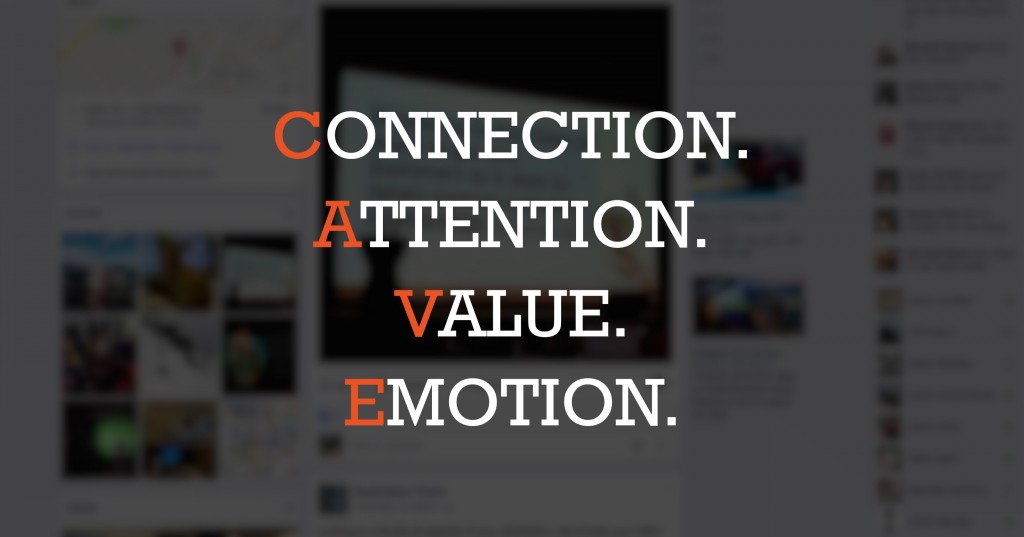 Pay attention to Connection, Attention, Value and Emotion with every post, and your audience will be more likely to find your stories meaningful, shareable, and worthy of conversation.
Some destinations are ahead of the curve. Here are a few good examples of CAVE-inspired content from destinations we work with:
2) Monitor the results and adjust future content.
We can't know what changes Facebook will make to the News Feed algorithm, but we can control our input and adapt. Here are a few suggestions to help.
Measure engagement. Begin by tracking likes, reactions, comments and shares. But this information needs qualitative analysis to be useful. What patterns do you notice?
For example, which topics or experiences are resonating with the audience? What is the quality of the comments? Which posts bring out the most user-generated stories? What causes people to tag their friends? Learn to search for patterns to consistently improve.
Try new tactics and adapt content based on the needs of your audience. Forget about what the world's big consumer brands are worried about. Focus relentlessly on whatever is most engaging for your destination's specific audience. Don't forget that you know them best.
Make time to test new social media tools. Facebook and other platforms are always developing new ways to tell stories, and it doesn't hurt to adjust to the latest changes. Build time into your calendar to test new tools and tactics. For example, here are a few Facebook tactics in vogue today, which can help your posts' performance:
Using Facebook live video,
Ensuring a high video completion rate,
Using images or videos in each post,
Valuing reactions more than likes,
Linking to fast-loading webpages.
Encourage visitors to share stories before, during and after their trips. Your DMO's marketing messages are less important than visitor stories. Boost the stories that matter most to your audience, no matter where they come from. Gather stories from your audience during each stage of the customer journey. You may find that visitors help inspire and inform one another.
You won't improve the quality of your marketing by solely learning how to optimize for Facebook. Watch the news, yes. But don't depend on Facebook to teach you how to be a good storyteller. If you do, you'd better start working on that 27th letter of the alphabet.
Over the long run, gaining storytelling skills and managing word of mouth is the best way for content marketers to outsmart the algorithms.
Stay informed and up to date
At Destination Think, we will continue to watch, listen, measure, and adapt to the changes to Facebook and digital marketing. Maybe tomorrow's marketing mix will look different than today's. But word of mouth built on a great visitor experience is the foundation of effective destination marketing.
Is this idea new to you? Here are some examples we've worked on for destination marketing clients around the world:
---
Does your DMO need a strategy reset, help with content marketing, or a best practices guide for its staff and industry? Destination Think can help.