Destination marketers tend to believe that good branding is about standing out in the crowd. This is understandable, as traditional marketing training encourages new marketers to create unique, compelling messaging that simply must be heard due to its creativity and emotional resonance.
This creates a problem and a classic branding paradox: If everyone tries to stand out from the same crowd, everyone's doing the same thing. How can a marketer create a truly unique brand in an environment where everyone is trying to be unique in exactly the same way?
Hotelling's Law and the sea of sameness
Let's pretend we're at the beach.
It's a beautiful day, and two ice cream carts are at points A and C on Hotelling Beach. Cart A sells vanilla and cart C sells chocolate ice cream. They're both doing some good business, but the owners want to compete with each other and increase their market share, maybe so that they can both take their own beach vacation later. How will they do this?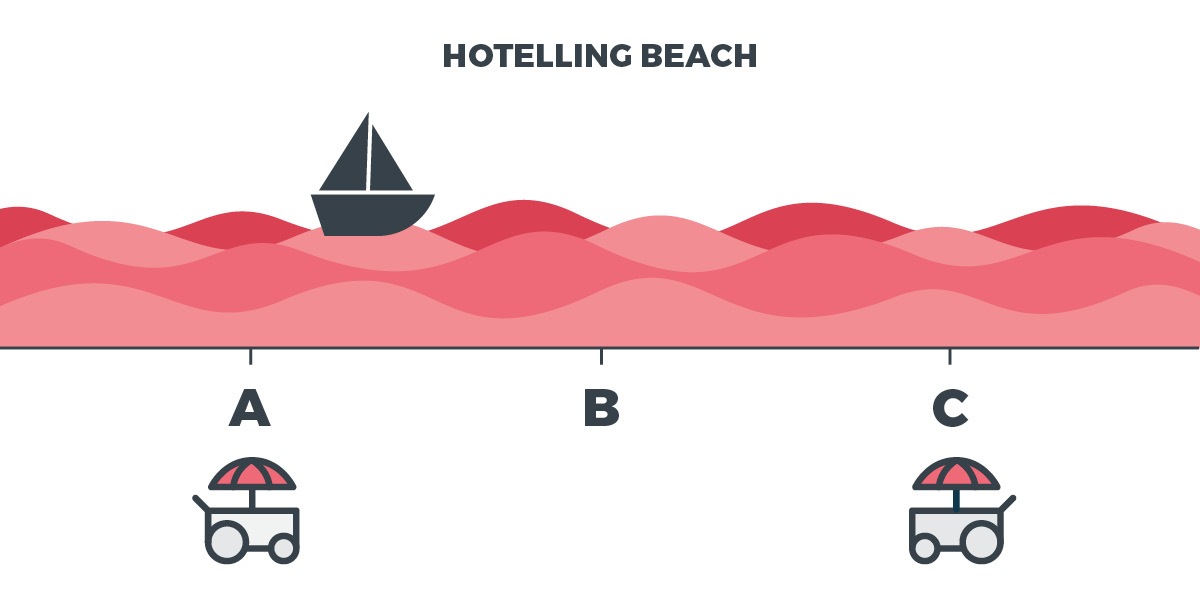 Harold Hotelling was a Stanford University economist who defined an economic theory involving a principle of minimum differentiation, or law of averageness, which says that "rival sellers tend to gravitate toward each other — in location, price, and product offerings — because otherwise they risk losing some of the broad mainstream of customers."
In this case, according to Hotelling's Law, they will both try to convert customers by luring them away from the competitor and moving toward the middle, point B.
Under this principle, the ice cream carts on Hotelling Beach will likely move closer together in location, match prices, or change flavours to become more like the other, instead of seeking to differentiate themselves further. Beachgoers could then face a choice between two almost identical blends of chocolate and vanilla at point B – a bland, beige compromise.
This is hardly the quest for uniqueness called for by modern branding.
You can see this principle in effect in politics, where candidates often move to the centre to avoid losing mainstream votes; fast food chains, which offer very similar burgers and fries in close proximity; and even between destinations branded with the same "gourmet culinary scene," "vibrant arts scene," or "best beaches" as their next-door neighbours.
It's all about making connections
Every destination believes its food is unique and its culture is extraordinary, and maybe this is for the best. Marketing a destination requires passionate advocates.
But that's exactly the point: Branding a destination is about the ability to make connections with the truly unique, passionate communities that flow naturally from its authentic identity.
Instead of using the traditional, outmoded branding approach, tell the truth, and maybe with a bit of humour. For example, the Charleroi Safari, a tour of Belgian industrial ruins, embraces its "ugliest city in the word" identity. Promote Iceland tells the truth through its very helpful and funny Inspired by Iceland video series. Its "Pack Warm and Stay Happy" video helps visitors prepare for unpredictable Icelandic weather that can include "rain, shine, or sudden snowstorm."
Both of these destinations express their true "sense of place" proudly and openly. This honesty and openness will be your destination's best life preserver in the sea of sameness.
Related reading: Why place branding needs to be built from the inside