We've arrived at channels, the last of the main sections within our destination management model.
Channels serve as a delivery mechanism and are a way that the stories that are created within or around your destination get to your target audience. These include traditional channels such as print, TV and out-of-home advertising, and also digital channels including websites, email and social media. Channels can also include word-of-mouth conversation.
We discuss this section last for a reason –  instead of thinking about channels first, it's best in most instances to think about them last.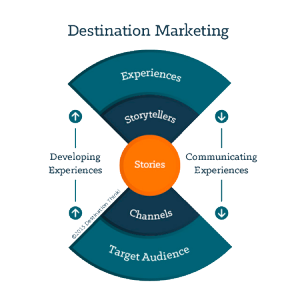 The important considerations in this section of our model come down to defining the roles that the channels you manage (and the channels others manage) play in order to move your target audience along the purchase cycle. What specific channels does your target market use? And who manages these channels? How credible will your audience and target demographics find the stories in each channel?
You'll need a strategy to plan out how these channels are integrated. How do your email, social and web channels work together? What's the role of each, and how do they work together? How does your advertising fit? And don't just think about your own channels, either. There could be third-party channels playing an important role in meeting your objectives.
Want to know more about this essential cluster of marketing channels? We'll get into how this all works later in our blog series.
Now we've completed the general introduction to the sections of the Destination Management and Marketing Model. Next, we'll discuss a very important part of our "social at the core" marketing philosophy: the conversation starter. Sign up for our emails so you don't miss another post.
Next post in this series: The Destination Management and Marketing Model part 8: Conversation Starters
Previous post in this series: The Destination Management and Marketing Model part 6: Storytellers
Featured image credit: Death by silo by Hugh MacLeod