An important part of any marketing strategy is to define and understand your target audience. Who are you trying to convince to visit your destination?
Our model is based on finding the right experiences that resonate with a target audience. But DMOs will also want to create experiences in order to appeal to a particular audience. In the end, we're trying to find the right people to connect with the right experiences.
Understanding your potential audiences is very important, and destinations should constantly research them and learn from their visits. Being able to figure out the right experiences that match with the right audiences, and develop experiences so they appeal to the right audience is an ongoing journey.
Traditionally, markets were defined geographically. This is still important, because proximity is an strong factor in how people select their destinations. Other factors include demographics and psychographics. The end result is traditionally a pretty large group of people to target.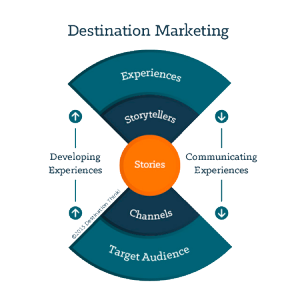 A typical target audience for a DMO looks something like this: "affluent consumers between 35 and 65 years old from [insert a nearby population centre]." More and more, however, audiences are defined by smaller niches with a specific interest. Because when you offer something that aligns with a person's interest or passion, that person becomes a lot more motivated to visit. And in turn, they influence other people in that niche community, as well as well as people in their own circles.
For example, a foodie influences other foodies, but also has influence over friends who see her as a credible source of information on good restaurants. Once your destination understands how to appeal to the right target audience, you can understand how to get the stories about those experiences to them, in the most credible and effective way. In our next blog, we'll talk about Storytellers.
Next post in this series: The Destination Management and Marketing Model part 6: Storytellers
Previous post in this series: The Destination Management and Marketing Model part 4: Experiences
 We have created an assessment for destinations based on our model that shows priority areas for your organization's development. Click here for more information and to establish a benchmark for your own destination.