We're pleased to announce that Destination Think has won the opportunity to expand our relationship with Ottawa Tourism to provide Canada's capital city with a multi-year strategic plan. This multi-year plan will focus on mapping a clear organizational strategy to help grow Ottawa's tourism sector and further stimulate future economic benefits for this destination's members, stakeholders and community.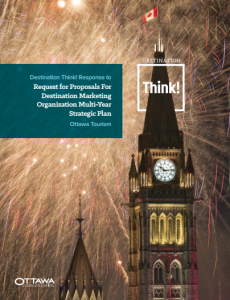 "We're very excited to work with Ottawa Tourism to establish itself as an innovative, cutting-edge model for the destination marketing organization of the future," says William Bakker, Destination Think's chief strategist. "It's a true honour to work with the organization representing the national capital of a G7 country, a year before Canada's 150th birthday."
Our relationship with Ottawa Tourism began in 2012, with the strategically planned "Our Ottawa" initiative, a social media campaign focused around Ottawa pride that featured and used local user-generated content to grow the online community and crowd-source content for a social video. In 2013, we collaborated on a spring Instagram campaign focused on the city's annual tulip festival; launched the "My Ottawa" campaign to strengthen the online presence for the city by growing social accounts through a photo contest; and provided ongoing community management to drive consumer engagement and boost followers.
This new strategic plan will allow us to integrate some of our learnings from these previous efforts, and build a roadmap together.
"We look forward to working with Destination Think on our new strategic plan," says Michael Crockatt, President & CEO of Ottawa Tourism. "As we look beyond 2017, our community is set to undergo an extraordinary amount of infrastructure change over the next decade. Construction is well-underway for a new light rail service, upgrades are planned for the Parliamentary Precinct, two innovative new developments are set to roll out on the western front of Ottawa's core and new hotel and cultural infrastructure will open soon. The changes are on a spectacular scale, and mean that Ottawa is now truly ready to play on the international tourism stage."
Destination Think is encouraged by Ottawa's commitment to world-class destination marketing, sales, and destination development. As one of the most innovative cities in Canada, Ottawa is faced with an incredible opportunity to leverage the momentum heading into this historical national anniversary. The multi-year strategic plan that Destination Think will create with Ottawa Tourism will provide a clear organizational vision and mission, set a concise strategic direction, provide a set of strategic objectives and tactical actions to drive achievements against the strategy.