Successful destination branding stems from the identity of the people who make a place what it is. Over time, people and communities change, places and travel habits change, and destinations need to ensure that brand strategy evolves along with them.
Campbell River is a coastal city of some 35,000 people nestled within the stunning landscapes of Vancouver Island in British Columbia, Canada. The area has a rich First Nations culture and legacy; archaeological research reveals evidence of permanent Indigenous settlement dating back thousands of years. After European contact and over the past century, resource industries like fishing and logging have made Campbell River an important industrial hub for the island, while tourism here has become another important economic driver.
Today, demand for travel is increasing across Vancouver Island, giving Campbell River an opportunity to reimagine its future.
On the cusp of a new, long-term strategic tourism plan, the city hired Destination Think in mid 2017 to begin a multi-year tourism management partnership. The plan and partnership address Campbell River's five-year strategic goal to ensure the city's long-term competitiveness as a destination by improving promotion, visitor servicing and destination development.
One of the first objectives in support of the strategic plan was to rally the community to refresh and realign the Campbell River brand.
Challenges to building the Campbell River brand
The Campbell River brand and identity process needed to address these obstacles.
Differentiating within a strong regional tourism industry
Campbell River offers top-notch Canadian wilderness experiences. The experience aligns well with British Columbia's brand positioning. However, it risks getting lost among more established Vancouver Island competitors like Victoria, Tofino or Parksville. These locations offer similar outdoor adventures like hiking, camping and whale watching.
To succeed, Campbell River would need to develop and promote a unique story that also gives the community something to aspire to.
Bringing focus to the Campbell River brand
For decades, Campbell River has proudly proclaimed its identity as "The Salmon Capital of the World". Local fishing opportunities are abundant and continue to drive some tourism experiences. But in reality, today's Campbell River businesses and residents are offering much more.
To compete with other island destinations, the city needs to reveal its identity as a desirable, multifaceted tourism destination.
Asking stakeholders to shape the future of the destination brand
Tourism operators will need to align with the resulting brand story. Stakeholders and sectors of industry sometimes have conflicting views on how the city can be positioned, and Campbell River's tourism industry had not recently collaborated toward a goal as fundamental as destination identity (Place DNA®) and branding.
To build consensus, the brand process would need to place locals at the centre and encourage them to contribute.
---
Destination brand 101
A destination brand is the sum of the experiences a place offers plus the stories that people tell about those experiences.
The brand expresses a place's core identity, or Place DNA®. The Place DNA® process answers the question, "What makes Campbell River, Campbell River?", which becomes the foundation and authenticity test for the brand and the marketing activities that follow it.
Destination marketers can't invent an identity; residents and visitors need to reveal it by sharing their perspectives.
A destination marketing organization (DMO)'s role is to use that Place DNA® to develop a brand strategy that aligns the community around an authentic story. Each stakeholder and each person can then write their own chapter to support the whole experience.
---
Soon after the Campbell River partnership began, Destination Think launched its proven Place DNA® and brand process that would allow Campbell River stakeholders to help develop and express the new brand story that will help the city remain competitive.
Solution: Destination Think's Place DNA® and brand strategy process
Destination Think's process for destination branding begins with Place DNA®, which allows a destination to articulate its identity – the elements that define Campbell River.
Community participation ensures brand authenticity.
A destination's identity is shaped by its people, so the Place DNA® process is thoroughly collaborative. Campbell River's tourism stakeholders and residents were asked to provide input that would allow Destination Think to develop a winning brand strategy.
The Think team surveyed a representative sample of the community through an online survey. The tourism community also participated in a workshop to help uncover the local identity. Destination Think team members researched the city and its history, attractions, experiences, visitor perceptions, and went on familiarization trips to explore the local tourism experiences. This provided a thorough understanding of Campbell River's strengths, weaknesses and opportunities.
Tourism trends and visitor perception help differentiate the brand story.
Destination Think then looked at the research and community input through the lens of today's tourism industry and consumer trends. This perspective ensured the destination brand would be differentiated and resonant with visitor perceptions.
The process revealed many unique elements of Campbell River. Local biodiversity and geography is one strength when compared with the region. Campbell River sits on the shores of the Discovery Passage, a calm strait facing mainland British Columbia, instead of the rougher, open waters open to many other parts of Vancouver Island.
Beach fires are also a common sight in Campbell River. While obvious to locals, visitors who live inland find beach fires a novelty. The beach fire has become a piece of Campbell River's brand puzzle and a metaphor for many other elements like community, friendliness and nature.
Campbell River's brand story emerges from its Place DNA® identity.
Local input and research by the Destination Think team led to a brand story with four main elements: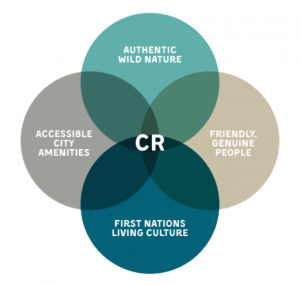 Authentic, wild nature
Accessible city amenities
Friendly, genuine people
First Nations living culture
In the past, Campbell River has emphasized its natural environment as the most impactful tourism experience. This more robust brand story ties together the combination of elements that distinguish the city from nearby destinations.
"The Downtown Disney of the wild."
"Campbell River's Place DNA® process led us to use 'Downtown Disney' as an analogy," says Destination Think's Chief Strategist William Bakker, referring to Disney's outdoor shopping, dining and entertainment complexes found at Disney resorts in California and Florida. Downtown Disney guests can enjoy the amenities and then choose which nearby Disney theme park interests them the most. In Orlando, guests might continue on to Epcot, Hollywood Studios or Animal Kingdom, for example.
"Campbell River is the Downtown Disney of the wild. Like at a Disney resort, visitors can use city amenities like hotels and restaurants before venturing out into the experience or theme park they are interested in.
"From Campbell River, people can visit Strathcona Park or the mountains. They might go fishing or whale watching on the ocean. Or go diving underneath the ocean. Some visitors will seek out First Nations culture on Quadra Island. All this is located within a short distance of the city."
Results: Each person can write their own chapter of the Campbell River story.
Campbell River's new brand story was developed based on input from many local stakeholders and Destination Think's research into the city's identity. As this story emerged, the Destination Think team asked the community for additional feedback to ensure that the final brand story and output reflected Campbell River's core identity. The brand story and guidelines were then presented to the community. Since residents and stakeholders were involved in the entire process, it received widespread support.
Tangible outputs include a new brand guide and creative design that includes a logo, fonts, iconography and tone of voice, which Destination Think presented to city stakeholders. Local business and organizations can use these images to help them weave the Campbell River story into their promotion and into their experiences.
Destination Think's staff in Campbell River used the new brand creative to update the Destination Campbell River website, the visitor centre, and refresh all retail and promotional items.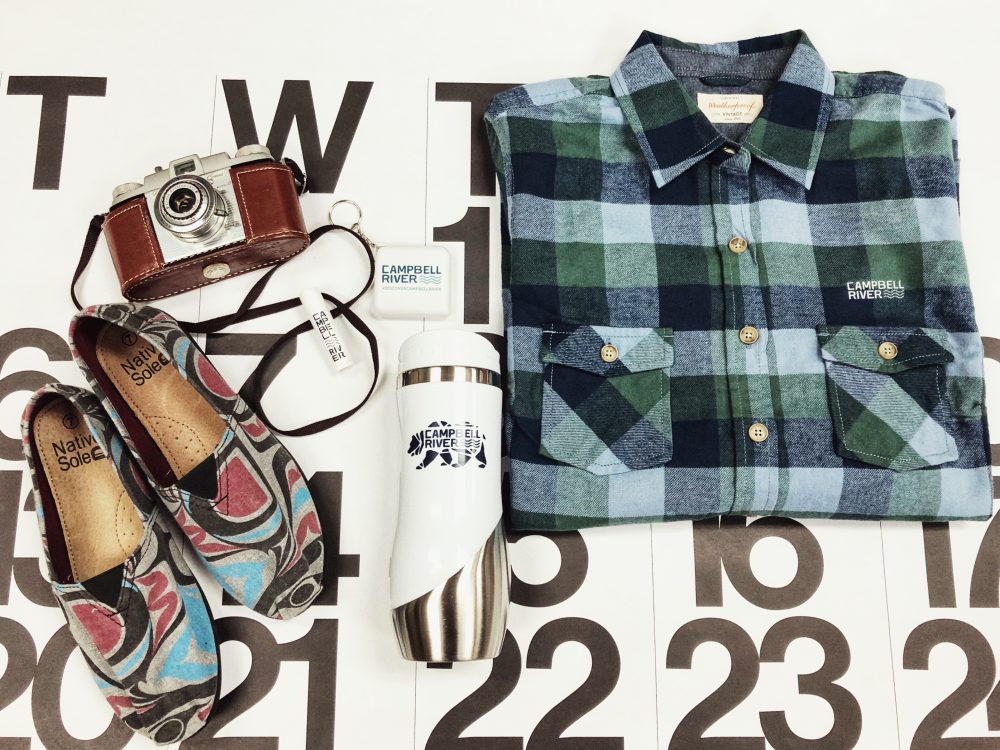 All brand elements were designed to align with the Destination British Columbia brand. The end goal is to create an integrated visitor experience that includes the fonts, colours and characteristics that make Campbell River distinct.
Experiencing the Campbell River story
With the new brand story and output in place, Destination Think continues to work with stakeholders on implementation. How can businesses and residents best support the brand? What are the best ways to use all the new assets?
Through a program called Xcelerator, Destination Think is helping Campbell River's tourism industry weave the brand story into its products. Xcelerator is designed to align tourism experiences and communications with the larger brand story. This program began in spring 2018.
Destination branding is a process that requires a long-term commitment. Ultimately, the brand's success will depend on the community's continued effort to make Campbell River the best destination it can be.
Chief Strategist William Bakker talks about "the t-shirt test" as a way of measuring success for destination brands. "Are locals embracing the brand? Would they wear it on a t-shirt? Is the tourism industry participating in the new brand, and does it resonate with the target audience?"
So far, the positive feedback Think has received from the community points to an exciting future for tourism in Campbell River.
Next, read about destination identity and Place DNA®, then find out how Tourism Calgary used Destination Think's collaborative branding process to align its entire organization.
Looking for a partner to help guide your destination's brand and strategy? Contact us.
Select item to view