You've just received your DMO's quarterly marketing report. Flipping through the deck, you see that your social media channels are showing strong numbers.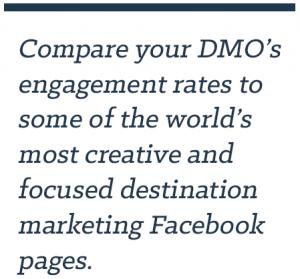 70,000 more engagements here, 8,000 more followers there – growth is happening across the board. It seems like good news.
Then at a meeting, someone asks, "What do these engagement numbers really mean? How do they justify our investment? How do we know if we're doing a good job?"
These thorny questions are common. To truly understand how social media impacts your destination, you'll need to put the results in context.
Start by comparing your destination's engagement numbers to industry benchmarks. Read below to compare your engagement rates to some of the world's most creative and focused destination marketing Facebook pages.
Then, get specific about your destination's performance. After you compare engagement rates, consider some of the principles we use to interpret social media data and results to help our clients at Destination Think.
But first, why is social media engagement important?
Engagement indicates impact
Social media engagement leads to word of mouth, which leads to impactful visitor choices.
Engagement is about connecting with your audience. It's evidence that people resonate with your stories. When people engage, stories spread to their friends. As destination marketers, positive digital word of mouth is exactly what we need to encourage.
Research shows that word of mouth is the predominant influencer of travel decisions. Online, word of mouth flows through social media.
We've written about this:
"Social media is about two-way conversation. It is not about buying attention and getting bigger reach. It is there to help you talk to visitors and visitors-to-be. […]
What Facebook provides, better than any other medium, is a tool that lets you connect with your destination's biggest fans.
Those fans and followers can also help you share your brand widely by word of mouth – one of the transformational opportunities available to DMOs today."
Using social media, you can enable your enthusiastic supporters – visitors, residents, and tourism businesses – to tell others about your destination as you build networks of tourism advocacy.
Engagement rates measure the strength of your networks
While engagements (shares, comments, likes, clicks, etc.) indicate an impact on your audience, engagement rates show what percentage of your audience you have connected with, following this simple formula:
Engagements / Reach = Engagement rate (%)*
*Important note: Each social media platform offers different data, so methods for calculating engagement rates will vary. The important thing is to stay consistent in your reporting.
A higher engagement rate means greater audience participation, which makes this metric a critical indicator of success in online word-of-mouth promotion and destination advocacy.
Now, apply this to your day-to-day work. What engagement rate should your destination marketing organization (DMO) expect from its Facebook page? What does good look like for destination marketers?
Compare your performance on Facebook to these social media benchmarks
First, look at these two industry benchmarks for Facebook engagement rates.
Adobe's Global Digital Advertising Report released in 2015 showed that in the travel industry, Facebook engagement sat at 3.5%, on average. This was higher than most other industries surveyed.
And a 2018 study by social media analysts at Rival IQ reports that the median Facebook engagement rate across all industries surveyed is 0.16%.
If you think 0.16% engagement on Facebook sounds awfully low, you're right. 3.5% is not impressive either, given how we've seen tourism destination pages respond when they pair captivating content with a smart strategy.
It's even more helpful to compare your engagement rate to other DMOs.
Facebook engagement rate benchmarks for tourism destinations
The following engagement rates come from a cross-section of some of our most exciting social media management projects since 2016. They represent destinations in Australia, Europe, and North America, using a balance of organic and paid tactics on Facebook to optimize investment. We've included ranges of results rather than a single benchmark because each destination and its audience are unique.
These numbers will give you a sense of what is possible.

Always-on social media programs
Always-on content on Facebook means day-to-day posting outside of campaigns.
Over time, it typically covers a broader range of topics and activities than content for campaigns does.
The quality of your page's followers greatly affects the engagement rate. Ideally, they are passionate about your destination or its tourism products.
The size of the audience also affects engagement, thanks to Facebook's algorithm. Larger pages tend to get less organic engagement.
Our content marketing team considers 12% or higher to be a great engagement rate for always-on content.
Campaigns using social media
These engagement rates resulted from campaigns where Facebook engagement was a KPI.
Campaigns have specific goals aimed at a target audience. The more focused the audience, the greater the potential for engagement.
Niche campaigns using social media
Niche marketing campaigns are hyper-focused on a single visitor interest.
Extremely high levels of engagement are possible within passionate audiences.
Niche audiences are likely to be smaller, but these campaigns can have a much larger impact on engagement and travel decisions.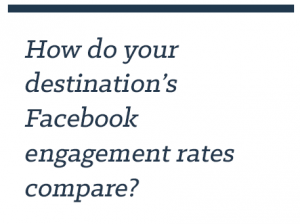 How do your destination's Facebook engagement rates compare?
More importantly, what indicates success for your destination?
To get specific, examine your DMO's goals and figure out how your social media strategy supports them. What is important to your destination, and why?
At Destination Think, we've spent years working on social media strategy and content marketing (among many other aspects of destination marketing) for many innovative destinations. Social media platforms have changed, but our team has developed and tested timeless methods for connecting with audiences.
Here are some of the factors we consider when assessing a destination's performance on social media and designing new content strategies.
Principles of engagement and social media strategy
The customer journey – What problem is your content trying to solve and what action to do you need your audience to take? Maybe your DMO needs to boost visitation in the shoulder season, attract more bird watchers, or improve brand sentiment. Once you know the goal, figure out which part of the customer journey you need to address.
Here are a few examples:
Tourism Australia's Facebook page shares tantalizing images and recommendations, staying focused on the awareness and consideration stages. This approach works well for an audience of people generally interested in Australian travel.
Tourism Flanders focuses on specific visitor interests with Facebook pages like Flanders Fields 1914-18. The content here helps people plan trips and relive memories.
Destination British Columbia's #exploreBC hashtag is now attached to more than four million photos on Instagram. Most of it is user-generated content, and the collection helps visitors throughout the customer journey.
The quality of your audience – Who follows you? Is your audience full of passionate tourism advocates and potential visitors? If you have built your following with authentic content that connects with your desired visitors, the answer will be a resounding yes.
Audience size vs. engagement – How many people do you need to connect with? Audience size isn't everything, because engagement indicates impact. However, an updated tourism strategy might call for a new type of visitor that hasn't yet discovered you. In that case, you might need to attract more followers.
Investment – Deciding how to invest is often about the balance between funds and effort. Will you focus on organic engagement, which might take more time, or will you try to advertise and promote your way to the specific audience you need?
Measuring the impact – Choose your KPIs, which will include engagements and engagement rates. Beyond the numbers, measure the quality of engagement. This way you'll be able to learn what excites people enough to share posts or write long comments. The Potential on Investment (POI) formula provides a way to measure the potential financial value of social media engagement. A DMO is typically not a point of sale, but you can still gauge your impact on the local economy.
Ideally, your DMO's goals are aimed to meet the needs of the visitors who desire your destination. Within a sound strategy, engagement shows a meaningful impact on travel.
Let's review
First, you saw how your Facebook engagement rate compares with industry averages and with particular types of DMO social media projects.
Then, you considered some of the factors that influence your social media objectives.
Is your engagement rate too low? Does your team find it hard to answer the question, "Is this good enough?"
Here's what to do next
Destination marketing executives:
Work with your team to choose KPIs and goals. For social media engagement, you can use these principles to help your managers understand how their work impacts your destination's strategy. Does each person support the goals of your DMO and understand how their actions make an impact?
Draw insights from your social media team. Every day, your team talks to people through your online channels. What can they tell you about visitor needs and the quality of engagement?
Reread this before your next board or stakeholder meeting. "Is this good enough?" is a common question about social media performance, in our experience. Be prepared.
Looking for support? Contact the Destination Think team. We help people like you build smart destination marketing strategies that you can act on.
A few more resources:
Social media and content managers at a DMO:
This is an opportunity for you to lead within your organization. You can help your team and your boss interpret the performance of your social media channels. What do you see from your critical role on the front lines? How does your social media activity support the DMO's overall strategy?
Take notes. You know, maybe better than anyone, what visitors are saying about your destination. Keep a log of your day-to-day social media activity. What did you notice? Keep track of high-quality interactions.
Get familiar with Facebook Insights and the data behind your other social media channels. Understanding which data each platform provides will help you measure success and participate in larger conversations about strategy.
Help your team understand why particular social media results are important. Start with engagement and engagement rates, using the principles in this article. Come back here when you're putting together your next social media report.
Learn even more about content and destination marketing:
With contributions from Destination Think staff: William Bakker, Diamond Coleman, Kelly Cubbon, Andrea Moreton, Sara Raymond, and Katie Shriner.
Featured image credit: David Santaolalla, Flickr