Destinations aim to shape public perception through branding, promotion, and hopefully tourism advocacy. But it's a wild world out there. Your destination marketing organization (DMO) is only one player in an extremely complex communication network. Even if you design and implement a perfect tourism strategy, your destination is still subject to the whims of forces outside your control.
Perhaps a politician says something embarrassing, prompting protesters to call a boycott. Or activists plan demonstrations to bring attention to a cause affecting your destination (see Greenpeace's objection to Alberta's oil sands). Or worse, a natural disaster causes a humanitarian crisis that threatens lives and livelihoods.
In today's world of instantaneous news and communication, the stakes are high. Your management and your frontline staff must be empowered and prepared to respond quickly and effectively to manage negative attention in a crisis. Get this wrong, and you will magnify an already terrible situation. Lead with a confident response, and your destination can be a hero.
VISIT FLORIDA's response to Hurricane Matthew
In October 2016, Hurricane Matthew hammered the state of Florida with the most powerful storm in over a decade. Five Floridians died in the storm and over one million went without power. The governor declared a state of emergency.
Meanwhile, national news outlets had been reporting on the devastation. The historic city and popular destination of St. Augustine sustained damage and was temporarily flooded, and those images persisted.
After the worst of the storm had passed, VISIT FLORIDA responded by executing a crisis plan that would help the tourism industry get back on its feet. Former President & CEO Will Seccombe described it this way:
"Initially, you announce that you're open for business, but then you have to prove it. The [2010 BP] oil spill taught us that consumers trust the recommendations of strangers more than they trust official messaging or advertising. So we needed to show them a story – or many stories – so they could see for themselves."
For the next three weeks, the DMO organized eyewitness reports of current conditions, effectively becoming a source of news for locals and travellers.
It also shared this information through social media channels using the hashtag #FloridaNow, while enabling locals and operators to share updates with VISIT FLORIDA content using their own tags like #StAugustineStrong.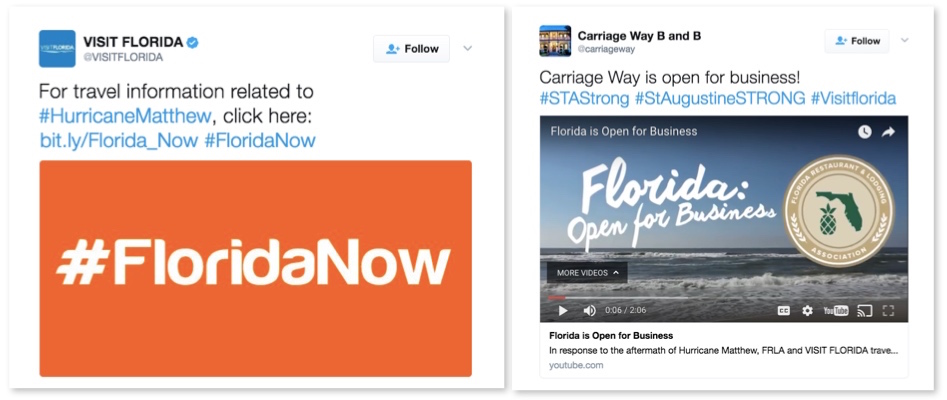 VISIT FLORIDA's swift response through many types of media was the result of planning and foresight. Earlier in 2016, it had released a publicly available crisis plan that allowed it to lead with confidence during the disaster.
A crisis plan that includes social media is important. Here's why.
Social media gives everyone the ability to report on anything they see, immediately. Today's visitors can live stream anything that happens around them. In some cases, your visitor centre staff may receive questions before they are aware an event has occurred.
Poor crisis management will amplify negative attention in the aftermath. South Australian beer company Coopers struggled with negative attention after a partnership went wrong, and the public response didn't go far enough.
A crisis plan help your DMO respond quickly and effectively, with confidence. Your visitors and operators both need helpful and timely information to manage their crises as well. They may look to you for support.
An effective and factual response will mitigate risks such as reduced bookings from overseas visitors and trade partners. For example, Tourism New Zealand released an informative statement following its November 2016 Kaikoura earthquake that helped clarify the impact on travel with precise information.
Your DMO can fill a leadership role. For Elke Dens, Marketing Director at Visit Flanders & Chair of the Marketing Group at the European Travel Commission, it's important for a DMO to not only assist visitors with information, but also to unite all of its tourism stakeholders. "You must enable good collaboration because in a crisis situation it's very important to be able to lean on each other. […] When you are united, you will be stronger and more agile to respond to the crisis."
Does your destination have a crisis communication plan, and does it include a response through social media? If not, take time to expect the unexpected.
Related reading: How residents of Lesvos, Greece share authentic stories to counter tourism crisis