Destination Think is pleased to announce a partnership with the City of Campbell River in British Columbia, Canada. Under a new long-term agreement, Think will bring its globally recognized destination marketing expertise to promote Campbell River. Destination Think employees on location will be responsible for tourism management while reporting directly to the City. The partners will work collectively to provide modern tourism promotion, visitor servicing and experience development.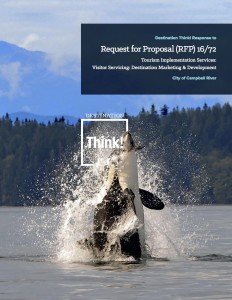 As a tourism destination, Campbell River is a hidden gem located on Vancouver Island. It draws visitors seeking world-class fishing, access to wildlife and nature, First Nations culture, and the rugged scenery that can only be found on Canada's west coast. The community also supports a lively local arts and culture scene that includes festivals, galleries, historic sites, and performances – not to mention an annual chainsaw carving competition located on the city's coastal Seawalk.
Think's Chief Strategist William Bakker looks ahead to the untapped potential for tourism: "We are excited to see that Campbell River envisions a forward-thinking future for tourism management. This will allow us to use a nimble approach to execute destination marketing in the way that today's consumer environment requires."
That environment has been changing quickly. Since Destination Think's inception in 2009, the company has led the industry by innovating many aspects of destination marketing, including promotion, word-of-mouth advocacy, visitor servicing, experience development, strategy and tourism planning. Staff from Think's Vancouver headquarters will support the team on the ground in Campbell River by executing these services.
"At the heart of this new partnership is a commitment to the visitor experience in Campbell River," says Bakker. "We will integrate experience development and promotion. This is important because word of mouth, social media, and technology trends have placed more power in the hands of consumers. Visitors and residents can now tell the world exactly what they think of a destination, and this is tipping the balance of power away from traditional advertising."
Amid rapid industry changes, Destination Think is thrilled to open this new chapter of destination management with Campbell River. Residents and tourism industry alike can be proud of their City's commitment to strengthening tourism through an innovative approach and improving the Campbell River experience for all.