Back in 2014, Destination Think worked closely with Regional Tourism Organization Four Inc. for the Province of Ontario, Canada (RTO4) to define their Place DNA™ as a catalyst towards sustainable destination development and regional collaboration.
Several years on we thought we'd check in.
In this guest column, RTO4's Chief Marketing Officer and Chief Operations Officer Napier Simpson reflects on his organization's unique destination marketing approach and its Destination Animation Fund— an initiative that offers business operators matching funds to create new or enhanced tourism experiences that align with the destination's core DNA.
Ontario tourism destinations harness the marketing power of visitors.
Word of mouth has always been one of the most powerful forces influencing consumer decisions — especially when it comes to tourism and travel.
You tell a friend you're going to X destination on vacation this summer, and they say you have to stay in a particular hotel because it was fantastic when they visited the same spot. Or they tell you to avoid a restaurant because they had a terrible experience. These little pieces of insider intel and first-hand experience carry far more credence than any ad in a newspaper travel section or expensive commercial on TV. We trust the word of the person from our inner circle because of the relationship we share. Never has this type of word-of-mouth influence been more prolific or easier to spread than in our digital age. The growing prevalence of social media allows people to share their thoughts on a destination or a travel experience in real time. A growing number of travellers routinely post large amounts of content about their travels — whether for business or pleasure — providing tips and recommendations with vast networks of friends and connections.
At RTO4 — the Regional Tourism Organization for Waterloo, Wellington, Huron and Perth Counties in Southwestern Ontario, rather than invest in traditional destination advertising— such as the "Eat, Play, Stay" type of campaigns many destinations employ we've been testing a number of initiatives co-developed with our tourism partners focused on creating highly shareable visitor experiences.
One aspect of that shift was the creation of what we call the Destination Animation Fund — part of our incubator approach to tourism product development and marketing. The initiative offers business operators matching funds to create new or enhanced tourism experiences that align with the destination's core DNA — the things that make it unique. One caveat, the experiences must be highly 'shareable' and 'highly shared', and the operator must execute, measure and report on that metric.
Visitors are encouraged to share their experiences through social media, enabling RTO4 and its partners to indirectly reach a broader audience through travellers who have already developed a level of credibility, trust and influence within their networks.
We piloted the Destination Animation Fund on a small-scale last year in partnership with the Stratford City Centre BIA by providing $30,000 in matching funds for 10 projects in Stratford. That initial investment — which in previous years would have been spent on traditional destination marketing — resulted in more than $103,000 in direct investment in creating new cultural experiences. Visitors and the local community shared their experiences widely via social media, and many of the events were covered by local, regional and national media.We were amazed by the creativity and passion of local tourism operators, who embraced the idea of developing new ventures to get visitors talking and sharing.
All of the partners invested in the Destination Animation Fund gain deeper insights of the visitors we want to attract. We don't see them only as tourists. We see them as our most-powerful marketers.
There were Bach Walks organized by Stratford Summer Music, where visitors enjoyed guided tours of a popular natural area and were delighted along the way by performances from the Canadian flute ensemble, Charm of Finches. We had #RainyDayShakespeare, where hidden quotes from Shakespeare magically appeared on sidewalks and walls but only when it rained, rewarding visitors with a charming reason to explore the community when they might otherwise stay indoors. And, in another example, the two-day Stratford Writers Festival was born, featuring author readings, panel discussions, Q&As, book signings and writers' workshops in Stratford's cultural downtown core.
Rappelling and Riverfeast: an experience made possible by the Destination Animation Fund that allowed visitors hungry for thrills to rappel down a sheer rock cliff in the Elora Gorge to enjoy a five-course, gourmet dinner on a beach along the Grand River. Musicians, the sounds of nature, and historians in period costumes sharing information about the area completed the scene.
Based on the success of its inaugural run, RTO4 and Stratford City Centre BIA expanded the partnership to include Stratford Tourism Alliance, the local DMO, and doubled the size of the fund to $60,000 this year, expanding it into more communities to create experiences that reach and appeal to an even wider audience. In addition to 15 new events in Stratford, the initiative has seen several new experiences developed in Bayfield and Elora & Fergus.
Individually funded projects are typically small in scale but are designed to get visitors sharing and more engaged with the aim of providing visitors multiple new opportunities and reasons to stay longer and more fully interact in these destinations.
Twilight at Templin Gardens: summer evenings in the historical Templin Gardens were brought to life with free live musical performances by local artists and a special celebration of sundown.
Living Strategies: Seeing Success in Action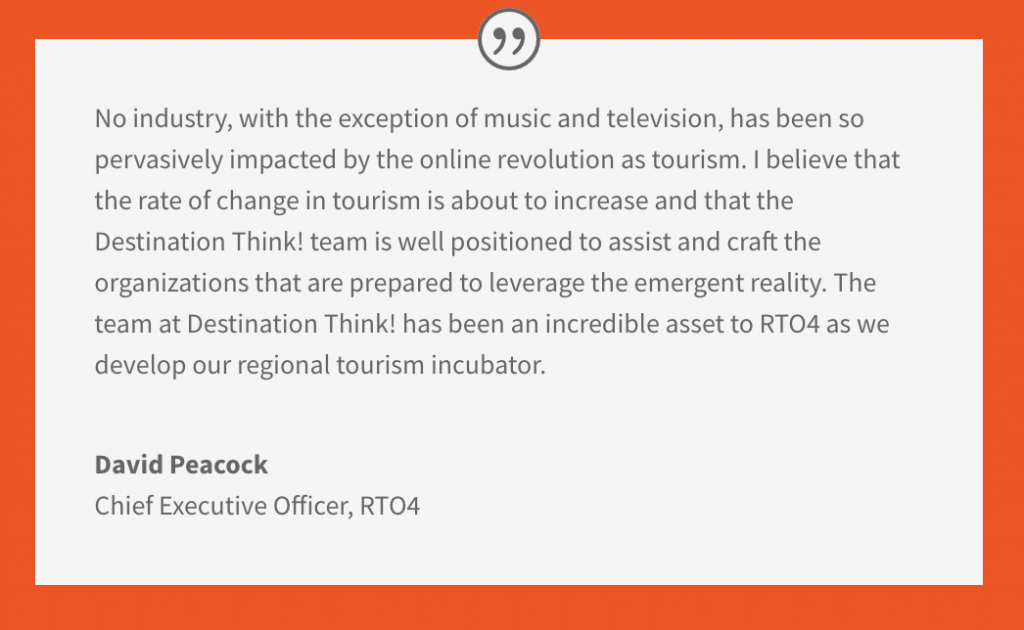 The continued successes and opportunities arising from RTO4's Destination Animation Fund highlight the driving need to align the interests of visitors, businesses, and residents. Mapping Place DNA™ is the first step towards this, acting like a springboard for managing experiences that positively reinforce place brand and have a visible impact on destination authenticity and enjoyment.
Learn more about our work with RTO4.
Want to work with us? Get in touch.
Further reading: What is place DNA™? Here's your essential reading list
About the author:
Napier Simpson is Chief Marketing Officer and Chief Operations Officer of RTO4, which provides leadership and support to a flourishing tourism economy in Huron, Perth, Waterloo and Wellington.
Featured image credit: JHVEPhoto