Your tourism destination's success depends greatly on perceptions. The way people think and what they say about their experiences – positive or negative – impact travel decisions.
By that measure, Tourism Port Douglas & Daintree (TPDD) is enjoying enviable success and is an example that other destination marketers can learn from. The Queensland, Australia destination received the highest Tourism Sentiment Score™ in an analysis of 100 destinations and 625 million online conversations presented in our Global Tourism Sentiment Index from November 2018. This means that Port Douglas & Daintree had the highest percentage of positive mentions online.
Tara Bennett, Executive Officer at TPDD, sees the potential of sentiment analysis and is beginning to use it to improve and validate her strategic planning. Thanks to the foresight of Tourism Tropical North Queensland, which made it a priority for the destinations in its region to get involved, her organization was one of the first to participate in the Tourism Sentiment Index (TSI). TSI is a report that tells individual destinations what people are saying about them, giving them the data they need to manage tourism effectively. The TSI report channels the flow of online comments from visitors and residents into a KPI – the Tourism Sentiment Score™ – that measures the sentiment behind the entire destination and across 50 types of tourism assets. It's a powerful report that uses our methodology designed for destination marketing organizations (DMOs).
We asked Tara what she's learned from the global snapshot and her DMO's TSI report and how the data aids in strategic planning.
Destination Think: Tara, what stood out to you when you first read November 2018's Global Tourism Sentiment Index?
Tara Bennett, Executive Officer at Tourism Port Douglas & Daintree: Well, we noticed, of course, that Port Douglas Daintree scored the highest in tourism sentiment. But beyond that, it was interesting to see how well Queensland destinations rated alongside some world-renowned regions.
The level of online dialogue is an area we need to work on as the enviable volume of travellers in some North American destinations results in a massive amount of online commentary.
Why do you think Australian destinations performed so strongly in this report?
Australia has been welcoming travellers to experience its iconic locations for decades; our industry is well developed and national culture welcoming. These factors contribute to Australia performing so well up against equally well-established destinations.
What made you decide to participate in the Tourism Sentiment Index report for Tourism Port Douglas & Daintree?
As the local tourism organization in a region that attributes 80% of its revenue to tourism, we need to make well-informed decisions to future-proof our economy. The TSI report provides valuable insights into where a destination's experiences are exceeding visitors' expectations and equally failing to deliver, compared to similar destinations. The results can be used as a roadmap of where to put your resources to maximize outcomes for the industry.
TPDD elected to participate as the report was a cost-effective way to take an unbiased look in the mirror.
What have you learned from your DMO's TSI report?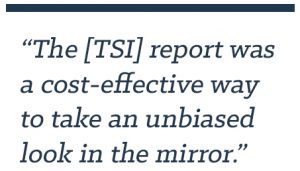 I have learned that some aspects of our destination's range of experiences aren't meeting visitors needs. This has resulted in extra attention internally as well as a change in our consumer-facing message.
The low volume of sentiment compared to other destinations means we need to work with partners in the region to elevate travellers' motivation to post comments. This will be a key focus for our organization in the medium term.
What is the most valuable advantage you've gained from sentiment analysis and the TSI report as you plan for the future?
Having an indisputable report to back up our strategic direction and marketing decisions.
Is there anything else you'd like to say to other DMOs?
I highly recommended undertaking a sentiment analysis. I was both heartened and surprised by some of our results and continue to refer back to the report to guide our decision making.
---
Tara understands the value that sentiment analysis can bring to her DMO, and she isn't alone.
Other DMOs like Tourism Calgary have also enjoyed the benefits of analyzing the world's largest-ever collection of information about how people think and feel about tourism experiences. Jeff Hessel, Tourism Calgary's Senior Vice President of Marketing, told us in another interview that during the DMO's latest brand evolution, "it was the sentiment research which really validated the results and provided confidence" among partners and stakeholders. "Being able to observe and analyze millions of conversations from multiple digital sources is very powerful. The information was able to confirm or contradict our local biases on travellers' perceptions."
Related: 10 million conversations: This city uses sentiment analysis to hear what its people are really saying
To improve those perceptions, the current industry-wide shift toward digital-first marketing seeks to better engage with visitors and enhance their travel experiences. Improving word-of-mouth promotion is at the core of this effort.
"The one thing that matters to your destination more than anything else is word of mouth from friends and family, locals, visitors and your tourism industry."
"Nothing else matters as much as that," said Destination Think CEO Rodney Payne in a 2015 keynote presentation.
This thinking is also reflected in the DestinationNEXT 2017 Future Study Update report from Destinations International, where our Chief Strategist William Bakker served on the advisory panel. The report's strengths lie in its strategies around collaborating beyond the DMO to develop authentic experiences, connect with customers across all stages of the journey, and engage residents. Having solid data and clear KPIs enables DMOs like TPDD, Tourism Calgary, and others like Destination Greater Victoria to lead their stakeholders toward modern strategies.
Related: Essential reading list: Word of mouth and the future of destination marketing
Related: Destinations are shifting to digital-first marketing to improve word-of-mouth promotion
Through sentiment analysis, you can finally answer the question: What are people saying about your destination?
The TSI initiative is growing quickly, which means that more of your competitors will soon be able to know the answer for their destination and perhaps yours. If you haven't yet explored sentiment analysis, now is the time.
---
It's easier than ever to measure visitor perceptions of tourism. Read the Global Tourism Sentiment Index report to see how your DMO can measure its performance and lead strategy backed by data.
Featured image credit: Tourism Port Douglas & Daintree