500,000 people saw this viral dolphin story on Facebook, but did it help the DMOs?
Let's be honest. Some days, we marketers look to the sky for that perfect lightning strike of media attention that gets everyone talking about the place we love – the kind of sizzling story that spreads virally online and delights your politicians and tourism stakeholders. (Click to skip straight to the dolphins.)
The marketing industry is prone to chasing that spike, and tech companies have made it into a game of numbers. Video views and ad impressions are part of an economy that tempts us to bid to reach the masses through advertising or by crafting the most elusive treasure of all – the viral social media post. Who among us wouldn't want to create the next internet sensation?
However – and we at Destination Think can't stress this enough – your destination marketing organization (DMO)'s job is not to make or share viral content.
Seeking attention for its own sake will not help you or your stakeholders solve business problems and increase tourism advocacy.
Here's what to do instead, and why.
Table of contents:
Why you can't depend on viral stories to achieve your DMO's goals
It's a conundrum. Many people, perhaps including your stakeholders, automatically see virality as valuable. It's easy to get excited about a burst of popularity, whether or not it indeed influences travel decisions or generates demand for your destination. Big numbers always seem impressive, especially on an annual report to the tourism board.
However, a successful destination marketing strategy cannot rely on viral stories. Here are two reasons why:
1. Virality is inherently unpredictable
Even BuzzFeed, the media company built on viral storytelling, hasn't figured it out.
In his book, The Content Trap, strategist Bharat Anand of Harvard Business School summarizes BuzzFeed's 2014 attempts to understand virality, when more than 150 million people visited the site each month:
"Despite its rapid and impressive growth and perhaps the most scientific approach to predicting virality – employing randomized testing, continuous monitoring, and large initial "seeds" – BuzzFeed's model of virality had at best a few robust variables: humor, animals, lists, and pictures, for example. "Stories of cats turned out to be eminently shareable," noted one report on the firm. Predicting what made things go viral remained hard. Less than 20 percent of the variance – the difference in virality across different pieces of content – could be explained by BuzzFeed's models."
It's nearly impossible to reliably predict which stories will go viral, even if you understand the science behind virality and invest time and effort there. However, a scientific approach to content is valuable in some circumstances. A/B testing, for example, is useful for improving the performance of particular stages of the user path, but it is a measure of the result, not a guarantee of the next story's performance.
"Even native advertising content was subject to a form of A/B testing, with multiple stories simultaneously created for the same campaign. 'Winners would be favoured with more place and better placement, the losers starved.' In effect, BuzzFeed's devotion to rapid A/B testing was also an acknowledgement of sorts: 'We don't know what works.'"
2. On social media, virality isn't the goal. Advocacy is.
Advocacy, or positive word of mouth about your destination, is far more important than reach.
By sharing the right stories with the right people at the right time, your DMO can use social media to provide value that leads to advocacy and increased word of mouth. Your team needs to learn enough about your visitors' specific needs to speak to their particular passions. When managed well, social media communities can become welcoming places where people help one another plan trips and share travel memories.
Your posts will vary in reach, and that's okay. Sometimes your DMO's content will spread a long way, while other times, it will connect with a smaller audience and perhaps have more influence.
In rare circumstances, your content will go viral, or you might find an opportunity to share a viral post that also matches your visitors' needs. That broad exposure is terrific, but again, it isn't the goal.
Instead, develop a collaborative destination marketing strategy that increases advocacy and leads to clear objectives for your social media team. That way, your team will know exactly how to respond when The Next Big Thing appears on their screens.
Related: How Visit Flanders affects lives through social media, inspiring people to visit Flanders Fields

When and how you should participate in viral social media
Here are some dos and don'ts:
Do participate in a trending story if it aligns with your strategy. Next time you see a viral story related to your destination, ask yourself these questions:
Will sharing this story support our DMO's objectives and its brand?
Can it help our visitors along the customer journey, and if so, how can our DMO add or emphasize that value?
Does this support our social media engagement goals and build tourism advocacy, or is it a distraction?
Don't share a viral video just because it's popular or because you feel excited about it. Stories that have mass appeal are often less valuable to your destination's visitors and residents, who have specific passions and needs that you can address.
Don't spend time trying to create a viral video. Relying on or designing a social media sensation to reach a mass audience isn't worth your time. It's too unpredictable.
Do amplify visitor stories. Your DMO's social media channel is one voice among millions. It's far more likely that the next great story about local tourism experiences will come from out there, where people are walking around with cameras, than in your office. We don't doubt your creativity or skill, but you can put that skill to better use as a curator of all the stories you find, matching people with the experiences they want most.
Here's a great example of how four DMOs participated in a viral, and relevant, social media story.

Example: British Columbia DMOs shared a viral visitor experience
This story began with a moment made for tourism. During a 90-minute ferry voyage to Vancouver, British Columbia, a Vancouver Island resident used his iPhone to film a spectacular pod of dolphins swimming and jumping alongside the ship. He shared the video in a public Facebook post.
Escorted by 200 dolphins on the 8:25 am BC Ferry to Horseshoe Bay on my way to Rogers Arena. 'Wow! To use this video in a commercial player or in broadcasts, please email licensing@storyful.com"

Posted by Henry Irizawa on Tuesday, December 4, 2018
People shared the post many times, and it quickly spread beyond Facebook. The next day, the video made regional (CHEK News) and national news (Canadian Broadcasting Corp., CTV). Many smaller blogs and websites began to share it as well.
DMOs at municipal, regional, provincial, and national levels quickly caught on. Destination Greater Victoria shared the video, followed by Destination British Columbia, Tourism Vancouver Island, and finally, Destination Canada.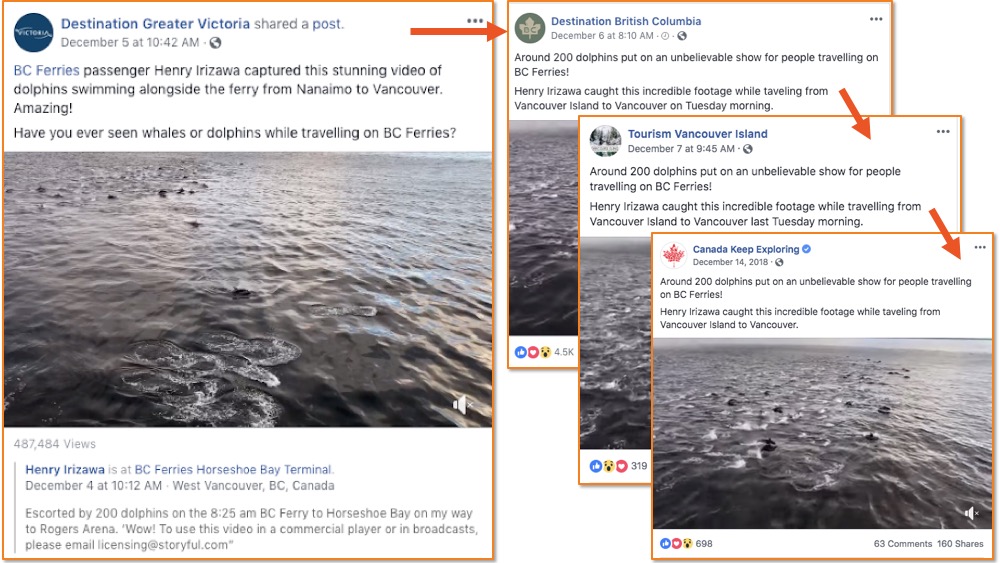 The original video has received more than 510,000 views on Facebook. In terms of social media attention, it's a hit.
By sharing the video, these DMOs demonstrated some positive social media practices:
The video shows a relevant visitor experience. It was an opportunity to present the kinds of wildlife and scenery that exist in British Columbia while engaging with their Facebook audiences.
The DMOs selected a powerful piece of user-generated content (UGC). It's a visitor story that shows a jaw-dropping moment captured candidly.
They were timely. Notice that Destination British Columbia probably contacted the user to gain permission to use the video, because it's no longer a shared post from that point onward.
It's a reminder that your DMO can find enticing content through active listening on social media.
It's an example of how DMOs can support one another by sharing content, whether or not there was any official coordination in this case.
More tactics your DMO's social media team can use today
These can help you get the most benefits from amplifying visitor stories, whether viral or not.
Tag your operators and other DMOs in relevant posts. Part of your job is to foster connections between people, and tagging is an easy, literal, way to do that. Name the destinations or tourism operators involved like Destination Campbell River did in this dolphin-related post; it only takes a moment.
Consider crossposting. On Facebook, allowing another DMO or an operator to crosspost your video means that when they share your original video, it will appear as though they posted it as original content on their page. Crossposters then share the engagement data on the video, so everyone can see how it is performing across Facebook. You may also benefit from an increase in engagement, since Facebook's algorithm doesn't have to analyze the video each time someone posts it – Facebook already knows exactly how well the video performs and may deliver it to more viewers, sooner.
For step-by-step instructions on crossposting, see Facebook's Help Center.
Find the best UGC content with diligent social media listening. Build a daily habit of searching for mentions of your destination, or opportunities to help visitors online. That way, you won't be caught off guard by the next viral story, and you'll also have access to the best and most up-to-date UGC images and videos.
To do that, you'll need a clear understanding of why your DMO uses social media. Asking this question will help you stay in sync with your destination's strategy and how your role supports it.
No one can predict a lightning strike or a pod of dolphins, but a strategy that your team understands and can implement will channel online attention into a force that gets people talking.
Related: Engagement benchmarks: How does your destination compare?
Related: Survive the Facebook algorithm and thrive with a timeless destination marketing strategy
With examples contributed by Destination Think team members Carly Pereboom and Sara Raymond.
Featured image credit: Jeremy Bishop, Unsplash