In an unstable time, redefine successful communication using strategies and tactics that urge safety and responsible travel.
Have you ever read War and Peace? If this pandemic was a novel, it would be a thick one. For your tourism destination, the first chapter might be over, but the epilogue is a long way off.
In this messy middle section, many destination marketers strive to shift communications from promoting travel – ideally through community engagement and word of mouth – to promoting safety while supporting local communities and tourism businesses.
But so much is unstable. Travel regulations are in flux at home and in your travel markets. Public opinion toward tourism is volatile. And travel, at the macro level, has significantly decreased as the world tries to slow the spread of the virus.
All of this makes your job harder. Many of you have had to lay off staff. You probably need to do more with less, which means letting go of old ways and redefining communication goals to stay relevant and responsible.
Can you define successful communication for your destination marketing organization (DMO) right now?
This post isn't going to give you a complete strategic approach. (Ask our team for help with that.) But it does provide:
three communications objectives to consider as part of your strategy, and
three actions you can do today to improve your DMO's communications.
These clarifying thoughts will help you and your team organize your response to COVID-19 in a way that emphasizes safety, community and an increasing demand for responsible travel.
Three communications objectives for your DMO
1. Ensure every visitor understands local health regulations.
This goal is not so different from how you already educate visitors. If you've had practice teaching people how to Leave No Trace and be mindful of their environmental impact, apply what you've learned to the pandemic. This time, your responsibility is to make health regulations extremely easy to access and understand. Make sure every traveller knows what you expect of them so that your residents feel and remain safe. Answer the questions, "What should I do when I visit?" and "What can I expect?"
In Ohio, U.S.A., the Dublin Convention & Visitors Bureau (CVB) uses a simple diagram to summarize the key actions that everyone needs to know. At dublinsafe.com, the CVB shows visitors what to expect from each segment of the travel industry, including hotels, retail shops and restaurants. The site also highlights the recent requirement to wear a mask with a simple graphic.

2. Anticipate how to shift your messages when regulations change.
Amid uncertainty, prepare for what could happen next – good or ill. Outline a few different scenarios to organize your thinking and anticipate how your DMO will respond. For example, many places have had to limit business operations again after relaxing the rules. Government restrictions may continue to change for the foreseeable future.
Public sentiment is another factor to watch. Local readiness for tourism can change as quickly as the pandemic spreads. For example, at the time of this writing, research shows that "a record low 13.8% of American travelers feel the pandemic will get better in the US in the next month; instead nearly two-thirds feel it will get worse," and "personal safety concerns are the highest they have been in three months." 
Your scenario planning can address questions like, "What will you do if regulations increase or decrease?", "If your government announces an investment in tourism recovery, how will you respond?" and "How will we keep track of public sentiment?"
3. Support your future visitors along the customer journey.
Part of your DMO's purpose is to build demand for travel. Is it possible to do that responsibly right now, and if so, how?
First, identify which stage(s) of the customer journey your communications typically address.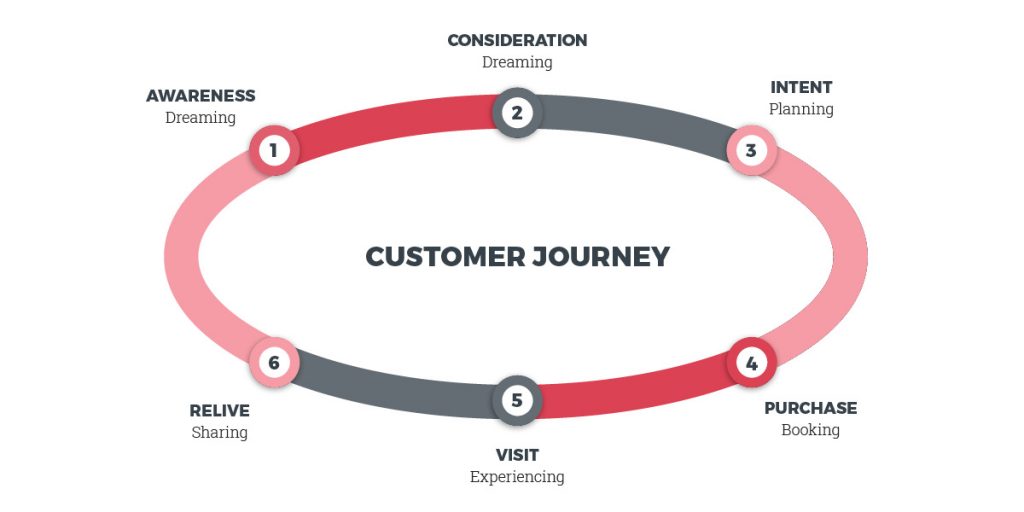 Now, think about how to help your potential visitors at those stages in the current context. For example, if your Instagram channel focuses on the "dreaming" stages, some of those aspirational images may work just fine, so long as you are sensitive to what this moment calls for. Images of wide open, outdoor spaces are obvious options, given physical distancing. But also find ways to talk with your audience – especially locals and past visitors – about their favourite places and activities. Use image captions to hammer home important safety points and to keep people up to date on whether or when travel is possible.
You can likely tweak your established content strategy and continue to show off your destination, talk with potential visitors and relay exactly when and where it is safe to go.
See our blog featuring our team in Campbell River, British Columbia for pre-COVID-19 examples of how DMOs can use social media to support the customer journey.
Three actions you can do today to improve your DMO's communications
Give yourself 20 minutes to do these three things:
1. Research your destination as though you were a visitor.
Do your social media channels and website make the current health and travel regulations clear, easy to understand and simple to act upon? If not, determine what's missing and write it down so that you or your team can fill in the gaps.
2. Define your audience's needs.
Think about your potential visitors and local residents. Brainstorm a list of some of the questions they're likely to have (or check your Facebook and Instagram comments to find out). Make sure your content clearly addresses those questions to save you time responding. Here are a few questions to anticipate:
Can I travel here right now? If not, when?
Where can I learn about travel requirements (related to masks, group sizes, etc.)?
Which attractions are open?
What are local businesses doing to make sure we all stay healthy?
What are some wide-open spaces in the region that I can explore?
3. Gather information about public sentiment.
Search for public survey results relevant to your local area. Set up Google Alerts for keywords like "[your destination's name] and travel," or the names of popular attractions. Or use a tool like Hootsuite to listen to what people are saying on social media. Over the long term, sentiment analysis will provide the best intelligence; speak to our team to get a Tourism Sentiment Index report for your location.
If you did those three things, you now have:
a sense of which communication gaps to fill,
a simple list of needs to address through your always-on content channels, and
a system in place to monitor public sentiment around travel.
Take courage as you move onward to the next chapter of this fascinating, tragic, complicated story.
More resources and support for your DMO
Your DMO might also benefit from a messaging matrix like the one we developed for Destination Campbell River and other DMO clients. Read the case study about our COVID-19 response here.
For more examples and strategic principles, read our article called DMO communication in uncertain times: Responses to COVID-19 and watch the presentation our team gave during Virtual Forum: Adjusting your destination's communications through the COVID-19 crisis.
From Bermuda to California to Campbell River, our team helps tourism destinations respond to crises and work toward recovery with poise and confidence. Speak to us to learn about our collaborative approach to strategy, communications, and creative solutions or click here to send us your RFP.
Feature image: William Murphy, Flickr