Discuss "brand" with a room full of your tourism stakeholders, and you might bring up a bundle of baggage bigger than the carousels at LAX. Everyone carries an opinion and biases based on their experiences.
Leading and coordinating stakeholders is a common challenge for destination marketers. That's why we've gathered valuable insights from Destination Think's brand strategists to present a new email series called DMO Matters: Rebrand Edition.
This series will bring clarity to an important, very public aspect of your work. We take you on a guided tour of destination branding by connecting the dots between the essential brand concepts you need to know to lead your destination.
Current subscribers to our weekly digest of destination marketing trends, DMO Matters, will enjoy insights exclusive to this series.
In Rebrand Edition, Destination Think strategists Frank Cuypers, Sarah Prud'homme, and William Bakker, share from their collective decades of experience that include recent place brand and destination brand projects with DMOs like:
Colorado Tourism Office
Destination Campbell River
Destination Greater Victoria
Ottawa Tourism
Tourism Calgary
Wonderful Copenhagen
These three destination marketing industry leaders shine a light:
On the definition of brand: Everyone brings assumptions about what brand means, which is your leadership opportunity. "Ultimately, finding alignment with who you are and the experiences people have is what makes a brand effective." – Sarah Prud'homme, Senior Strategic Consultant
On the role of your DMO and your place brand managers: "You aren't there to police communication; your role is to bring the story to life." – Frank Cuypers, Senior Strategic Consultant
On getting support from stakeholders: "People need to gain a sense of ownership. That requires trust and continuous engagement throughout the brand process, not just at a particular moment." – Sarah Prud'homme, Senior Strategic Consultant
On executing your DMO's brand strategy: "The new way is to deliver experiences that result in stories that send the right message. That's what branding is now. That's where the investment lies as well." – William Bakker, Chief Strategist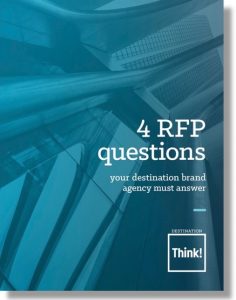 Your subscription also includes a digital copy of 4 RFP questions your destination brand agency must answer. This useful guide shows you the right questions to help your DMO find the right agency partner during your next request for proposal (RFP) process.
If you've read this far, it's time to sign up. Subscribe to get the white paper and the email series packed with wisdom from some of our industry's most experienced and knowledgeable destination marketers.