"Fight amnesia. Review what you've learned. Don't just jump back into business as usual. It's critical to fight the human desire to move on immediately."

– Frank Cuypers, Senior Strategist at Destination Think
Destination Think's Senior Strategic Consultant and renowned place branding expert Frank Cuypers delivered a keynote called "Adapt or die: It's now or never" at the BUZZ.travel Digital Travel EXPO on June 30. Frank spoke about the crisis of relevance facing destination marketing organizations (DMOs) that has been compounded during the COVID-19 pandemic.
"The title may seem provocative, but it is genuine. It is not only a command but also an expression of hope and adaptation." His presentation calls on destination marketers to understand the responsibilities of leadership, create fluid strategic plans, and generate true value for their communities.
Frank sees a way forward for DMOs struggling to stay relevant. As some destinations move into the restart phase of recovery, it's critical to keep scenario planning updated. Many DMOs remain in Level 1, operating with a single view of the future in their day-to-day operations, often because it's the known and most comfortable way of working as an organization. However, Level 3 or "range of futures" thinking is vital to remaining nimble.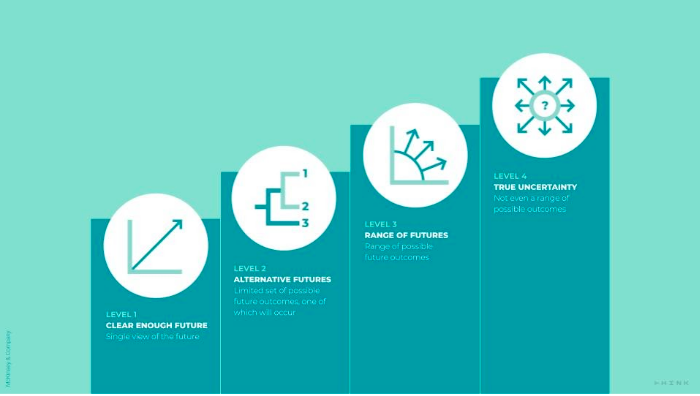 Action: Select the three most likely scenarios and create plans. Reconvene to update these plans on a weekly basis.
In the restart phase, there's a risk of either overpromising and underperforming or getting lost in a sea of sameness, which occurs when everyone tries to be unique in the same way. As always, use good data to make informed decisions while staying true to who you are as a destination. Get clear about what's most important. Symbolic actions can go a long way if they're rooted in the essence of a place.
Action: Take a moment to pause as a team and document everything you've learned over the past few months. Use this wisdom to help plan for the long term and understand your DMO's role in uncertain times.
Watch Frank's presentation in full below:
Support for your DMO
From Bermuda to California to Campbell River, our team helps tourism destinations respond to crises and work toward recovery with poise and confidence. Speak to us to learn about our collaborative approach to strategy, communications, and creative solutions or click here to send us your RFP.
Feature image credit: JESHOOTS.com, Unsplash