If your organization is like most destination marketing organizations (DMOs) today, COVID-19 continues to wreak havoc across all your efforts. Tourism leaders have been riding a rollercoaster of changing regulations. Destinations open, close, reopen and close again. If these changes are hard for your team and local tourism businesses to adapt to, imagine how your residents and potential visitors feel. At every turn, your DMO's communications need to anticipate and empathize with emotions like fear, anxiety, annoyance and grief in new ways.
What does successful destination marketing look like today? Here are five DMOs who effectively communicate change and address public sentiment in the time of COVID-19.
Full disclosure: Our team works with a number of clients on projects related to COVID-19 recovery, including Auckland Tourism, Events and Economic Development (ATEED), one of the examples below.
The transition out of lockdown in Auckland
Auckland gives travellers human-to-human advice.
Situation: Auckland is moving out of lockdown. Some additional restrictions around gatherings remain. Businesses are reopening, and travel to and from Auckland becomes easier.
Issue: Visitors need to know what kind of travel is allowed during this stage and what they can do when they visit.
Solution: Publish a summary that clearly explains the current situation.
Tone: Calm, clear and empathic
This example stands out for their very human way of writing. They describe government restrictions in the context of tourism. They also use language that reflects the personality of the place – a welcoming spirit.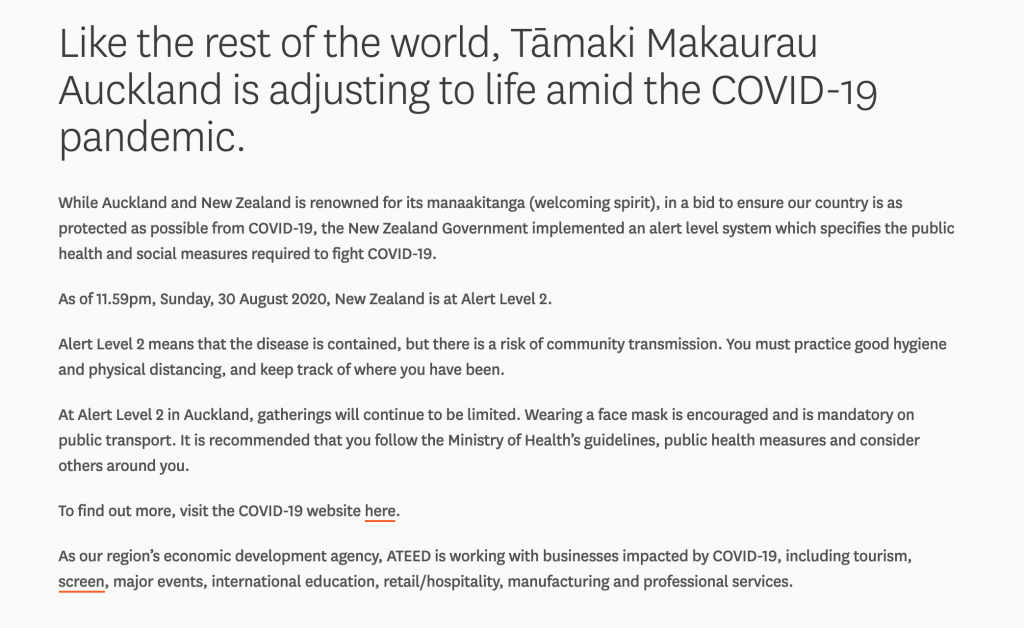 Tourism businesses reopen in Scotland
Scotland makes it easy for visitors and locals to see what's open.
Situation: Businesses are reopening after the lockdown stage.
Issue: People need to know what attractions are open again to plan their visit and support local businesses.
Solution: Make COVID-19 information searchable and include a simple badge icon to highlight which businesses are open.
Tone: Helpful and informative
This example stands out for its ease of use. Information overload in the time of COVID-19 is a problem, so people appreciate simplicity. Simple search functionality and icons make it easy for locals and visitors to understand what is open throughout the destination.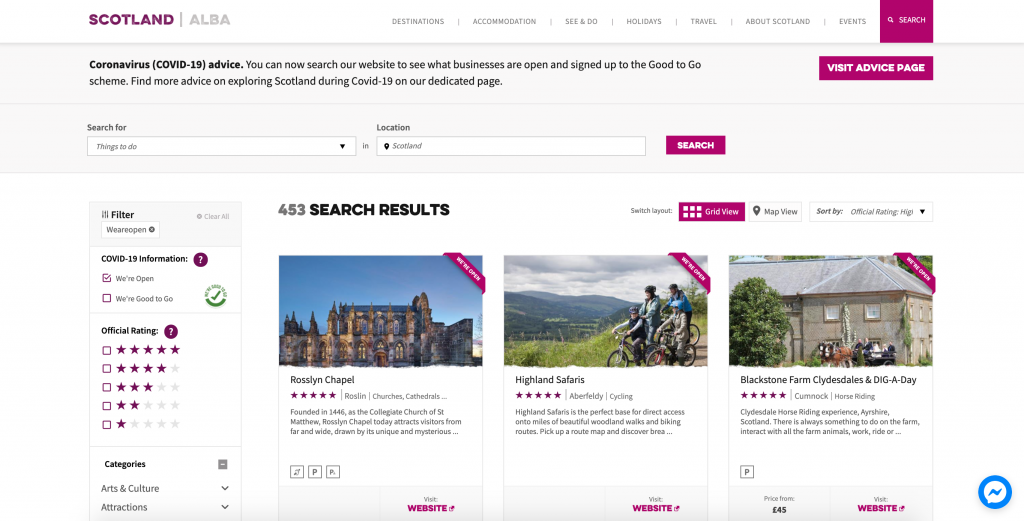 Changing travel restrictions to Greece
Greece keeps visitors informed of which countries are allowed to visit.
Situation: Greece is in the domestic recovery phase and is inviting travellers from certain countries to visit. The list of countries allowed to visit Greece changes frequently.
Issue: Visitors need to know if they can travel to Greece from their home country.
Solution: Provide a timestamped list of which countries can enter Greece and how.
Tone: Helpful and informative.
The Destination Greece Health First website cuts through the confusion by pre-empting traveller concerns and questions. Separated into Air, Land and Sea, the website provides a list of countries that can enter Greece and explains how. This list is updated regularly and timestamped for accuracy.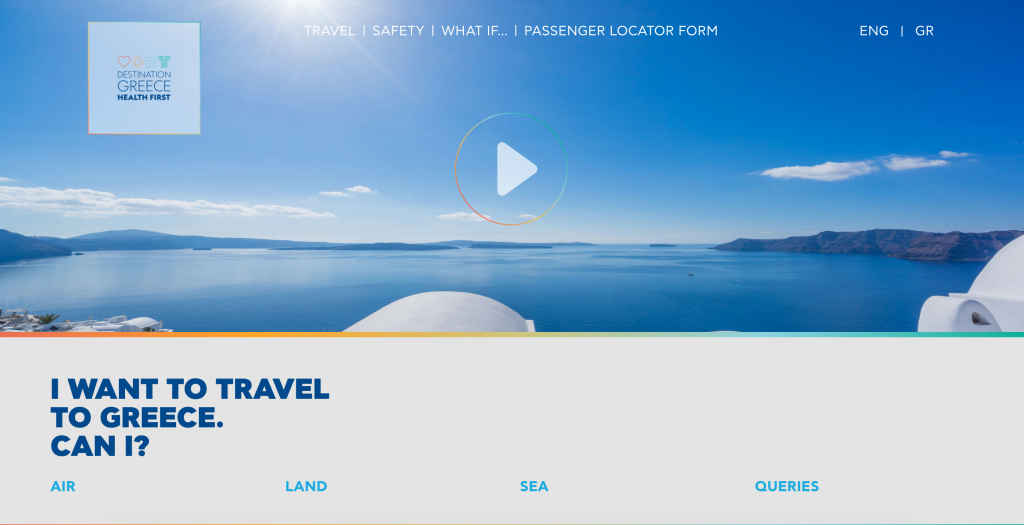 Heightened health concerns in Finland
Finland keeps visitors informed of what to do if they get sick.
Situation: Finland is in the domestic recovery phase and is inviting travellers from certain countries to visit.
Issue: Visitors are worried about getting sick on vacation, and residents are also worried that visitors may spread COVID-19.
Solution: Provide practical health information and the appropriate numbers to call for help.
Tone: Helpful and informative.
The pandemic has changed how people feel about health and hygiene. By addressing the possibility of illness head-on, Finland reassures visitors that they'll find the care they need, no matter what.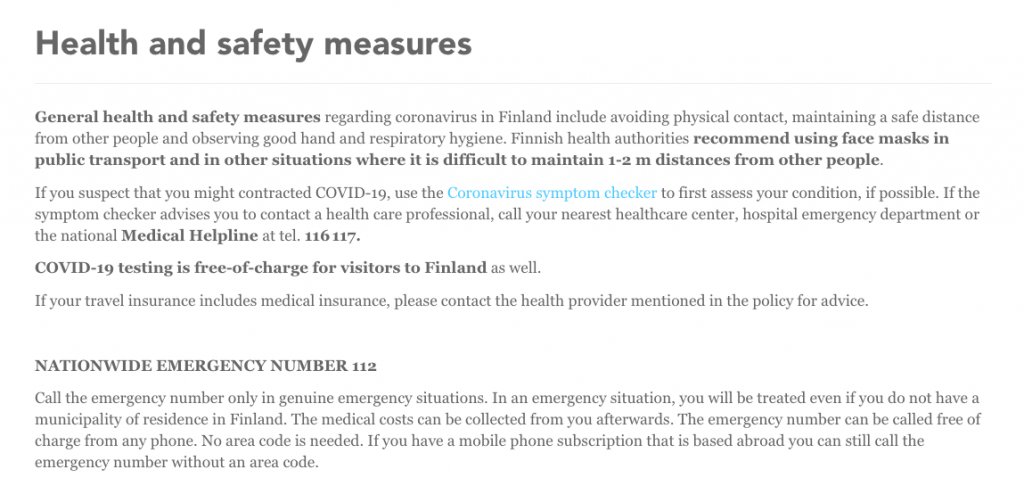 How to travel safely in Texas
Texas shares the best ways to travel responsibly and keep everyone safe.
Situation: The Texas tourism industry is working toward recovery, but the state continues to experience outbreaks and change regulations in response.
Issue: People want to explore but are worried about COVID-19 outbreaks.
Solution: Create a dedicated hub with new protocols and guidelines to reassure travellers.
Tone: Helpful and caring
This example illustrates how DMOs can share important travel guidelines in a caring way. Travel Texas includes a promise to look after the health of residents and visitors. The DMO uses language that reflects Texas' personality. Rather than a long page of copy, the page is organized in a way that makes it easy for the reader to digest important information. How to Enjoy Scotland Respectfully is another excellent example of this.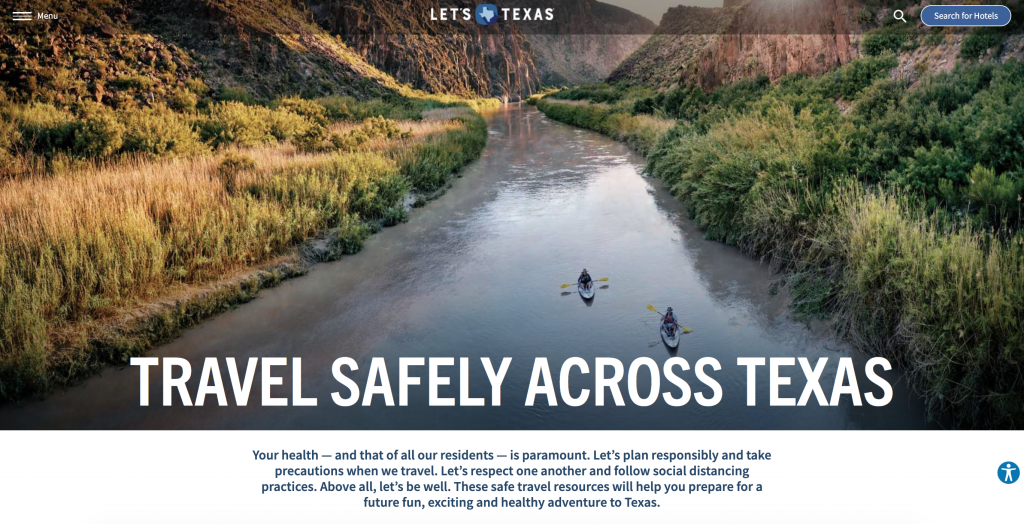 Clear communication is the best way to navigate through uncertain times. Your website needs to help both residents and visitors understand the safest ways to explore and the right time to do so. Remember that people look to DMOs as official sources of information, so be the leader they need right now.
Remember these four takeaways:
Speak like a human. People are experiencing rule fatigue and information overload. Explain changes and new protocols in a way that everyone will understand.
Present information in a way that's easy to follow. For example, use clear headings, short summaries, bullet points, and content buckets.
Use simple graphics to guide the viewer through important information. For example, "We're Open" badges, infographics, and imagery.
Phrase key concerns as questions. This helps people find the answers they need quickly. For example, "I want to travel to Greece. Can I?".
More resources and support for your DMO
Want to kickstart your comms? Your DMO may benefit from a messaging matrix like the one we developed for Destination Campbell River and other DMO clients. Read the case study about our COVID-19 response here.
For more examples and strategic principles, read our article called DMO communication in uncertain times: Responses to COVID-19 and watch the presentation our team gave during Virtual Forum: Adjusting your destination's communications through the COVID-19 crisis.
From Bermuda to California to Auckland, our team helps tourism destinations respond to crises and work toward recovery with poise and confidence. Speak to us to learn about our collaborative approach to strategy, communications, and creative solutions, or click here to send us your RFP.
Feature image: Random Sky on Unsplash