South Australia entered 2020 in crisis mode. Bushfires brought severe devastation across the state and many other parts of Australia, threatening lives, homes and livelihoods. Kangaroo Island – a popular destination within South Australia known for nature reserves and wildlife – was hit particularly hard by fires in late December 2019. 
Thankfully, many areas remain unscathed. But the South Australian Tourism Commission (SATC), the state's destination marketing organization (DMO), showed remarkable poise through their crisis response and communications during a chaotic time. Our team has worked with many destinations in moments of hardship, including 2020's wildfires on North America's west coast. The SATC's response to bushfires stood out to us as an example of effective crisis communications that DMOs can learn from.  
We talked with Brent Hill, Executive Director of Marketing for SATC, to find out more about the DMO's approach to crisis management. Hill shared with us the priorities and actions that helped SATC make a true difference for locals and travellers, concluding with four crisis management lessons for your DMO.  
When the bushfires began, the team at SATC knew they needed to make a difference. But they faced challenges not uncommon to DMOs; various layers of approvals for funding and crisis response put Hill and the team in a difficult situation. Even so, Hill recognized the importance of responding to the community in a timely manner. The DMO's responsibility and duty during a crisis, he told us, is to provide care to the region.  
As quickly as the bushfires spread, Hill and his team began to act. There wasn't time to consider or create a carefully detailed communication plan – it was all-hands-on-deck and everyone stepped up to the tasks given to them. Hill gives much credit to his team for pulling together in a time of crisis.

Their first step, he says, was to take a 'boots-on-the-ground' approach and speak directly with the community. The SATC team made impactful connections, taking what little time they had to listen to locals and visit some of the affected areas. They visited neighbourhoods, tourism operators, and various businesses to gain a better understanding of the challenges on the ground. Through this experience, the team realized they could help the region and its people by delivering timely, transparent communication about the bushfires and their impact.
SATC focused on providing clear messaging about the region in real-time, sharing how community members could meaningfully contribute to relief. The DMO shared images of damage and posts about the spaces and places that were impossible to visit while showing how people could help in other ways. They shared links to numerous charities so the public could choose who to donate to and learn how to help the vulnerable. They posted maps and various other forms of communication to show people how to safely participate in activities that would support the local economy and benefit the community. Here are two examples.
 

 

View this post on Instagram

 
An Instagram post from SATC dated January 3, 2020. The DMO posted many descriptive, empathetic and transparent messages about the bushfires.
---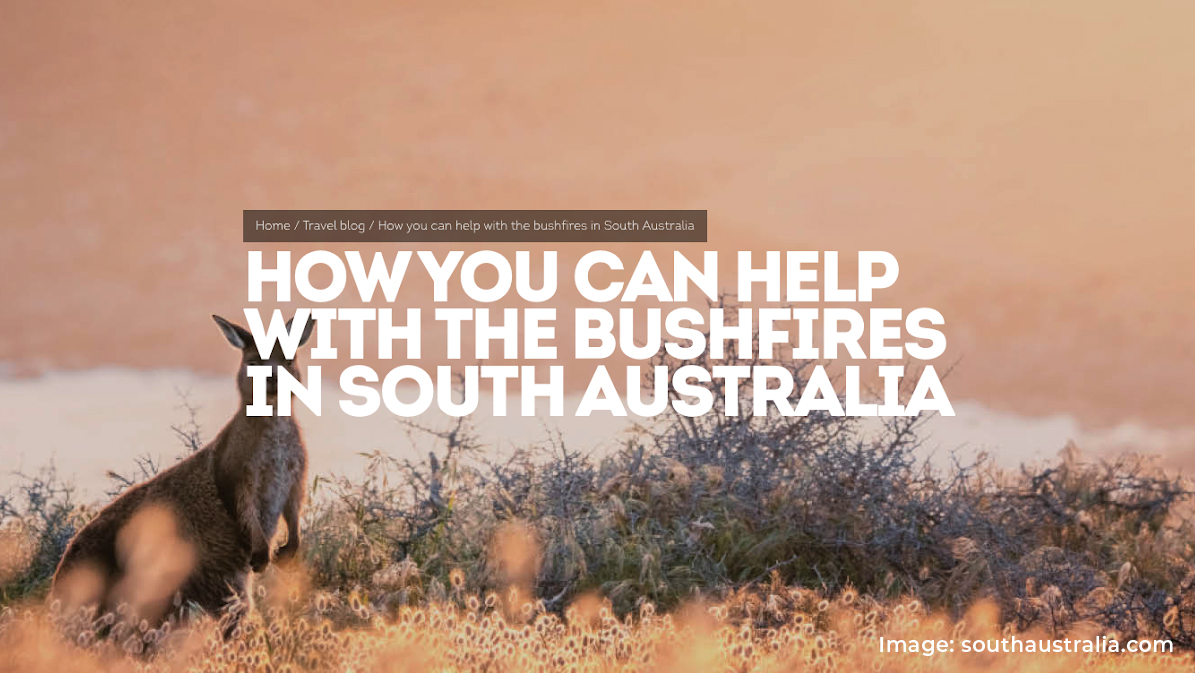 The SATC website also provided guidance. Source: southaustralia.com, Jan 2020
---
To honour the community and keep the region's recovery top of mind, the team at SATC developed the #BookThemOut campaign. They designed the campaign to bring visitors to the regions requiring support. Its messages encouraged locals to round up friends and plan a trip "to their backyard". With an emphasis on buying local, touring with a guide, and staying a few nights, the campaign quickly became a great success. In fact, nine months later, the campaign web page still exists and people continue to use the hashtag.
Results have been positive. From January 19 to February 29, South Australia's website had 942,000 visits and generated 158,000 leads (clicks to operators' websites for booking), along with 38,500 travel partner leads (to direct operators, such as ferries, planes, travel agents). This was up 59% from the year prior. The SATC team also saw that leads to Kangaroo Island businesses were up by 92% and leads to Adelaide Hills businesses were up 241% from the year prior as well. The campaign itself generated 7,500 uses of the hashtag on Instagram, where travellers were posting photos of their visits.
Looking back at the bushfires and on managing the crisis, Hill was most surprised by his team and the community's resilience, along with the outpouring of emotion and response to SATC's efforts. He describes the time as one of his proudest moments and was incredibly moved by his team's hard work and the community's collective efforts. The bushfire crisis taught him that, above all logistical challenges, it was critical to understand the voices of the people and the reality of what the community was facing. Hill believes engaging the community was the key to a successful recovery campaign. 
Four crisis management lessons from South Australia
1. Take immediate action.
When there's a crisis, there is "no right time", and sometimes, no time at all to act. Hill and his team took immediate action. They pulled together, outlined roles and responsibilities, and got out into the community as quickly as possible to best understand the situation. When your destination faces a crisis, pull your team and resources together as soon as it unfolds. Identify the problem, delegate tasks, and take action.
Read more: Safety and empathy: 10+ DMO communications tips for 2020
2. Engage your community.
Hill reminds us that DMOs have a duty of care. Speak directly with those who are affected. Listen and learn from residents, business owners and tourism operators. Ask questions and find out how the crisis is affecting the community.
Read more: Let's be really real: Campbell River's brand comes straight from its people
3. Speak the truth.
After engaging with the community, Hill and his team were equipped with the stories they needed to tell. They knew what they needed to say because the stories came directly from the people and communities affected. This allowed the SATC team to create truthful, impactful messaging. They showed courage by being transparent, showing visitors and residents the extent of the damage and providing information that was helpful during a time of crisis.
Read more: Do your visitors trust you? Educate them with honesty
4. Make a difference.
As a DMO, you have the opportunity to lead by example. You can empower your team and empower your community to take action and help others. The SATC stayed committed to their mission. They created a campaign that resonated with the community because they listened to people who were struggling and found ways to help. Crisis or not, your DMO can make a difference in your community.
Read more: These 'caremongering' DMOs guide residents to support local businesses
---
Destination Think provides crisis support to places all over the world when they need it most. Our dedicated team boosts recovery for our clients through analysis, strategic direction, community engagement and creative campaigns. Learn more.