Even if travel to your destination resumes in 2021, your content marketing habits from the 2010s won't be enough. To match the right travellers with the right experiences, you'll need a fresh approach to research, markets, values and messages.
Trends that simmered below the surface before COVID-19 have emerged with urgency in 2020. Over the last few years, for example, your destination marketing organization (DMO) might have started to make responsible travel messaging a priority to address visitor pressure due to mass tourism. Fast forward to today's physical distancing rules, and suddenly this work is even more urgent.
As we look ahead to 2021, flexibility will be the foundation for content marketing. While there are hopeful forecasts for the rollout of COVID-19 vaccines, no one can predict all of the challenges that might arise.
The following trends have emerged from necessity. As we advance, they'll become part of the formula that will help the travel industry restart and reimagine travel in a more positive way, removing some of the pressure points, inequities and negative impacts of the past.
These are five trends that we will use to guide our content marketing in 2021:
1. Using data and sentiment analysis to validate your messaging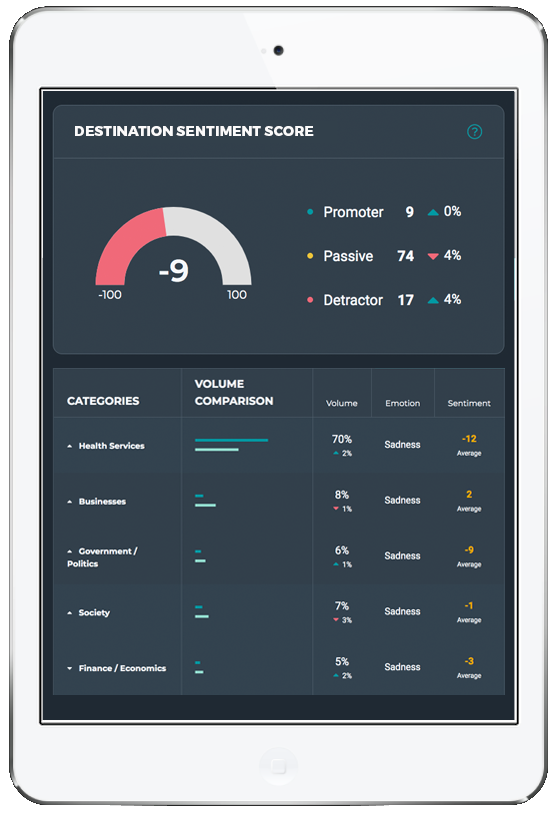 How will your DMO know which messages are relevant and when? Sentiment analysis is here to fill that gap. Experienced content marketing teams develop a keen sense of an online community's point of view. But sentiment analysis is a supercharged version of the social listening you are probably used to, and it provides a new perspective for destination marketers heading into 2021.
The research tells you how travellers perceive your destination and its many experiences. With that knowledge, you can make more informed choices to make sure your messages connect with the right travellers. Use the data as a reality check to ensure your team takes a visitor-centric approach to content and messaging.
Sentiment research is also key to gauging your residents' mood toward tourism. And here's an added bonus: as locals are your primary advocates, the experiences that they share online can give insight into additional experiences that could make you more attractive to visitors.
During COVID-19, public moods change quickly. Technology provides a real-time look at how sentiment changes from day to day and month to month.
Key takeaway: Real-time sentiment research will let you adapt to the changing attitudes to travel that are likely to continue. 2021 is the year to strengthen your DMO's understanding of its target markets by using tools like the Tourism Sentiment Index (TSI) and TSI Live.
2. Evolution of traditional social media channels
Before COVID, tools and trends on Facebook, Twitter, and Instagram came and went at a pace that gave marketers a little bit more time to adapt. However, during the lockdowns and stay-at-home orders of 2020, creativity exploded. Not only did people start to use the functions of social media in different ways to what their original design might have intended, but the channels themselves expedited new tools to aid with entertainment, news sharing, and even wellness.
In 2021, this focus on creativity is here to stay. Experimentation and rule-breaking will be crucial to staying ahead. Don't be afraid to play outside of the traditional best practices and tell your stories in fresh ways. Want to profile a local business owner? Try a long-format caption. Want to talk about your foodie scene? Try Instagram Reels.
New tools like Instagram Guides (and Twitter's Fleets to a lesser extent) have the power to change how people interact with these channels. So experiment, take risks, and see how you can bend the rules to create engaging, informative, and valuable content for your target audience.
With new tools and the abundance of ways people can now share content on the major three social media channels, consider how you can use those new formats to grab attention and get your message across at different parts of the customer journey. For example, the occasional live video will get you to the top of people's feeds and potentially affect your standing in the algorithm. What other tactics can you try to get your best content front and centre?
Key takeaways:
Think about new and different ways to capture the attention of the right travellers.
Set aside time to experiment with new channel features to broaden your skill set.
Use your resources wisely: after some experimentation, measure the results. Focus your time on the channels and tools where you find success, and let go of the rest to avoid spreading yourself too thin.
No matter what tools you use, always go back to the true identity of your destination.
Channels and features to try in 2021:
TikTok: Daily users continue to rise and the audience is more diverse than you think. Think about your destination as a stage for trending Dance Challenges. Still not convinced? The #TheBlindingLightsChallenge has clocked up more than 100 million views worldwide.
Instagram Reels: Instagram's answer to TikTok. A great space to share real moments and stories from your community and travellers.
Twitter Fleets: Twitter's answer to Stories. For sharing momentary thoughts.
Instagram Guides: Create engaging itineraries, share local tips and advice, and keep travellers up-to-date with the latest travel advice and safety messaging.
3. Staying true to your values and taking a stand
Influenced by the events of 2020, people became more comfortable in standing up for what they believe in. With a noticeable shift away from polished content, social media users revealed more of their true selves, flaws and all. Many now expect brands to do the same.
Be aware of complex issues in your destination's history and consider your role in building a better tomorrow through education and awareness. How is your DMO making a difference in your community and how does it handle issues affecting locals? Racial justice, climate change, and regenerative tourism are topics that you can bring to light through your position.
When considering your stance on an issue, think about how it aligns to your destination's values. Deciding how and if to respond to a topic should be measured against your Place DNA® (your destination's core identity). For example, low-lying island nations are often the first to see the devastating effects of climate change. This has led many destinations, including Palau, to take a strong stance on responsible and sustainable travel.
Key takeaway: In 2021, think of how your marketing makes a difference in your community beyond getting heads in beds.
4. Sharing real stories from your community and visitors
Sometimes a little less polish isn't a bad thing.
The significant events of 2020 sparked a change in how people used social media. For Instagram, the once photo-centric channel became a place to share news, amplify marginalized voices, and educate. Feeds became places where graphics and text frequently appeared. Thanks to Instagram Stories and the ease of sharing posts and news with just a few clicks, word of mouth travelled faster than ever before.
Worldwide lockdowns also challenged, and often poked fun, at 'Gram-worthy' glamour. Users became more open to presenting the less-than-perfect versions of themselves, and tools like Reels supported the rise of more casual content. The desire to see and connect with genuine content will continue in 2021. Brands who lean solely on highly-polished, staged content will need to adapt to this trend and ensure their content aligns with new user expectations.
But a little less polish isn't a bad thing. It lets you be more true to you. Place DNA® tells us that every destination is a unique mix of attributes and assets. Now is the time to inject that personality into your content. Take a leaf out of Greenland's playbook and show the world who you are. Honesty like this builds trust – an asset that has been sorely lacking across social media spaces this year as more people become aware of disinformation online and the importance of media literacy.
Key takeaway: The trend brings us back to fundamentals that will still ring true in 2021: Treat your audience like a community of potential advocates who will share their love of your destination's experiences within their own networks.
Read more about this in our article called "Sparking genuine word-of-mouth promotion is always a best practice."
5. Niche marketing and re-evaluating customer journeys
2021 is the time to rethink your traditional visitors. Who will visit, post-pandemic, and how will they positively impact your destination? Start fresh and realign your content to speak to the ideal traveller of 2021, not the one from 2019.
You can't cater to everyone, so dig deeper into the stories that matter for specific market segments. Remember, destinations that try to provide something for everyone risk giving nothing meaningful to anyone. The biggest marketing impacts often come from an investment into niche traveller passions.
As a part of that exercise, consider the customer journey, and find out where your efforts will be best spent to address challenges with the current target markets. Perhaps you'll end up using your social media mix differently or explore new avenues like digital TV spends, podcasts, or (yes, maybe) even print. Let the medium match the needs of your visitors, not the other way around.
Key takeaway: Travellers are eager to explore, but not necessarily in the same way as before. Study their desired journeys as you board the rollercoaster into 2021.
Explore this topic further with these articles:
Feature image credit: Austin D via Unsplash