Our hearts go out to you amid the devastation caused by the COVID-19 pandemic.
It cannot be overstated how difficult this time is for the global community, for the industry that is grinding to a halt, for our clients, for our company, and for each of us as individuals. We will look back upon this period as a defining time for our era. And at Destination Think, we are treating this situation with the gravity that it demands.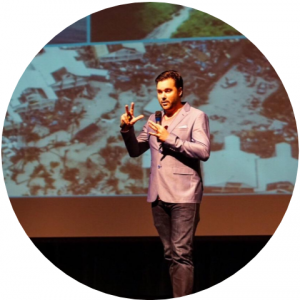 The travel industry is experiencing the greatest reduction in business in our lifetimes. We watch with concern as places like Italy, California, Canada and Australia shut their borders, ground their airline fleets and urge people to remain in place. Most of all, we are heartbroken for the illness and loss of life, and we stand in solidarity with those in our communities working on the front lines in healthcare.
There will be a time to rebuild businesses and industries. Right now, the human impact is what matters. Our first concern at Destination Think is to ensure the physical, mental and emotional well-being of our team members, clients and friends in the industry, and our loved ones. I'm so grateful that our team is well equipped to support one another.
It is tempting – and very human – to yearn to return to business as usual as quickly as possible. But a return to normal isn't realistic. We have only just begun this journey. The pandemic has changed the world, but, given the opportunity, I will always bet on human endeavour. The world will recover. Travel and tourism will reinvent itself, but the future may look drastically different. We will each have the chance to create a much better place.
Today is too soon, but when the time is right, we'll share our perspective on this crisis and our team's advice for the travel industry in managing its most severe challenge. Take care of yourself and those around you. Take time to connect with family and friends, and find comfort in what is most important. 
Yours sincerely,
Rodney Payne
Chief Executive Officer
Destination Think
---

Feature image credit: Krisztina Papp, Unsplash