Three ways to adapt your business and meet people's needs
No matter their size, style or reputation, restaurants everywhere have had to adapt quickly to stay in business during the pandemic. One upscale, fine-dining spot in Seattle, Washington, is demonstrating what is possible with a will to change strategies and the ability to execute.
Here's how the creative minds at Canlis restaurant changed how they operate in three distinct phases, each designed to give the local community what it needs most in a challenging time.

Change #1 – Build awareness by giving everyone a chance to experience the product.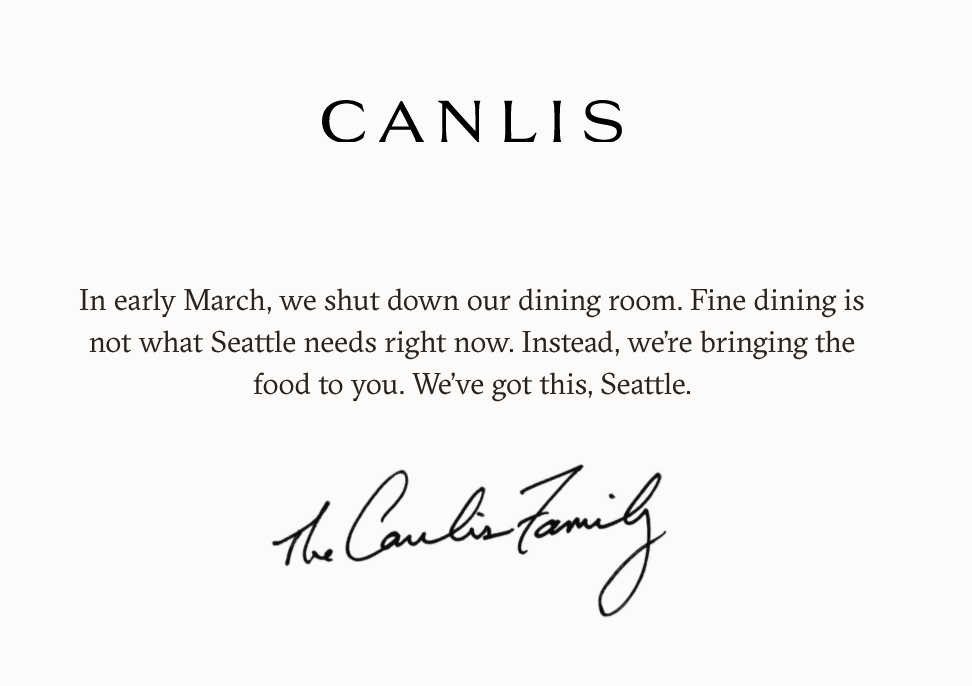 Canlis acknowledges that "Fine dining is not what Seattle needs right now." By changing to a takeaway service, they have been able to bring delicious food to the community and spark a bit of joy. Pre-COVID, it was tough to get a reservation at Canlis, and the price point meant that for most, it was a once-in-a-lifetime experience. Delivering meals at an accessible price point gives more people a chance to try their food, many for the first time.
Tourism businesses are also sharing their products online. In South Africa, technology allows people to enjoy a safari experience from the comfort of their homes. Since the lockdown, the number of people watching virtual safaris has risen fivefold. Safari operators are hopeful that this increased awareness will keep them top of mind and translate to visits once travel reopens.
Takeaway for DMOs and tourism businesses: Create awareness around your products and services through online and offline tactics.
Change #2 – Support local businesses and take people behind the scenes.
Beyond their delivery service, Canlis is showing people what goes into running the restaurant and supporting local businesses in the process. To help farms that would normally supply the restaurant, they started packaging up boxes of produce that can be delivered to people's homes.
Businesses around the world are making similar changes to support their local community. Cafes limited to offering takeaway have adapted their seating space into a traditional general store – offering fruit, vegetables, bread, eggs and other locally-made goods. These initiatives help build pride in the community, encouraging people to learn more about the growers and makers who live nearby. The pause in travel has pushed Lord Howe Island Tourism to think outside the box too. In place of actual visits, the DMO is taking its online community on a behind-the-scenes journey. Posts of this nature are well-received by the community and highlight all of the hardworking people who keep the island running.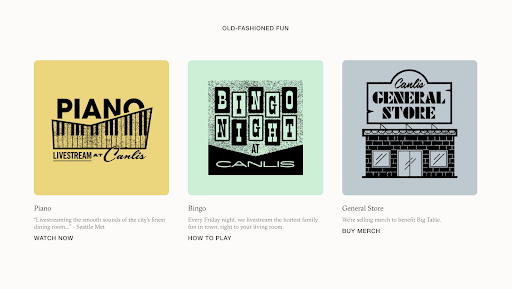 Takeaway for DMOs and tourism businesses: Provide community support by highlighting all the people who make your business a success.
Change #3 – Community-focused action.
In their third adaption, Canlis created a virtual bingo hall, live-streamed every Friday night. The initiative aligns with a shift towards connection and building a community online. While their goal was to bring people together from across the city, the bingo nights have spread well beyond Seattle. Each event sees close to 1000 people join from all over the United States. Understanding that everyone is online more due to lockdown, Canlis was able to turn a downside of the pandemic into a positive. Even smarter, they were able to adapt the premise to suit the event and invite thousands of people to experience their restaurant for the first time. Owner Mark Canlis hopes viewers feel permission to experience joy in a time of uncertainty.
How it works:
Everyone who orders a Canlis meal delivery, cocktail kit, or CSA box receives a pair of the bulk bingo cards.
Each Friday night, Mark Canlis and his coworkers call the numbers and award the winner a Canlis CSA box and gift card.
If you are not playing, you can still watch the Livestream for light entertainment.
Takeaway for DMOs and tourism businesses: Bring people together and spark joy through positive conversation and fun online events.
Being open to change will help you survive periods of uncertainty. Understanding how people feel and listening to the community should guide your next move. As Canlis restaurant shows, people will appreciate the steps you take to serve them in a time of need.
Support for your DMO
From Bermuda to California to Campbell River, our team helps tourism destinations respond to crises and work toward recovery with poise and confidence. Speak to us to learn about our collaborative approach to strategy, communications, and creative solutions or click here to send us your RFP.
Feature image credit: canlis.com