The COVID-19 crisis places many destination marketing organizations (DMOs) in a new and precarious position. Amid widespread uncertainty, economic freefall and rising unemployment, your DMO has a crucial role to play in alleviating some of the pandemic's worst effects.
Strategists at Destination Think have identified three phases of the COVID-19 pandemic as they pertain to DMOs: mitigate, restart and reimagine. We shared these in our Virtual Forum session on strategic planning. The mitigation phase involves uncertainty; no one can predict how the crisis will unfold. But, your DMO can take steps to minimize the damage to your destination.
Many of our clients are now working through the mitigation phase, and maybe your destination is too. While different for every DMO, strategic and measured actions tread the line between demonstrating community leadership and planning scenarios around a range of possible futures.
Address immediate needs and challenges
Your DMO is likely operating in a completely unknown landscape. "But that doesn't mean there isn't a role to play," says Sarah Prud'homme, Senior Strategic Consultant at Destination Think. "DMOs are uniquely positioned to connect with their industry, government and residents, as well as their community." Be ready to step into a new role that addresses your community's needs while adapting your communications to be empathetic, responsible and present.
Consider the bigger picture
Mitigating the effects of COVID-19 starts with making informed decisions and preparing for a range of futures, based on solid research and data analysis of relevant industry factors, as illustrated in the chart below.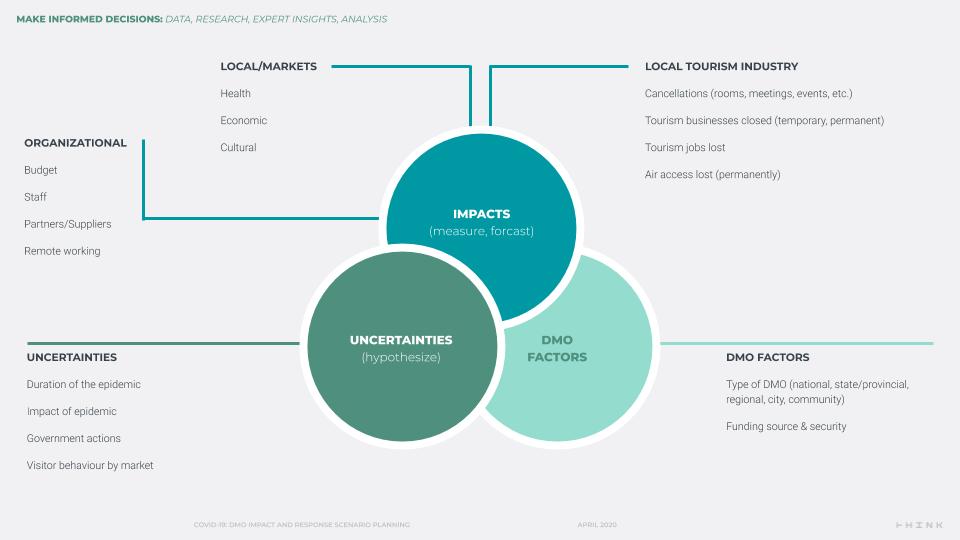 Consider these factors:
An inventory of your local tourism industry, including air access, tourism jobs lost, and tourism businesses closed;
The situation in your key markets, including sentiment toward travel and the performance of local economies;
Your DMO's funding and ways to be creative with a reduced budget;
Organizational impacts, such as the need to adapt to remote work environments and shifting staff roles.
Responding to a rapidly changing landscape
During widespread uncertainty, operating as though there's a single clear-cut future will not help your DMO adapt to a post-COVID world. "This is where we need to be nimble, agile… [responding] fast to a changing landscape," says Destination Think's Chief Strategist, William Bakker. "When data is collected, you can start analyzing and create some hypotheses of what might happen next." Destination Think has developed a planning wheel that identifies key elements to consider when responding to uncertainty. These actions include developing plans for likely scenarios and triggers, guided by the different stages of restrictions and turbulent waves of infection. William also advises continually updating and reflecting your planning scenarios based on emerging data.
Show leadership through rationality
The mitigate phase is not a time for blind optimism. Your DMO needs to confront the harsh realities of the situation, without losing hope that you will come out the other side stronger. Speaking about his experience as a prisoner of war, former naval officer and U.S. vice-presidential candidate James Stockdale said: "I never lost faith in the end of the story. I never doubted not only that I would get out, but also that I would prevail in the end and turn the experience into the defining event of my life which in retrospect, I would not trade."
This is the second article of four in our series about the phases of planning and action for your DMO during the pandemic.
Phase 1: Mitigate COVID-19's impact on your destination
Phase 3: Reimagine what tourism and travel can become
Support for your DMO
From Bermuda to California to Campbell River, our team helps tourism destinations respond to crises and work toward recovery with poise and confidence. Speak to us to learn about our collaborative approach to strategy, communications, and creative solutions or click here to send us your RFP.

Feature image credit: Adrien Delforge, Unsplash