As a resident in a popular tourism destination, you'd be right to ask how visitation affects you. Are the crowds of tourists making your community a better place, or does their travel only benefit the industry's bottom line, or the nation's GDP?
As tourism grows irregularly in destinations around the world, and sometimes to an alarming degree (think of the swelling crowds of Barcelona's La Rambla), destination marketing organizations (DMOs) must begin to manage healthy growth over the long term.
Tourism thought leader and Conscious Travel founder Anna Pollock has called out systemic problems within the tourism industry and described the need for destinations to learn from the past to shape a healthier tourism future. She says that destination marketing organizations (DMOs) must now change course:
"The tourism industry and DMOs face a consequential strategic choice – to continue to promote their destinations more, or to change their roles completely and switch to capacity building (enabling) via destination management to ensure that the destination generates maximum net benefit from visitor spend."
What factors are causing DMOs to move toward a destination management role?
"One of the trends that I'm noticing is what some call the democratization of everything," Pollock says. "Whereas we used to rely on centralized intermediaries to act on behalf of a group of people, technology now enables anyone (hoteliers, tour operators, event organizers, etc.) to to bypass intermediaries and deal directly with guests."
"There are two other seemingly opposing forces at work. First, there's a concentration of power within a fewer number of intermediaries because they've got scale. Think of Airbnb and TripAdvisor, for example.
"But at the same time, the visitor market is fragmenting into ever more diverse niche segments. So, a sensible operator will start focusing on particular niches they want to serve and, having identified that niche and understood its unique characteristics and channels to market, will put greater emphasis on going direct using various digital plus social media channels to do that."
What's the impact of this democratization for the DMO?
Once destinations begin to shift from doing this centralized promotion to enabling others to do it well for themselves, Pollock says, your DMO's role completely changes.
"In addition to being a destination marketer building and sustaining brand awareness, you become an educator, you become a coach. You support other people's efforts as opposed to having the autonomy with a budget to do everything the way you'd particularly like to do it."
"I believe that if the DMO is genuinely interested in increasing net benefit to their communities, they can save money and be more effective by building the marketing and management capacity within their host community to exploit niche opportunities, and ensure they are resilient to external shocks. The current DMO model which necessitates focusing on a few key target markets ignores the growing diversity of the marketplace."
Collaborating for a greater tourism "net benefit" for residents
Today's DMOs have emphasized the need for greater collaboration as a key trend they are grappling with today. Collaboration doesn't end with operators, though, it must also engage the residents. So what could this goal of creating greater "net benefit" actually mean for DMOs in practice?
Pollock outlines four principles:
1) "There is a need for honest growth. That means counting, then minimizing, the real costs of attracting and serving an incoming visitor population so that the gross spending figures can be adjusted to net income figures. At the moment, everyone talks about arrivals, spend and jobs. They talk about gross spending, but rarely of the incremental costs associated with servicing that growth. They are often surprised by the backlash that can occur when too little collaboration with the host community has occurred and tourism becomes overly successful."
2) "Hence, my belief that is DMOs must engage the entire community to determine how much tourism they believe they can manage – i.e., how many guests can be welcomed and served with sincerity, pride, dignity and passion without damaging the quality of a destination?"
3) "In order to ensure that tourism benefits the host community, DMOs must learn how to manage tourism within the destination, and this means finding all the ways to encourage a diversity of business structures (social enterprises, cooperatives, land trusts, not-for-profits) that employ or provide entrepreneurial opportunities for local residents in order to spread benefits throughout the community."
4) "DMOs must learn to harness the energy of a highly distributed, networked community to generate and spread economic value throughout a place. And that will also mean letting go of control; serving not directing, listening not speaking, raising money not dishing it out."
What's the bottom line for DMOs who want to manage healthy tourism growth?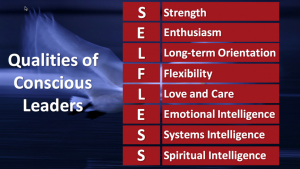 "DMOs need to shift their mindsets and see themselves as part of a community," Pollock says, "with the role of ensuring that energy, income, information, knowledge flows can flow unimpeded to all corners of their destination. Conscious leadership is servant leadership and, to use Raj Sisodia's neat acronym, SELFLESS."
"What we need right now are some conscious leaders willing to see tourism in their destination as a living, local, dynamic human system in constant conversation with its environment and comprising a host of self-organizing agents. The more we allow information and responsibility (the power to get things done) to circulate freely within that system the smarter it will become and the more it will flourish."
Featured image credit: David McSpadden, Flickr