Try this simple thought experiment.
If you could only choose one, would you rather have:
a) 1,000,000 followers who are connected to your tourism destination or
b) 10,000 followers who talk about you every week?
Think about it this way: your most engaged visitors and residents are your best marketers.
They have the experiences that
turn into stories that
power word of mouth that
attracts new business and
builds your destination's reputation.
(We are solidly in the second category. An active, engaged audience wins every time.)
These days, social media platforms like Facebook host enormous amounts of word of mouth for tourism destinations. A big change to a platform can, over time, impact your strategy.
Some destination marketers that we work with to provide engaging always-on content are concerned about Facebook's new emphasis on its Groups feature. It's a subtle shift with major implications. The change could push social media engagement (and word of mouth) into private spaces where destination brand pages can't follow.
How will this change affect your brand? What broader trends are at play?
Self-starting online communities impact your destination's reputation. Crucially, they also signal the importance of interest-based marketing.
Our team at Destination Think provides strategic leadership and modern marketing services for destination marketing organizations (DMOs) in Australia, Europe and North America. For our clients, we continuously evaluate how changes in content marketing affect our industry.
Our in-house team of content marketers, along with our Chief Strategist, William Bakker, have made research-based recommendations that will help you and your DMO:
Better engage and influence travellers,

Understand how your potential visitors behave online,

Learn why interest-based, or niche, marketing is a stellar way to improve word of mouth,

Find out how today's Facebook trends affect your DMO's content marketing,

Understand your role within Facebook Groups and online communities.
This special guide called DMO Trends: Passionate niches and online communities includes strategic and tactical recommendations that you can put into practice today.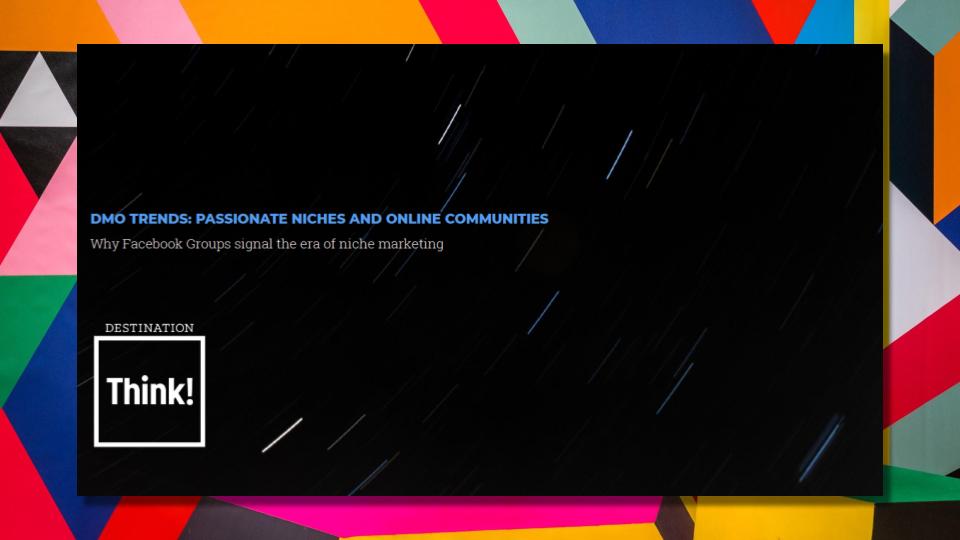 (Note: If you subscribe to our weekly digest of trends, DMO Matters, thank you. This guide is already in your inbox.)